prom boutonnieres
Following links on this website and making a purchase could result in a commission to the owner of the website
Salal leaf is such a versatile greenery.  It's perfect shaped leaves compliment corsages and boutonnieres beautifully and tends to hold up longer than rose leaves against wilting.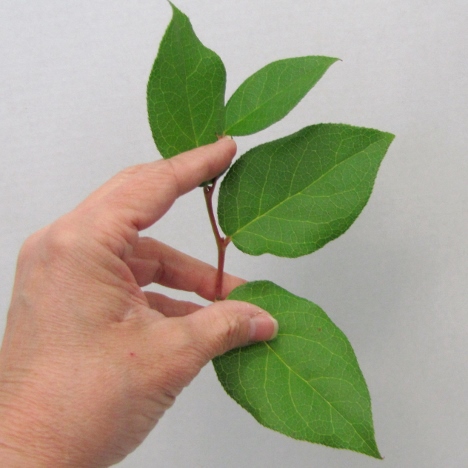 I spray all my greenery with a leaf polish such as Leafshine.  This seals the leaves and slows down moisture loss.  It also cleans up sometimes blotchy residue left by hard water stains.

Pierce each leaf with a 26 gauge wire in a stitch pattern.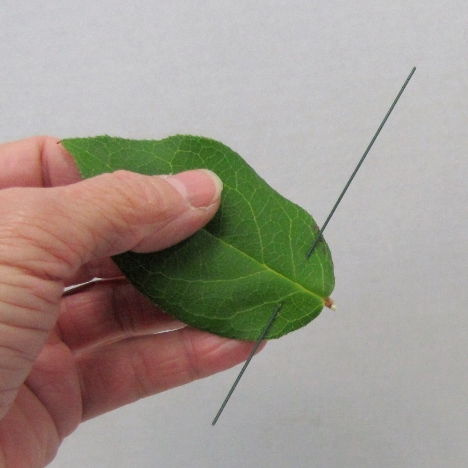 Bend the wires down carefully to create a wire stem, taking caution not to tear the leaf.

Use floral tape and wind it tightly down the stem.

Place the salal leaf directly behind the rose head.  The wired leaf can be bent forward a bit to make sure it fits tightly against the back of the rose.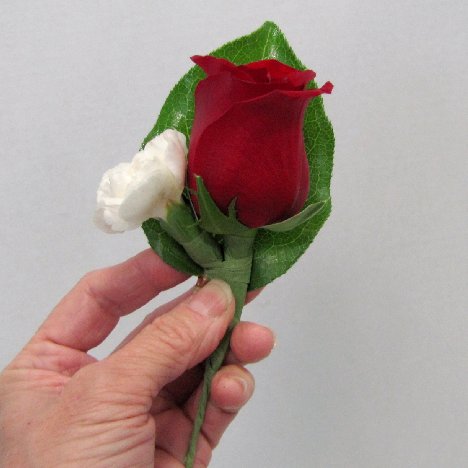 Fold the leaf a little around the flower heads and then tape right over the fold.  This way the leaf tends to "cup" around the flower heads, creating a pleasing look.

Lily grass is a great favorite of mine to work with.  It adds beautiful lines to any flower design!  Lily grass can be a little stiff.  If necessary, bend in into a curve with your fingers, working your way down the blade.

This way when you bend the grass over the flower head it creates a natural oval curve rather than break into a sharp crease.

Use floral tape to secure the grass ends into place on the stem.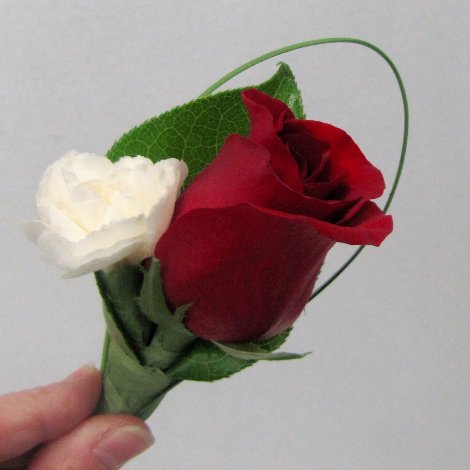 Use wire snips or sharp scissors to cut off the excess length of the grass loops rather than taping over it.  Keep down the bulk on your boutonniere stem whenever possible.

You can see the taping stays smooth and tapered down the stem.

I'm going to add a second lily grass loop behind the first, dropping it a bit lower.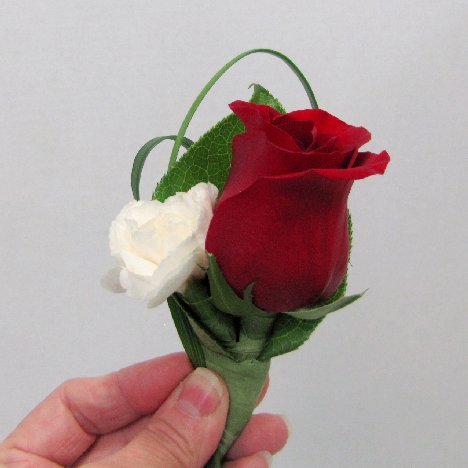 You can see from the back view the placement of this second loop of grass.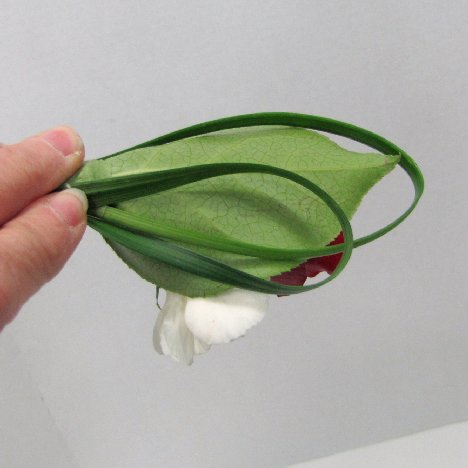 Tape into place when you are satisfied with the look.