pink bouquet

Following links on this website and making a purchase could result in a commission to the owner of the website
This pink bouquet gains even more interest with delicate loops of Bear grass, which is thinner than Lily grass.

Use the loops in different places in the bouquet.  Remember these are part of the design, so you don't want to completely cover these loops with flowers later.

See how well the bouquet is shaping up. Many brides used to be disdainful of greenery, since every popular bridal magazine seems to show bouquets "sans greens". But you can see how much lovely and interesting textures have come alive in more modern bouquets.

Hypericum adds a wonderful texture contrast to bouquets, corsages and boutonnieres!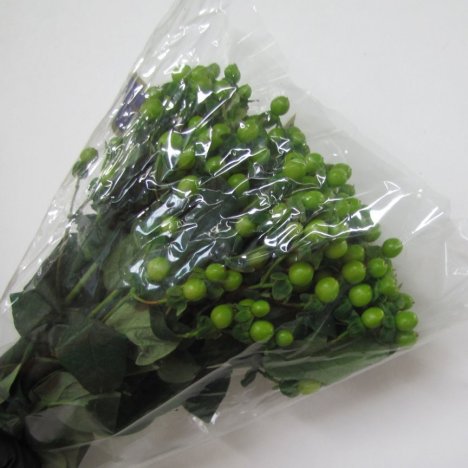 Hypericum berries (also commonly called Coffee Berries) come in browns, whitish green, bright green and a reddish color. Pick these on Cowee sticks as well.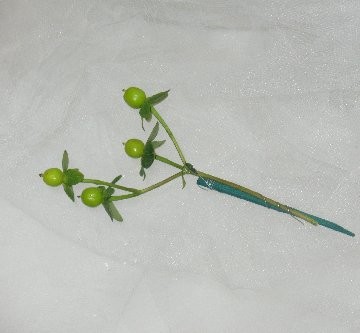 I now tuck these hypericum berries here and there in this pink bouquet. Notice that I leave plenty of room for inserting my focal flowers in the center part of the bouquet holder.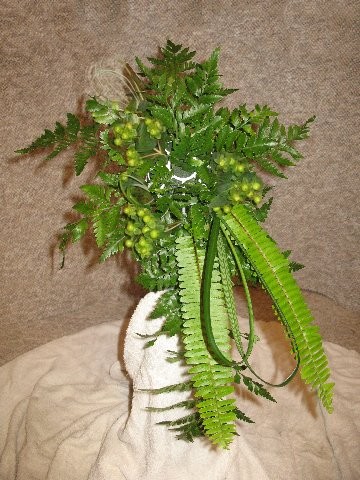 Adding roses to the bouquet is our first flower inserted into the bouquet.  Keep in mind that you can easily convert this design to other colors.

As the focal flowers, I insert my first rose in the high center, pointing the rose face upward.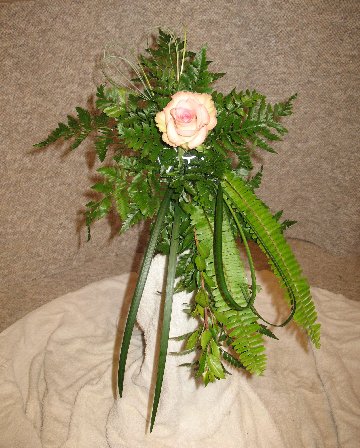 My second rose is dead center in the heart of the bouquet holder, facing straight out.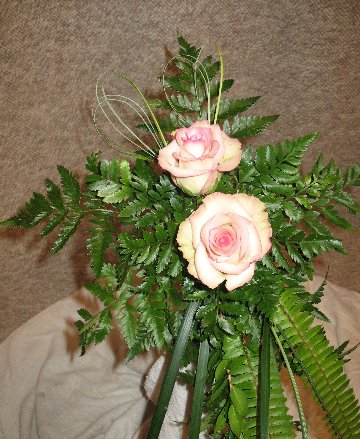 I have now placed my third rose down lower in the bouquet, off center and just above the two blades of flat lily grass,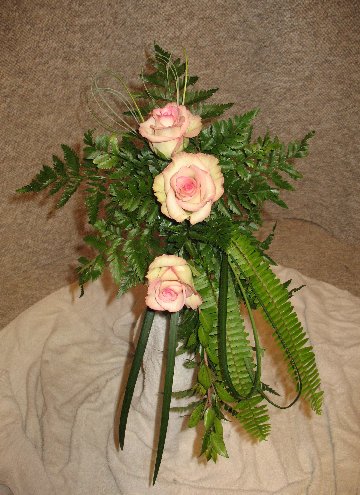 Adding snapdragons is the next step in our bridal bouquet design. A member of the Figwort family (funny name, huh?), the snapdragon is a standard favorite with florists.

This gorgeous flower has a natural bend at the top, and the individual florets actually "snap" when gently squeezed. Most have a gentle, sweet fragrance and are very desirable as a line flower. They are available in pinks, white, yellow, purple and orange.
I begin inserting snapdragons around the outside diameter of the bouquet holder, thus establishing the shape and size of the final bouquet.

Please try to always insert your stems ONCE. Pushing and pulling stems in and out of the Oasis causes a breaking down of the foam.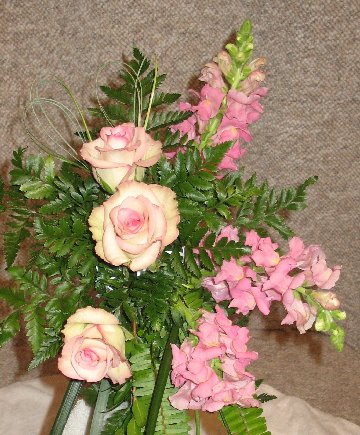 Complete inserting these flowers all around. The snapdragon at the bottom should be longer, emphasizing the length of the cascade.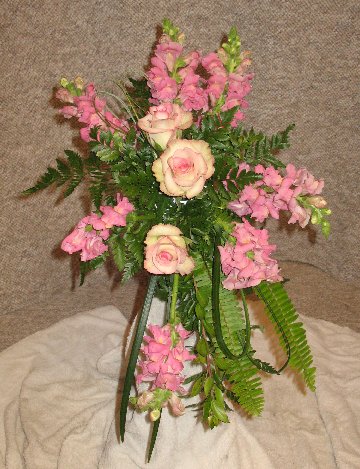 This pink statice is actually limonium that has been artificially dyed hot pink. Limonium normally is a bluish-purple color. It is available year round and dries very well in air dried bouquets.
I used this gorgeous pink accent to add some eye-popping color to this particular design.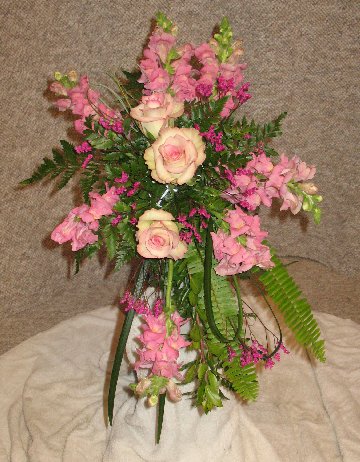 You can see how clustering statice here and there adds a wonderful accent, giving a deeper color around the focal flowers of the bouquet. Other good filler flowers can be wax flower, german statice, Gypsophilia (Baby's Breath), yellow solidego, and pink heather.