make a bridal bouquet
Following links on this website and making a purchase could result in a commission to the owner of the website
To make bridal bouquet designs that look (and last) like one that has been done in a floral shop just means having access to the same products and hard goods.  With flowers being delivered straight from the farms, you have a marvelous selection of varieties to choose from!
To create this bouquet, you'll need the following hard goods, fresh flowers and florist supplies: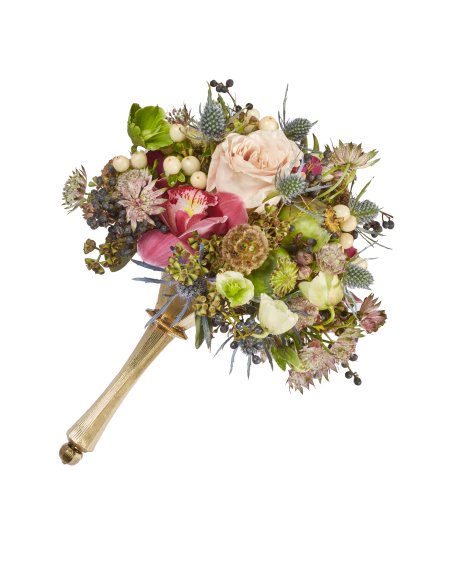 The starting point for any flower design begins with processing your flowers just las a florist would.  This means using the products that will keep your flowers fresh all through your wedding day.  Please don't skip these or try to "make do" with homemade remedies.  These products are very affordable and are well worth the price.  Unlike a professional florist, most brides don't have access to walk in coolers.  Don't fear, however.  Wholesale flowers are bred to last 5 - 7 days in normal air temperatures.  The goal is to process immediately upon arrival and then use the products as recommended.
This bouquet is full of unique colors and textures, making it an truly unusual bouquet.
Many of these flower varieties come in different colors, so you can get the same effect, but change the colors if you desire.
If you need more help with the designing of this style bouquet, be sure to read through the step by step tutorials for round bouquets.