long table centerpieces
Following links on this website and making a purchase could result in a commission to the owner of the website
Long table centerpieces are very easy to make on raquettes, which are elongated bricks of florist foam available in 12", 18", 27" and 36" lengths.  You can also make them on separate single brick containers or use Tribute cages if you desire the flowers cascade off the table.  If you've not designed flowers before, read through the step by step tutorials for choosing foam containers and step by step how to green and flower in raquettes.
Do not be discouraged if the arrangement is not in your favored colors.  Simply substitute the flower colors (or varieties) that you prefer.
This arrangement is roughly 60" (5 foot) long.  So you have to work out the number of containers or raquettes that you will need to supply a base and water source for these flowers.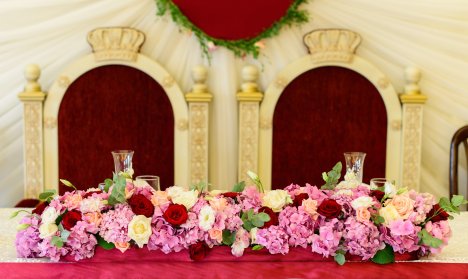 Here I've shown a variety of ways that these long table arrangements can be designed.  Depending on your work space or delivery vehicles, it may be more convenient to use standard bricks in cheap Oasis Double Pine Containers.  You can also use self-contained bricks of Oasis in Tribute Cages.  You simply place these smaller containers end to end to create the unbroken look of a single arrangement.
For a similar design, you'll need the following fresh flowers for ONE Raquette, 3 Separate Bricks of Foam or 3 Tribute Cages.  This means you have to double this recipe to create an arrangement that looks just like and is as long the one above.