long table centerpieces
Following links on this website and making a purchase could result in a commission to the owner of the website
Long table centerpieces are very easy to make on raquettes . . . but it does take a bit of time.  The skill level is moderate, so it's easy to show friends how to help.  If you want an alternative to using Raquettes (using bricks or cages instead) be sure to read through the pages on Choosing Your Foam.
The price of long arrangements like these become a little more cost conscious if you use bulk wedding greenery to fill in first.  This also saves on time, as greening can be done several days ahead of time.  Just be sure the foam stays saturated and you mist with flower sealant like Finishing Touch or Crowning Glory.
Here is where the designer who helped with a wedding started the design by greening in the long Raquettes with Leather leaf fern.  These greens are very affordable and are used in every flower shop.

After the basic greening, other interesting foliages were added.  The greenery below includes Italian Ruscus and green Huckleberry.  Other great choices are leather leaf fern, willow eucalyptus, seeded eucalyptus, variegated pittosporum and any mixed greenery box lots.  Add flower food to the flower buckets, but skip it in the water that will hold the greens.  Some greens can turn a yellow color if too much flower food is taken up the stem.
The flowers can be added later if you wish.  Greenery holds for several day if the foam has water added when dry and misted well each day with the flower sealant.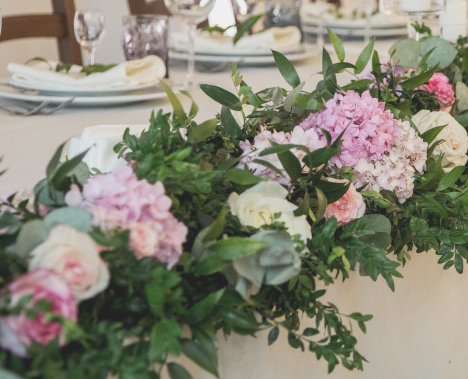 Shown in the picture below is two 8 foot banquet tables serving as a head table.  The makes a total of 16 foot (192 inches) so seven 27" raquettes can be lined down the table.  Each raquette (27") needs about 6 hydrangeas and 8 roses and any small filler flowers if you wish.
This means there are approximately 42 hydrangeas and 56 roses in the design shown below.  Adjust up or down according to your own taste in flowers.  Adding a few more or less is up to the designer.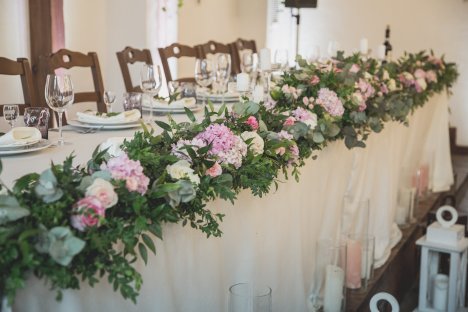 You can measure in many different ways, since raquettes come in lengths of 18", 24" and 32".  Be sure to read through the detailed tutorial on choosing the foam that works the best for you.  The other tutorial which shows details on flowering and greening spray bars and and raquettes is also very helpful.