large altar flowers
Following links on this website and making a purchase could result in a commission to the owner of the website
Large altar flowers stand out more with bright colors.  These hot pink Matsumoto Asters have long sturdy stems.  I adore Matsumoto asters!  Also commonly known as "china asters", these large round blooms come in different shades of pink, dark pink, purple and red.
They have large round centers of bright yellow.  Don't be alarmed if the head is "drooping".  This is the nature of the flower and is a natural display.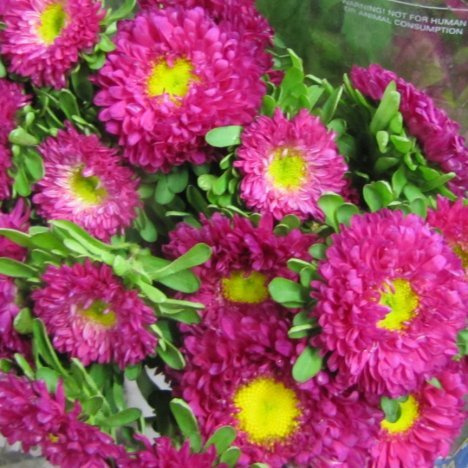 As you can see, these asters have very long lines and work well in altar flowers, bridal bouquets, corsages and boutonnieres.
I usually cluster these smaller headed flowers together, but wanted to spread out the flowers as much as possible to show you an overall design pattern.

Be sure to take care to face the head of the flower out.  If needed, you can support the head by wiring and giving it some support.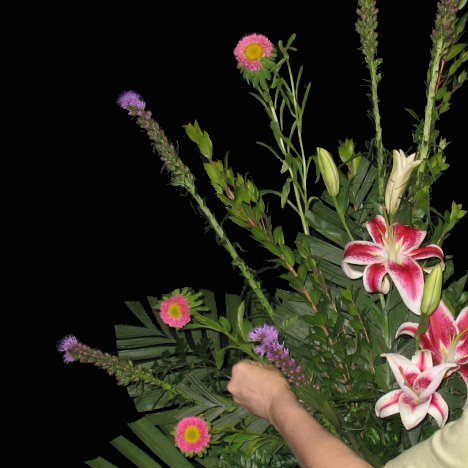 I'm placing the Matsumoto asters across the design.  You need to learn to watch for "holes" - blank spaces that are just begging to be filled with flowers!

Fill in some flowers deeper, giving the illusion of depth.  Alternating lengths of different flowers adds more interest to the overall design.
Hopefully the red lines will give you a clearer idea on the placement of flowers in the spray.  Notice all the stems are slanted inward to the center and spray out naturally in a 3/4 view of the altar spray.