altar flowers
Following links on this website and making a purchase could result in a commission to the owner of the website
Altar flowers are sometimes created with a matching "mirror" piece. This means you have a matching piece on both the left and right hand sides of the altar table.  Always count out your flowers upon arrival, setting the number needed for different arrangements in different buckets.  This keeps you from getting over enthusiastic, adding too many flowers to one piece and running short later.  It is a good idea to order a few extra bunches so you can fill in where needed later.
Delphinium is one of the few "naturally" blue flowers, available both in light blue and a bright, deep blue (Volk delphinium).  They have long slender stems with thin laterals coming off the central stem with each supporting a delicate blue bloom.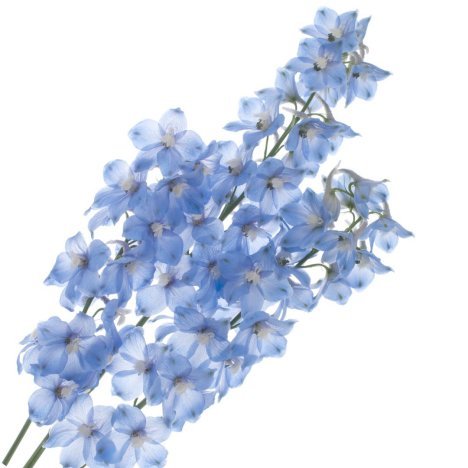 The delphinium is carefully packed in a cellophane sleeve to protect it.  Expect a few blooms to fall loose after delivery.  They are dry and need to be rehydrated as quickly as possible.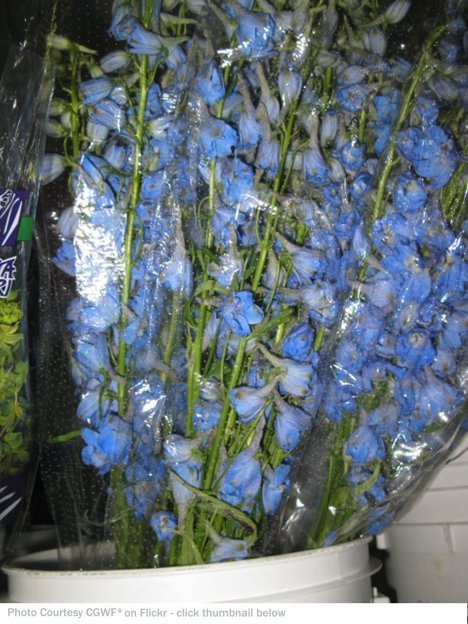 The graceful curve to the delphinium should be used to advantage when placing the flowers in a floral arrangement.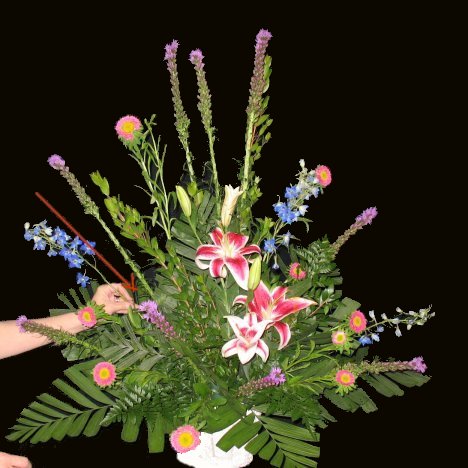 I do put a few flowers slanted out towards the back.  Remember that this altar spray will probably be viewed from three sides.  First, straight on, and then by both sides of those seated.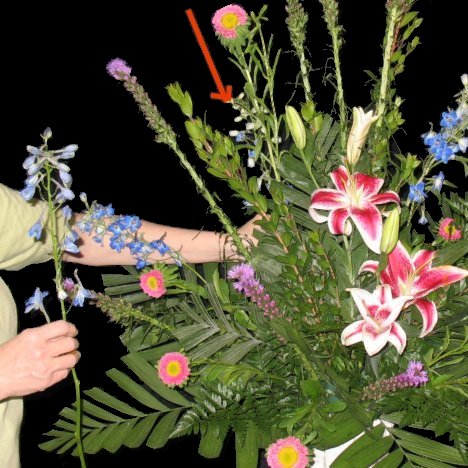 Even a little blue really pops out in the array of colors.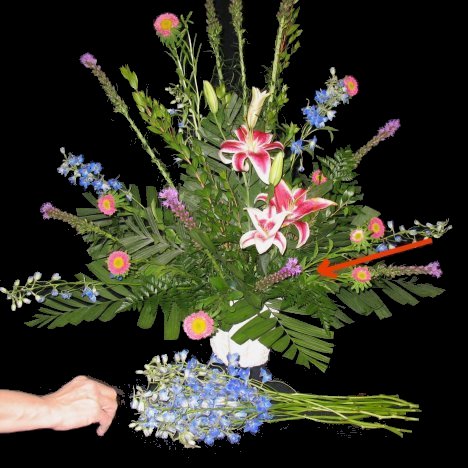 Don't forget to tuck shorter pieces in close to the center, surrounding the big head of the lilies.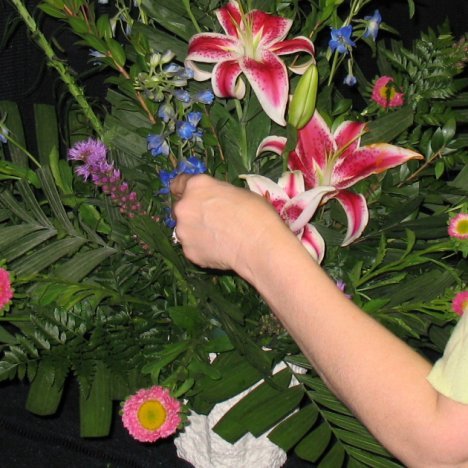 As you can see by the red marks, the pattern of insertion is very similar as I did with the Matsumoto asters.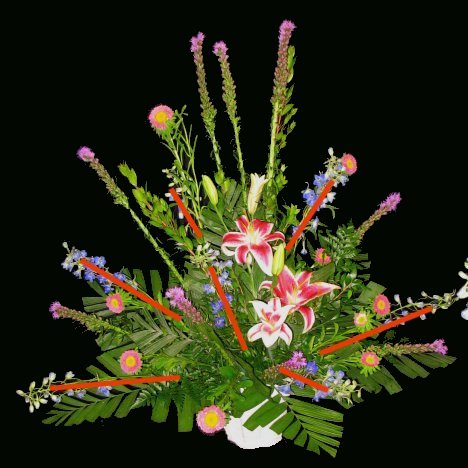 Snapdragons are fun to work with as well.  This lovely garden flower usually features a graceful curve to the top of the stem.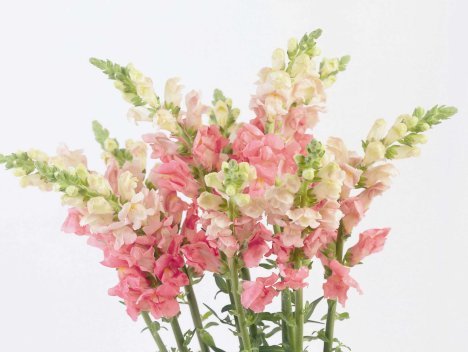 Although they will look rather smashed and wilted upon arrival, all they need is a good long drink for the individual florets to pop out in full bloom.
These beautiful flowers are available in shades of pink, red, oranges, yellows and white.  Many varieties are two toned - so don't expect orange to be a solid color like a crayon.  It will be blended tons of various colors - not just a solid.
White and pinks are the most prominent ones that are solid color.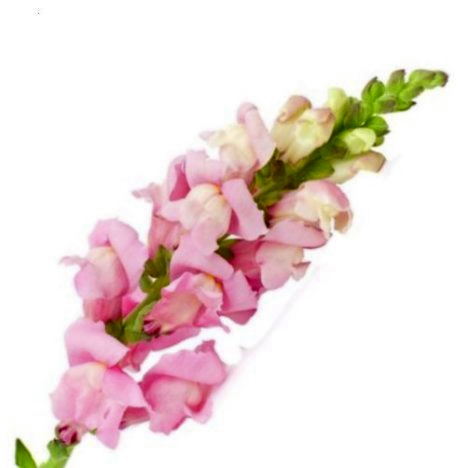 I use the curve and long stem to advantage when using snapdragons in my flower designs.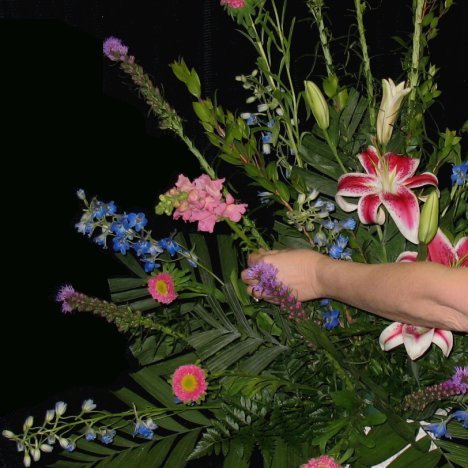 Don't forget to angle out from all sides and straight out from the center.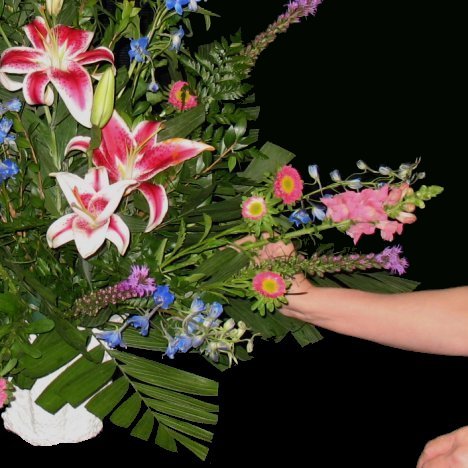 Making sure flowers come straight out keeps the design from looking flat and one dimensional.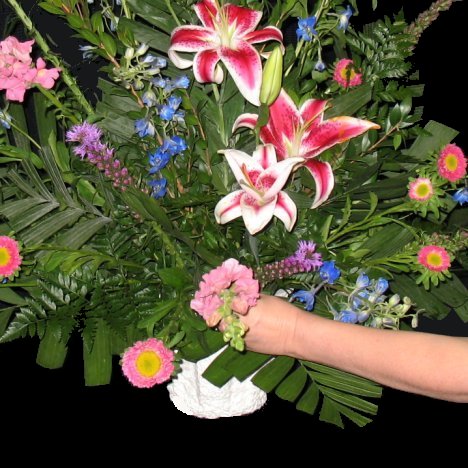 You can continue to add more varieties of flowers, but I think you get a good idea on how easy it is to create one of these large florals.  Inserting one variety of flowers at a time is a good idea if you want an all over design.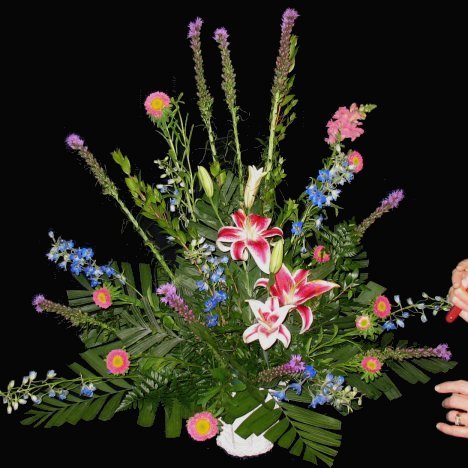 You could certainly add a lot more blooms to this particular design.  Consider large mass flowers like hydrangeas and allium.
The most important consideration is the delivery (which is why you see florists with rather large delivery vans on the road.)
Since this does flower up quickly, you could just take the greened spray to the church, transporting the flowers in a bucket and then flower in the spray quickly upon arrival.