Hand Tied Bouquet
Following links on this website and making a purchase could result in a commission to the owner of the website
I love using the new decorative wire by Oasis as an alternative to ribbon.  It is impervious to water, so you can do this handle treatment immediately and place the bouquet in a vase of water with no worries of hurting the look of the handle.
My plans is to cover the BindIt tape with a winding of decorative colored wire.
The wire is very malleable and is easily bend and wound into shape with nothing but your hands and a lightweight wire cutter.  Simply insert the cut end of the wire up high into the bouquet, hooking it around a strong flower stem and begin carefully winding it down the bouquet handle in a tight, close winding.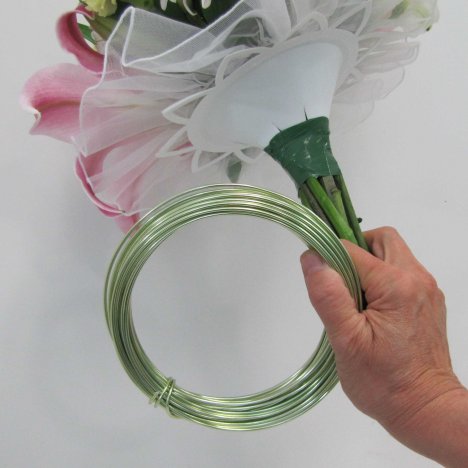 It can be a little tricky to get started, but like ribbon simply wind the wire over itself to secure the cut end and then wind it carefully down the stems as far as you desire.
Tuck the final clipped end of wire in between the flower stems to avoid snagging dress fabric or hands.
Only use a few windings or go down as far as you would like for the look on your bouquet.  Each spool of ribbon is 36 yards for a lot of design power.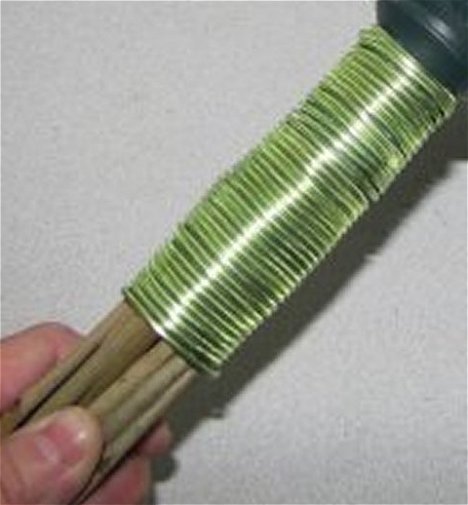 This is a GREAT way to finish off the bottom under the bouquet collar, since I would like to drop this finished bouquet in a vase of water and not worry about it again before the wedding day.  If I plan to ribbon wrap the split ends under the collar, then I need to do it after removing the holder from the vase.