Hand Tied Bouquet
Following links on this website and making a purchase could result in a commission to the owner of the website
The hand tied bouquet now needs a finished handle.  There are more alternative handle treatments that are more convenient than ribbon, since you can do this one immediately and not have to take the time of ribbon wrapping on the wedding day.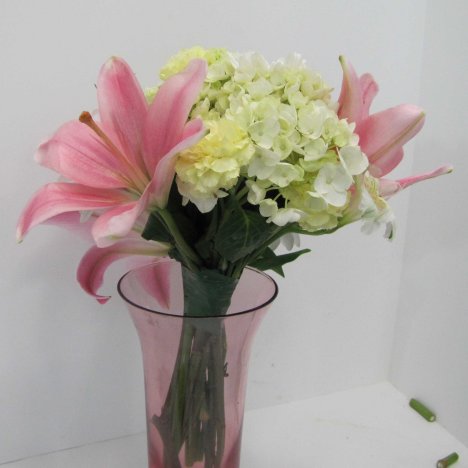 Again, make sure your bouquets are finished and that you don't want any more flowers in the design before doing the handle treatment.
I'm actually going to add a sheer collar to this traditional hand tie for a slightly different look.  You can do a similar look by adding sheer ribbon loops to the hand tied bouquet.
I had to clip the bottom opening a little wider to allow the thicker stems of the final bouquet to pass through this bouquet collar.  It is usually sized to accommodate a traditional bouquet holder.
Slip the stems of the bouquet down into the bouquet collar.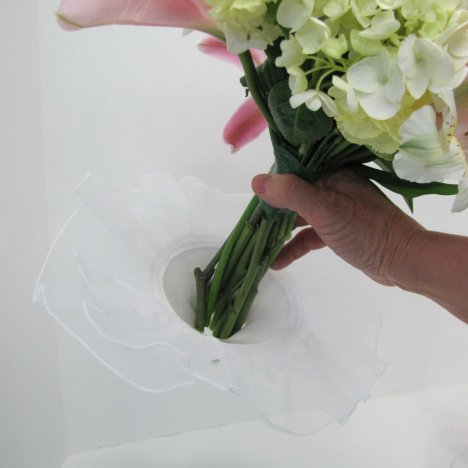 You will have to tape the bouquet collar in place using the BindIt tape or another tape.
The collar gives a pretty finish to the underside of the bouquet, which is nice if you are foregoing the addition of greenery.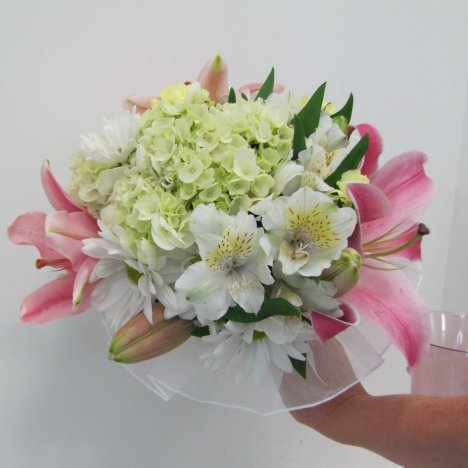 I tightly wound the BindIt tape around the split ends of the plastic base of the bouquet collar.
This type of tape holds to itself tightly and creates a tight, waterproof bond that doesn't come loose even if the bouquet is placed in a water vase.