flower garland
A flower garland that is meant for a table top is designed differently than a wedding garland that is draped over doors, windows, and outdoor gazebos.  One is designed all around, with flowers on all sides, while the table design is flat on the side that will rest on the table surface.
For this design, you'll need:
Netted Oasis Sealed Brick Garland
Your choice of flowers and greenery
Finishing Touch Flower Sealant
First you'll need to green in the flat blocks of Oasis foam.  Allow the garland foam to "float soak" - which means you place it face down in the water tube and allow it to draw up water naturally.  If you try to force it under to make the process quicker, you can cause air pockets in the foam.  These dry pockets means faster wilting for any flower stem unfortunate to be inserted in that area of the foam.
Fill in with bulk greens.  Good choices are leather leaf, ming fern, salal tips and Christmas greens.  Shop carefully, because I've noticed that some sites are selling "grower's bunches" . . . but they are only half of a full grower's bunch (which is what professional florists buy from their sources).  Always read the fine print and compare sites stem to stem rather than cost of a bunch.
I always sell full grower's bunches (my distributors sell directly to retail florists) and instead of "free shipping", let my customers see the shipping costs separately.  I try to always keep my shipping as close as I can to real cost.  I want my customers to know what each thing costs and help her keep on a manageable flower budget.  Designs are more creative if you have control over what to mix and match with flowers and greens.
Don't believe that anything is "free" on the internet . . . the cost is figured in ways such as large minimum requirements, bunches split in half or in other ways.  One way or another . . . the customer will pay in the end.
Filler flowers such a limonium, baby's breath and spray asters can help fill in a long garland.
Large headed flowers such as hydrangeas and Asiatic Lilies are gorgeous.  If you were to try and create these without a water source, the hydrangeas and other water loving flowers would soon wilt.
Here the designer is inserting lush dendrobium orchids, which is absolutely stunning.  But remember - exotic flowers will cost you a lot more in a design this long if packed with expensive flowers.
Adding in gold decorative wire adds a gleam of richness to any table flower garland.  See how the design can now fall gracefully over the edge of the table since the netted garlands will allow this flexibility.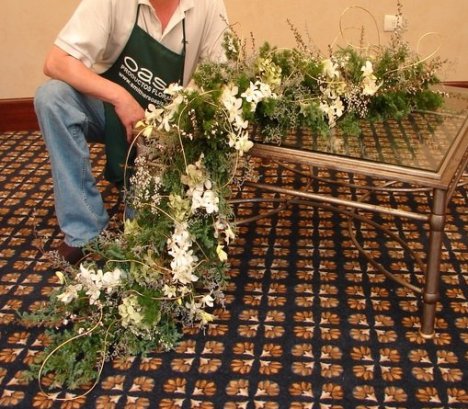 Design Tutorial Courtesy of Smithers-Oasis