feather wedding bouquet
Following links on this website and making a purchase could result in a commission to the owner of the website
This feather wedding bouquet features stunning phalaenopsis orchids, sometimes referred to as "butterfly orchids".  To create a similar bouquet, you will need the following:
Before beginning, wrap the handle of the Belle Holder with the Silver Diamond Wire.
This is much faster for the DIY bride than wrapping every wired stem, then wrapping those together, then wrapping once more in diamond wire to create the coiled look in the first photo.  That is very time consuming.
Instead, I recommend that you wrap the bouquet handle of a Belle holder with the silver wire as shown.  I have a separate tutorial showing this photo by photo and you can see it really creates a lovely look.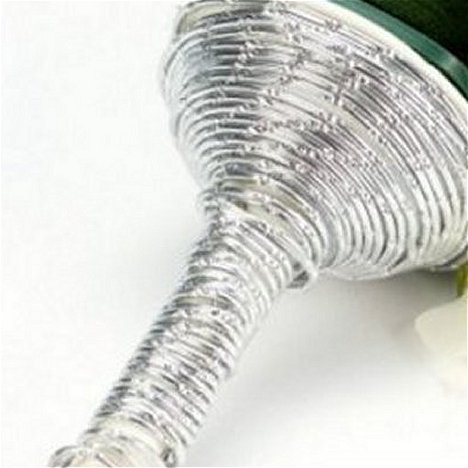 Wire each Phalaenopsis orchid with a florist wire, then wrap carefully with white stem wrap.  Be careful handling orchids.  The blooms are delicate and the oils from your fingers can cause browning.  I usually recommend washing your hands before opening the orchids and then misting your clean fingers with Finishing Touch before handling the orchids.
Wire each orchid and insert the picked flower into a brick of stiff styrofoam.  Once all your orchids are ready, you can cut them to length, dip each stem into white craft glue and insert into the styrofoam holder.
 Twist in feathers, beaded feathers, and garland, giving each a wire stem and inserting into the holder after dipped in white glue.  Once finishing, you can insert small feathers into the holes in the underside of the holder if you want a more finishing look on the back.  Again, dip each feather tip into the white glue before inserting that feather tip into the hole and through to the styrofoam.
Spray the orchids of the bouquet with either Clear Crowning Glory or Finishing Touch, making sure to completely coat the fronts and backs of the fresh flowers. Refrigerate until delivery.  Orchids must be refrigerated.  Some florists wet tissues and lay them carefully over each orchid to protect them until the wedding day.