feather wedding bouquet
Following links on this website and making a purchase could result in a commission to the owner of the website
This luxurious cluster of orchids pinned to a satin covered purse has a lovely trail of feathers spilling over.  To recreate this look, you'll need the following hard goods and fresh flowers: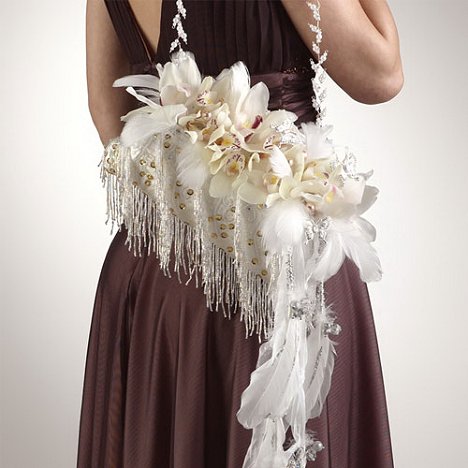 Cymbidium orchids are surprisingly hardy and hold up well as bridal flowers.  You can use Oasis Floral Adhesive to attach the orchids to the purse, but I prefer using long 2" pearl pins to attach the orchids, so that they can be removed later and the purse kept as a sentiment of the wedding day.
You can start by decorating your purse with additional rhinestones or fringe, or simply buying a purse already adorned with crystals.
Give your orchids a bath in tepid water upon arrival and then prepare them by wiring them to a  StayFresh flower stem with white stem wrap.  Cluster crystal sprays to each orchid and tape into place.  Tape a 22 gauge wire with stem wrap.  Double over (creating an eyelet on each end) and tape these wires to the backside of the wired orchids.  Once attached to the orchid, these eyelet holds will be the loops that you use to pin the orchids to the purse with pearl headed corsage pins.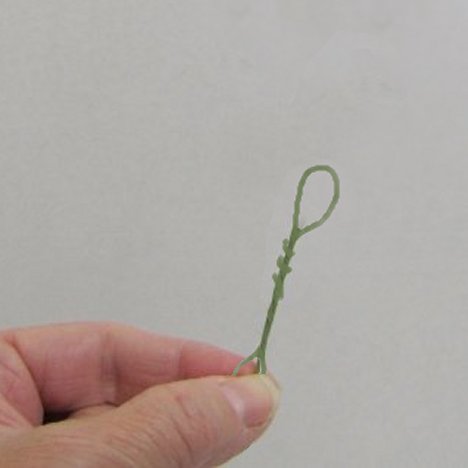 Start by drawing a line of silver glitter down the center of each feather.  Once the glue is dry, tape a crystal spray to each feather with white stem wrap.  Using silver bullion wire, wrap the wire around the neck of each feather, then allow a short length and wrap around another feather.  Make 3 or 4 feather garlands to pin to the purse so they dangle from the sides as shown.
Store the orchids in the refrigerator, pinning the the purse before delivery to the church.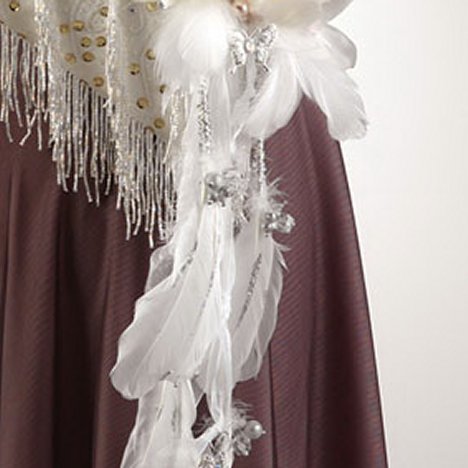 Most brides and attendants carry these as a clutch with one hand while escorted down the wedding aisle.  If desired, you can wire a pew clip to the opening of the purse and around the clasp to give a handle to hold while going down the aisle.  You need a style of purse that opens at the top to do this.  If desired, ribbon wrap the pew clip to match the satin color of the purse.