easy wedding centerpieces
These easy wedding centerpieces take only minutes to fill in.  The first green I'm going to add is leather leaf fern This is a staple at every flower shop.  Watch it though - I've notice some "wholesale" sites selling bunches are actually splitting a grower's bunch.  Bunches are standard throughout the floral industry so each retailer knows what they are ordering.
I was annoyed to find some popular flower sites selling leather leaf - and in the smaller print tell you there is 10 - 15 stems in a bunch.  Then on top - they make you buy 5 or more bunches!  Compare prices by the stem to see whether or not you're getting full value.  Normal grower bunches are 20 - 25 in a bunch - so you are only getting half as much for a higher price per stem.
I sell retail - but you get full grower bunches sold directly out of a wholesale distributor who sells to professional shops every day.  I also don't make you buy five or more bunches - I let you buy single bunches of flowers and greens so you are in total control of your flower budget.
You can get a lot of mileage out of one full bunch of leather.  The laterals cut easily off the main stem.
Strip off enough of the bottom leaves so you have a clean stem to insert into the foam.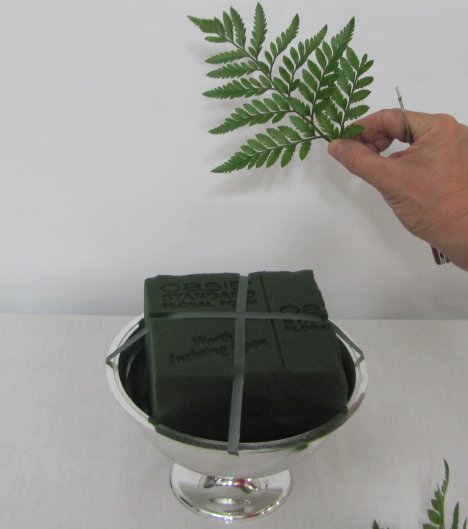 Now you can see why the floral foam has to be at least an inch or so above the rim of the container so you can insert greens and flowers from the side.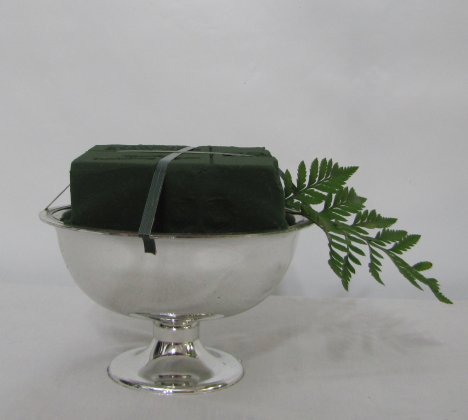 Don't worry if you have odd cuts left.  Put them all in and don't waste any if you can help it.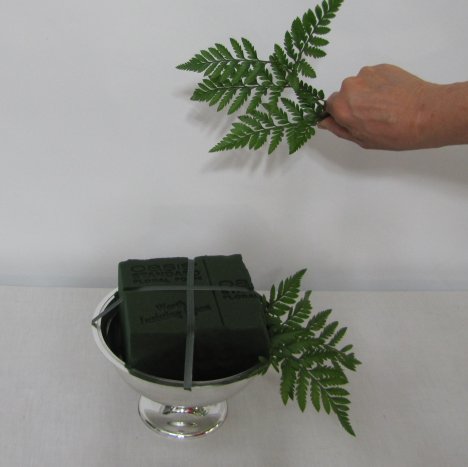 Fill around the bottom perimeter and the work your way up the sides.  The first insertions are at a slight upward angle, so the point of the leather leaf is pointing down towards the table top.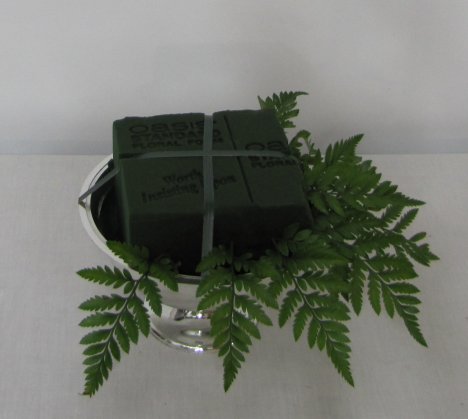 As you move up, then begin pointing your greenery tips straight out.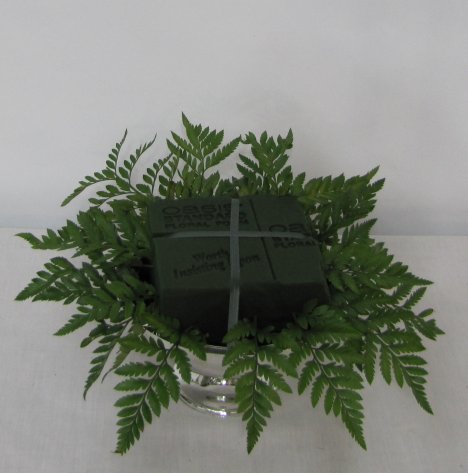 Once you get to the top of your foam, the greens will be pointing upward and straight up in the center.
Don't freak if you see small black dots on the back.  These are simply fern spores (think seeds) for repopulation of the ferns.
Here's a side view of the completed first stage.  See?  These really ARE easy wedding centerpieces!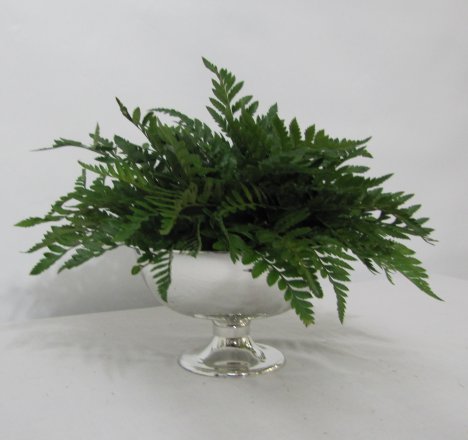 Here's a view from the top.