crescent wedding bouquets
Crescent wedding bouquets can either be a mirror image (the same on both sides) or a side crescent, with the sides being asymmetrical.  If you need step by step help, check out a step by step tutorial guiding you through the steps of preparing the flowers, greening in the bouquet holder, inserting the flowers and using the finishing products that help keep the flowers fresh for several days.
For this crescent bridal bouquet, you'll need the following supplies: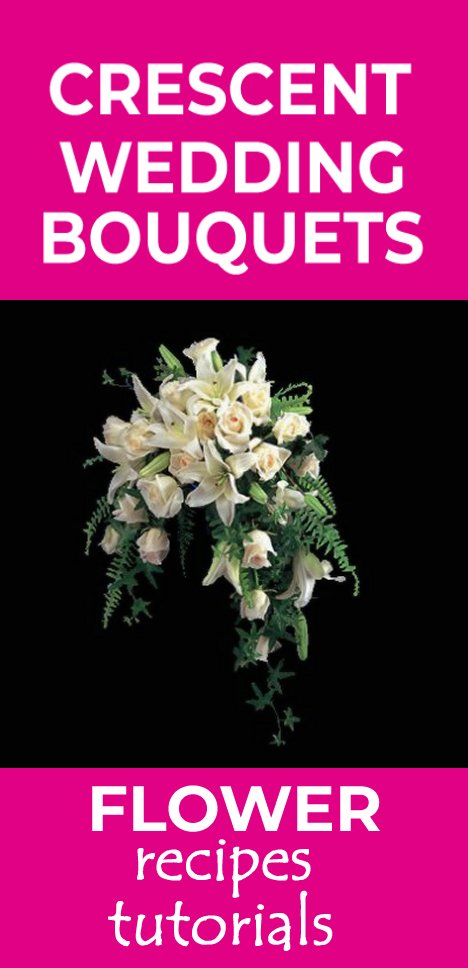 Always begin by processing your wholesale wedding flowers correctly.  The handling of your flowers when they arrive determines how they open and how long they will stay fresh.  Trying to cut corners by not buying a professional flower food, re-hydrators like Quick Dip and following up with a flower sealant like Finishing Touch helps keep those flowers blooming longer!
Always dig deep and compare websites before buying your flowers online.  Although they may claim to be "wholesale" and offer free shipping, please realize that the prices are NOT the same as flower shops pay and shipping is definitely figured into the price.
I get annoyed when I read the fine print and see that some sites short their grower bunches - giving you less stems while charging what amounts to a retail price.  Read the fine print.  I don't require my customers to buy five or more bunches plus I sell them as they are packed and sold to professional florists.