church wedding decoration ideas
Following links on this website and making a purchase could result in a commission to the owner of the website
Church wedding decoration ideas will come more easily after you visit your venue and lay out a plan for where each flower will be.  The harder decision is where you can put them and NOT obstruct where your attendants will have to stand and at the same time not block your guest's view of your vows.
This is a simple tutorial for the two large sprays standing on each side of the altar rail.  I bought these pillar candle stands on clearance at a large discount store.  It's easy to change the decor with a can of 
Design Master Ubermatte Spray
The best thing about these paints and dyes is that you can use them on flowers - and on your containers, too!  These stands have been white, gold and silver at various times depending on the wedding theme.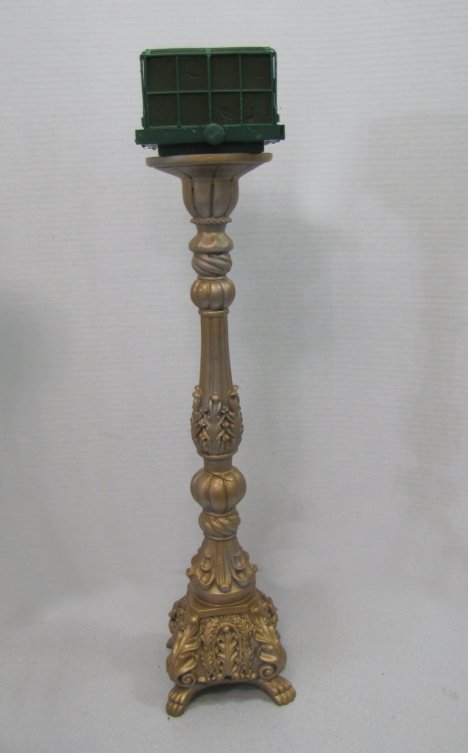 I'm using an Oasis Corso Cage, which is virtually an empty cage that can be filled again and again with Oasis Brick Foam (it takes 1/2 a standard brick).  This is a staple in most flower shops, but a DIY bride can use a small disposable Floracage and just throw it away later.  If you order Corso cages (to use more than one) be sure and realize that you have to order your Oasis foam bricks separately.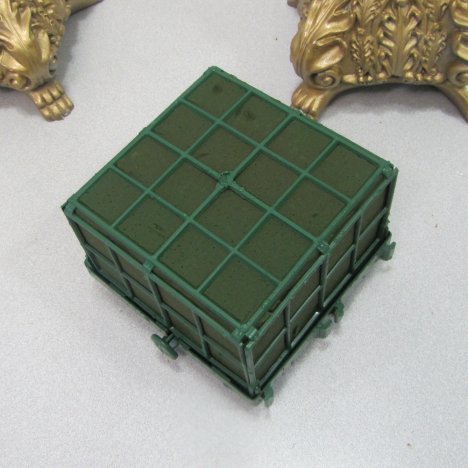 This cage fits nicely on top of the candle sticks that are usually meant for pillar candles.  Don't attach it as this point, because transporting very tall centerpieces is almost impossible when constructed at your home.
Florists design these pieces separately and then, once at the church, used florist clay to attach them to the tall vase or stand.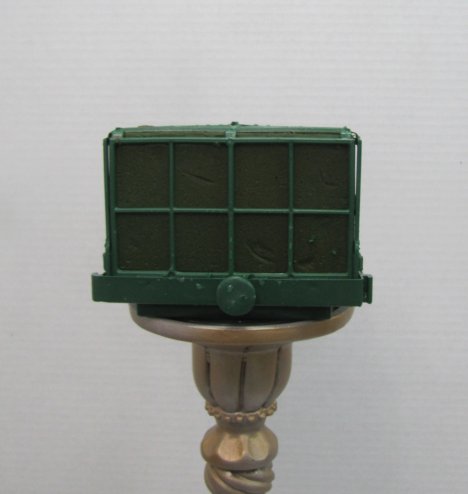 To be able to transport this easily on the wedding day, I simply put the cage on a sturdy base (this is actually a large can of green beans bought from the local grocery store!) , transporting it later separately from the candle stick and then attaching it at the church.
I needed something with a little height, as I want some overflowing greens that will conceal the top of the candle stick.  If you want really long, trailing greens, you can simply add them to the altar spray when you get them set up at the church.
If you have really tall flowers, simply hold off inserting them into the design until you reach your venue.  This takes only a few minutes and can save your flowers from having snapped off heads or broken stems on the way to the church.
For every church wedding decoration ideas that you consider . . . always keep in mind how to get them to the church!   I created an easy video that addresses how to pack and transport your wedding flowers.