Cascading rose bouquet

Following links on this website and making a purchase could result in a commission to the owner of the website
This cascading rose bouquet is designed in white, but you can choose any flower colors that suit your own wedding palette.
Your basic outer frame of the bridal bouquet is now complete.  You're ready to begin filling in the center portion.  Keep in mind that, although you want to hide your mechanics (foam, grid, etc.), you don't want to jam so much greenery into your design that you don't have room to support the flowers.
Now that your cascading bridal bouquet is framed in, you can quickly fill in the center with shorter pieces of leather leaf fern.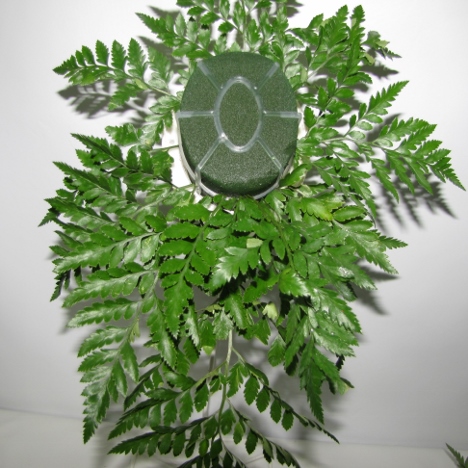 The outer pieces are placed straight out from the sides.  As you move inward, begin angling your pieces forward a bit.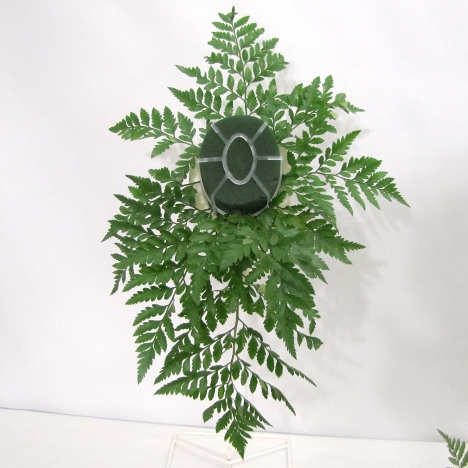 This gives the final design more dimension and won't look flattened.  Always take frequent looks from the side, to be sure your bouquet is taking on depth as well as width.
I usually fill around the outside and work my way into the center.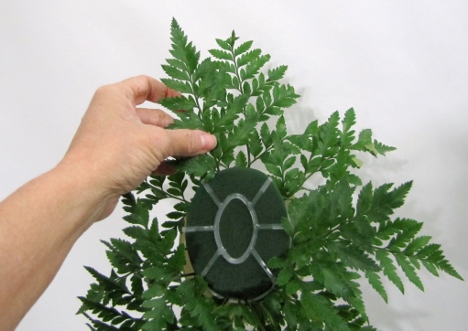 The pieces you use will get a little shorter as you get near the center and will eventually be put in at a complete 90 degree angle.  (Sticking straight forward).
At this point, I've used approximately three pieces of leather leaf fern.  This type of greens will help fill in gaps on everything from centerpieces to bouquets and large sprays.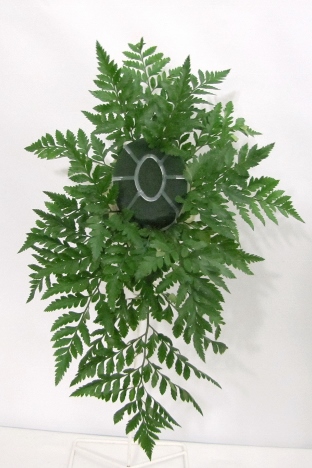 When filling in the center of the bouquet holder, it's important to continue to angle the inserts of the fern forward.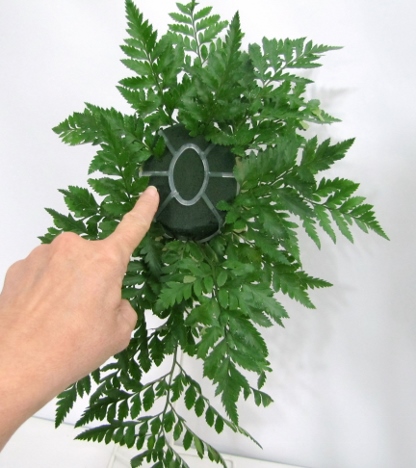 You can tell more what I mean by a side view.  Notice the greens are lightly filling in the space and do not look flattened.
The final center are shorter pieces, filling out the rounded dome look from the side.
I place these pieces straight into the center of the foam, with no angle or slant to the side.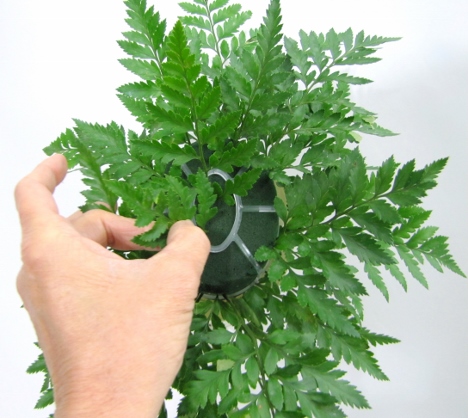 Fill in the remaining pieces this way, lightly covering the florist foam.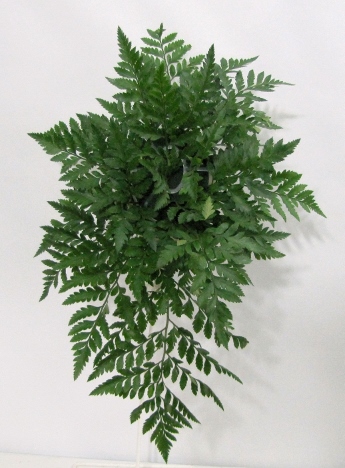 The angle view from the right side.  Notice how the leaves are straight up in the center then angle outwards towards the sides.  This dimension is what you need to strive for with all your greenery pieces.

The greening with the leather leaf fern is complete.  Take a look from both sides of the design.