cake wedding flowers
Following links on this website and making a purchase could result in a commission to the owner of the website
Cake wedding flowers can quickly be inserted if you've done all your prep work in advance.  My goal is always to be in and out under twenty minutes, as you have to keep a schedule on such a busy day.  Always call your cake decorator in advance and see when the wedding cake will be delivered.  Sometimes the baker will offer to place the flowers on the cake if you wish.
If it is you setting the cake topper on the top layer, be sure to request the baker to put in supportive dowel rods if the topper is heavy.  You don't want it to sink into the top of your cake.  If she didn't put one in, cut out a piece of cardboard and wrap in aluminum foil.  The wider base will help counter balance the heavy topper.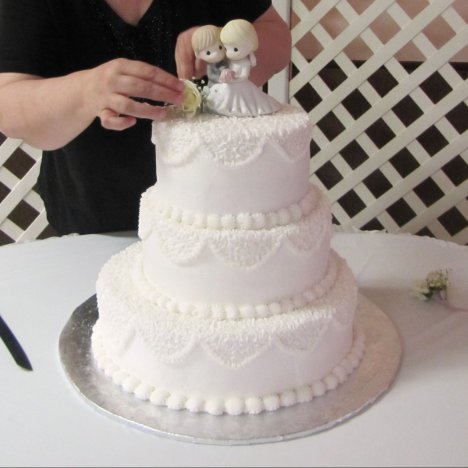 I love using the narrow decorative wire and flat wire.  The wire is so malleable that you can mold into all sorts of shapes and curls.  This is how I made the silhouette of two hearts above this bride and groom figurine.
I just begin tucking the pre-made flower clusters into the top and sides of the cake.
Notice how putting the flowers at different heights gives more dimension to the design.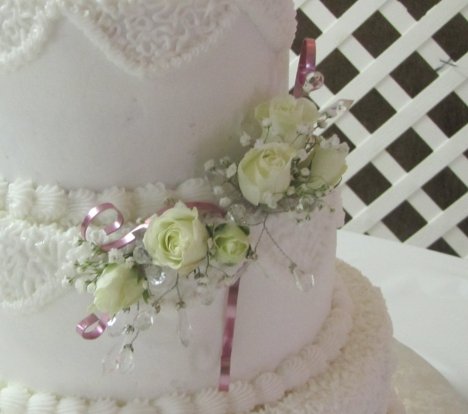 Using decorative wire instead of ribbon is a big advantage because the wire does not show grease stains as a fabric or silk ribbon does. 
I work my way around the cake, staggering the placement of the flowers as I go down each tier.
Place the first flower heads facing upwards, then tipping forward and then downward.  This will give a more natural look than flowers heads poking out at the same angle on every set.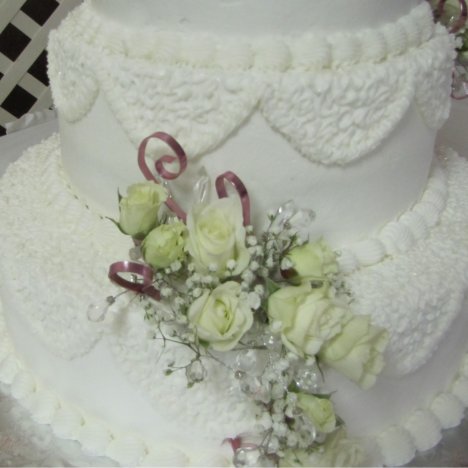 Tuck the flowers close enough together to hid the parchment paper and toothpick stems.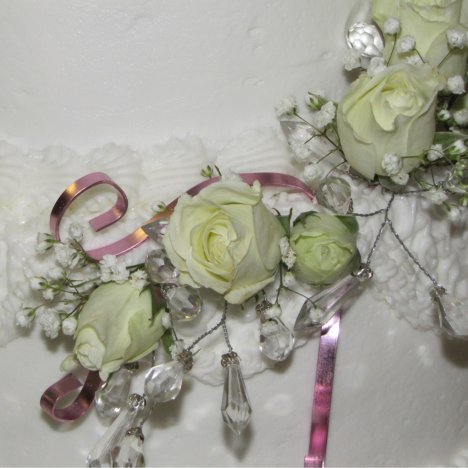 Here's a left side view of the top layer of the cake wedding flowers.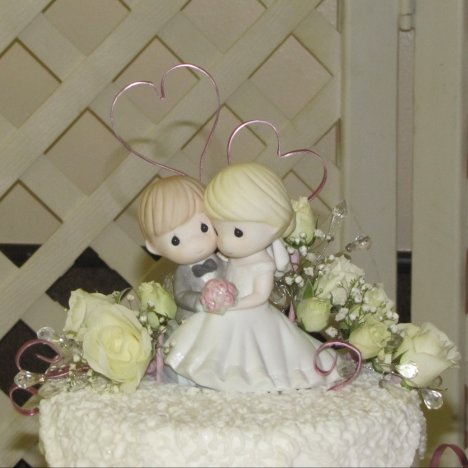 Notice how the flowers are on both side of the cake topper, then the lower levels looks as if the cake flowers are falling down and continuing the curve.
Here's a view from the front of the cake.  Keep in mind that the goal is to ACCENT the cake, not completely envelope it.  You want the lovely icing accents to show through.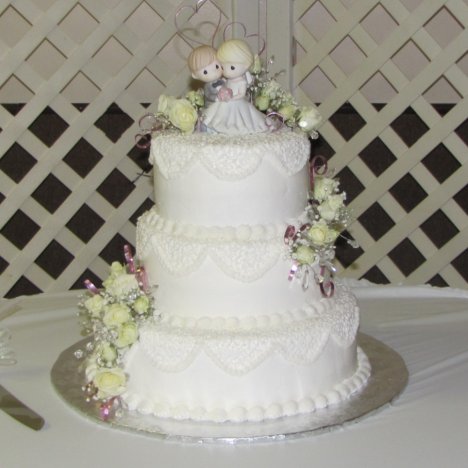 I finish up the cake by scattering clear flattened marbles as table accents.  I attached a corsage ribbon bow to the cutting utensils and step back to take one more picture!