bridal bouquet greening
Following links on this website and making a purchase could result in a commission to the owner of the website
In bridal bouquet greening, the outer ring of leaves will determine the final size of the bridal bouquet.  The flower heads commonly edge out beyond the rim of greenery.  In this case, however, I want a greenery "collar" of galax leaves to show as part of the final design.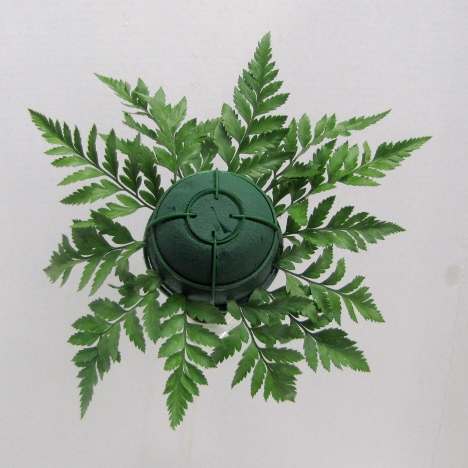 I also fill in the underside of the bouquet holder.  You'll see special openings where you can still see foam.  This helps conceal the bouquet holder and helps contribute to the look of a "mock" hand tied bouquet later.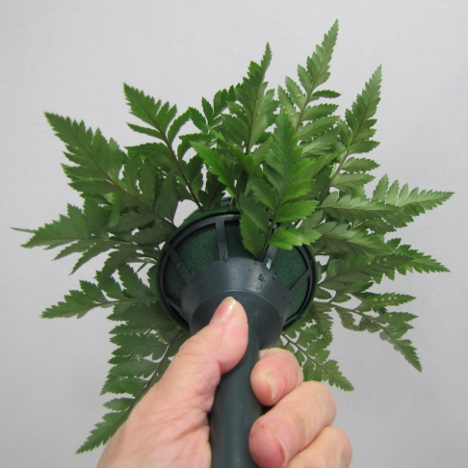 Fill in enough to cover the mechanics.   Don't go overboard, since this is the underside of the bouquet.  Notice how the "right" side of the fern is facing downward, rather than the underside.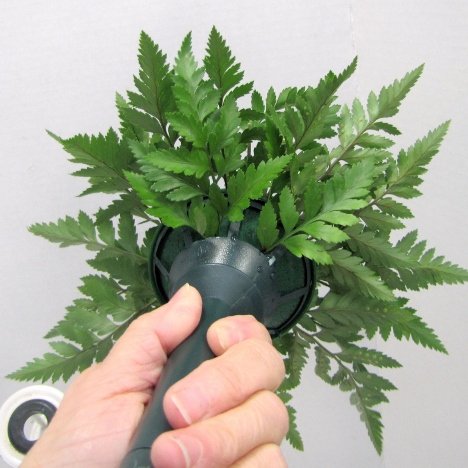 I've filled around the edges and established the size of the bouquet.  Now I'm going to fill in with a collar of galax leaves.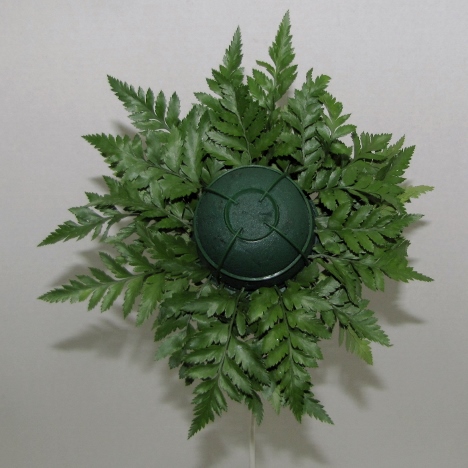 Galax leaves are truly one of my favorite greens to use in weddings.  I love these perfect little leaves for bouquets, corsages and boutonnieres.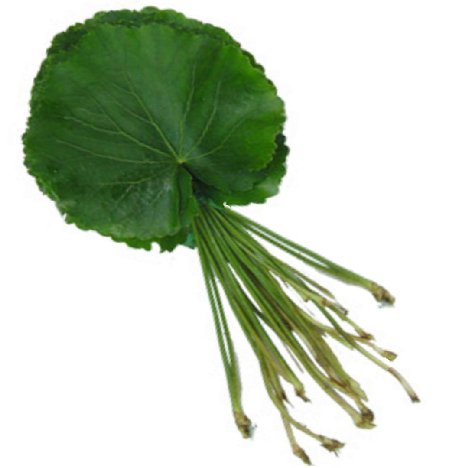 By the way . . . these are live products.   That means not every leaf is "cookie cutter perfect".  They aren't silks stamped out in a factory.
If you see a little browning on the edges, a florist simply grabs her scissors and does a little quick nipping.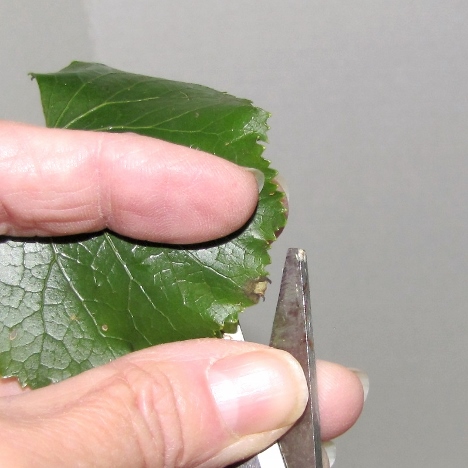 There!  Ready to use!  Keep in mind that fresh flowers and greenery are a live product.  Good designers don't expect perfect, but gives mother nature a hand.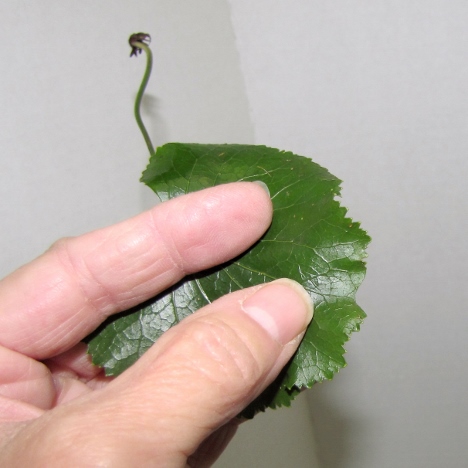 I want a collar of leaves to show just beyond the roses in this wedding bouquet, so I insert the galax leaf on top of the leather already around the outside of the bouquet holder.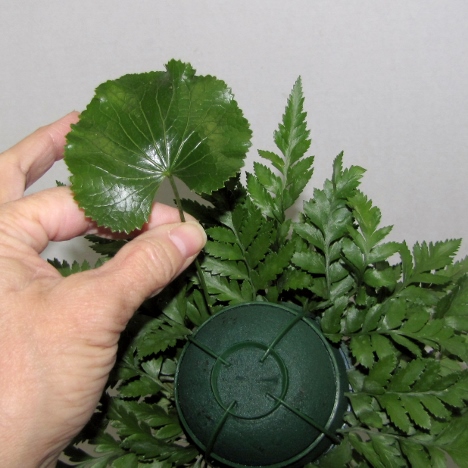 Continue around the entire perimeter of the bouquet.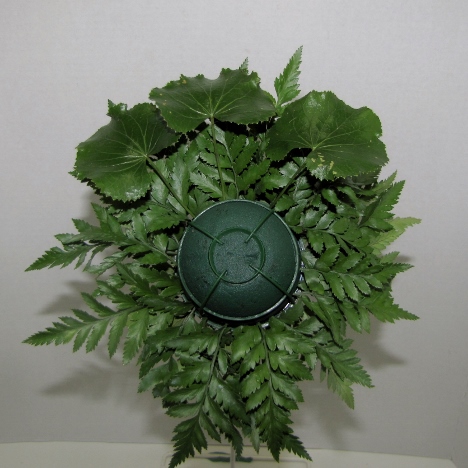 The bouquet is greened with a lovely collar of galax around the outer portion of the bouquet.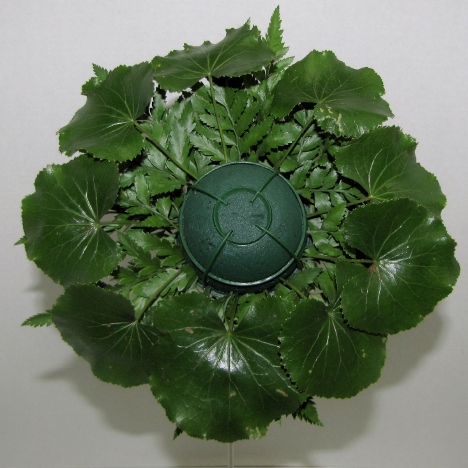 Now that my galax leaves are in place, I'm going to fill in the center with more leather leaf fronds.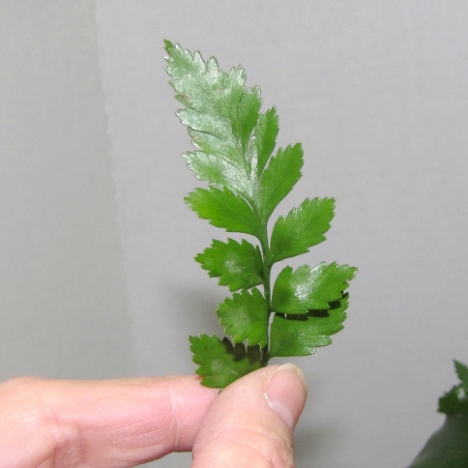 I'm placing these right in the center, sticking straight out from the center.  Take care not to use too big of leather leaf pieces.  You do not want to cover up the galax leaves.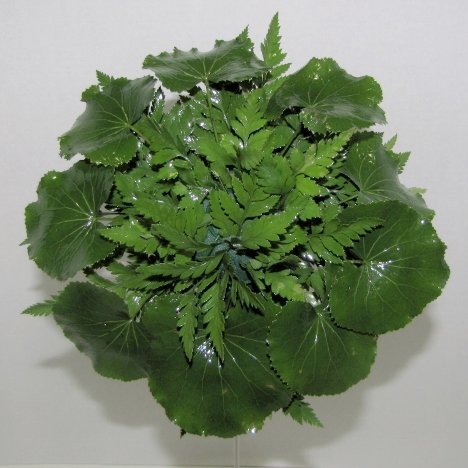 At this point, I sprayed the greens with Leafshine, which will seal the fresh leaves and keep the moisture locked in longer - which in turn makes the greenery last longer.
It also gives a pleasing clean glossy finish, dispelling any splotchy white residue sometimes left after hard water evaporates off greenery.