boutonniere wax flower
Following links on this website and making a purchase could result in a commission to the owner of the website
You may have noticed that I've left open the place directly in front on this white rose boutonniere.  This is where I wanted to add a little filler flower.
Instead of the traditional baby's breath, I'm going to use a sprig of a sweet little flower called Wax Flower.
Don't go overboard and use too big of a clump, or it will end up looking overdone.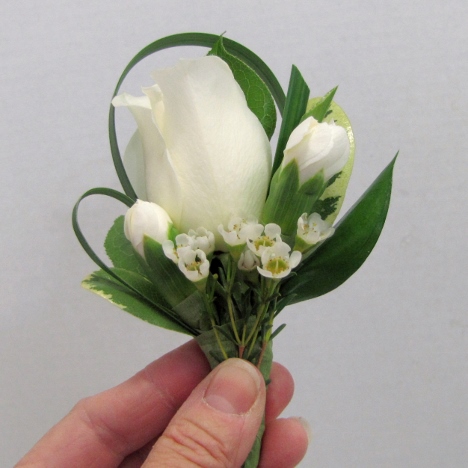 Keep adding and taping a few sprigs at a time until you get the look you desire.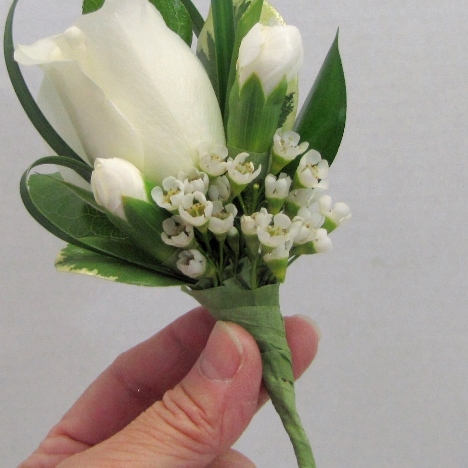 I'm going to give this white rose boutonniere a polished finish with a ribbon wrap on the stem.

I start up high, directly under the flower.  If you find the ribbon slippery and hard to tightly wrap, you can secure on the back with a shortened pearl headed pin.

Wrap down the stem, taking care to overlap the edges so they bind all the way down.

Continue down, using your thumb to firmly hold the ribbon in place as you turn the boutonniere around.

Once I reach the bottom of the rose boutonniere, I maintain a steady tight pressure on the ribbon.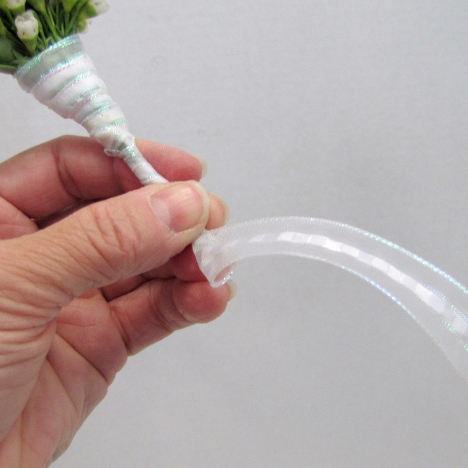 Holding the ribbon, I give a quick twist at the bottom of the wired stem to tightly curl to wire in a tight knot.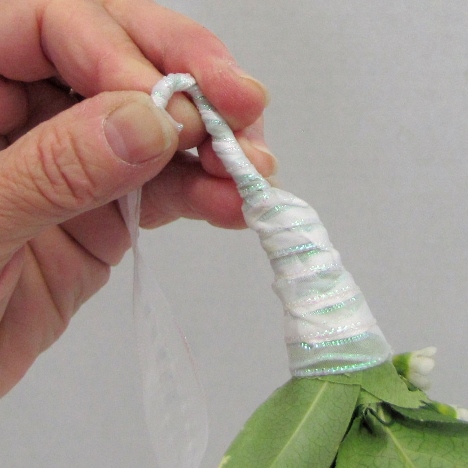 This secures the ribbon and gives an attractive tail you can clip short at a sharp diagonal for a design interest.

This is a beautiful, ribbon wrapped finish that looks great all on its own.  I have a little more detail to add to this particular boutonniere, however . . .