altar flowers
Following links on this website and making a purchase could result in a commission to the owner of the website
Altar flowers don't have to be a perfect balance of flowers.  Scattering the daisies here and there throughout the design add a charming  element with conservatively priced flowers.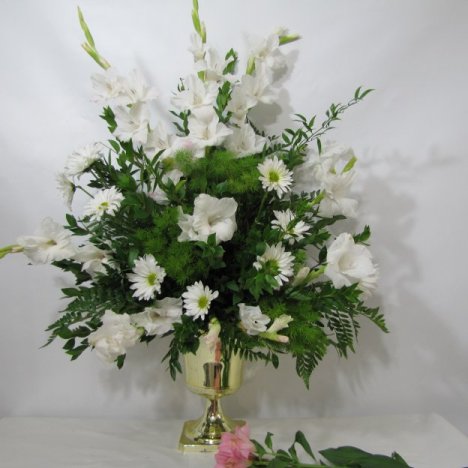 The next step in my wedding flowers urn tutorial is to add a spot of color with pink alstroemeria.  Also known as a Peruvian  Lily, this lovely flower comes in many different shades of colors.  It holds up well in arrangements, vases, bouquets and corsage work.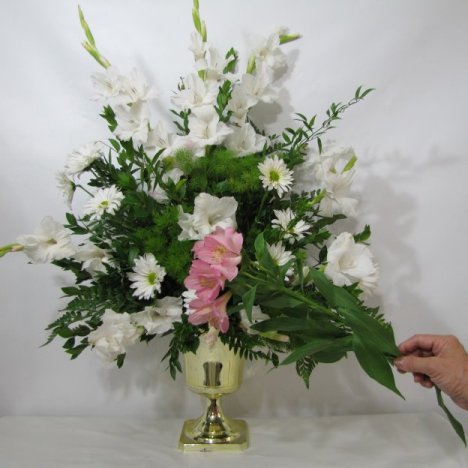 The tall stalk usually has four to six blooms with a deep throat of yellow.  The long stem makes it good for tall vases and big altar sprays such as this urn arrangement.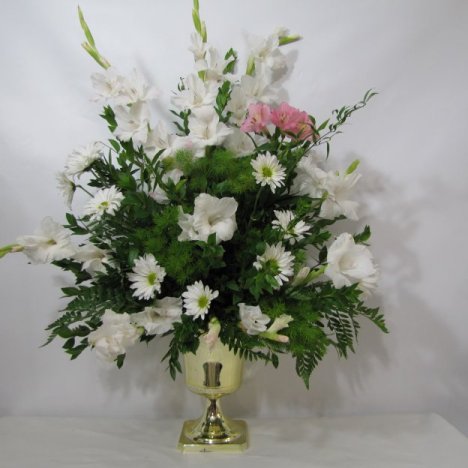 I just staggered it among the gladiolus and daisies already inserted into this altar spray.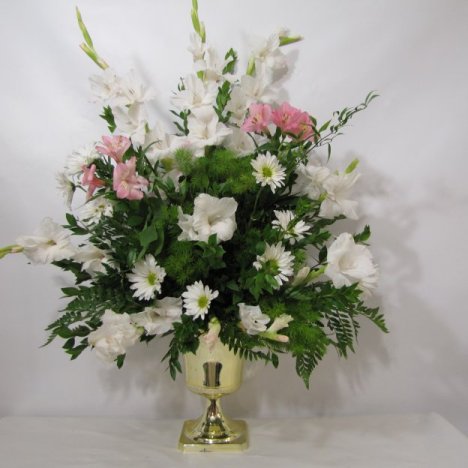 Do not think you have to limit yourself to merely the flowers I show in this step by step tutorial.  You can substitute other long linear flowers such as purple liatris, varigated snapdragons, mums, roses and more.
Although the flowers and colors may differ, the principal for design remains the same.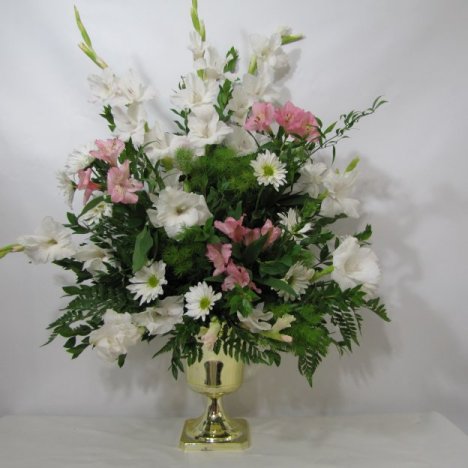 Continuing this altar flower tutorial, I'm now adding in Matsumoto Asters.  Commonly known as China Asters, these cool flowers are available year round in the colors of deep purple, red, different shades of pink, yellow and white.

Many people mistakenly believe that this flower is wilting when they get it, because of the bent neck.  This is normal, however, and simply a characteristic of the flower. 
If I want to be sure that the head of the flower faces the correct way, I wire the flower stem with the hook method to stabilize the flower head.
This aster has long slender stems with it's leaves clustered only around the head.  It's great for adding some height and color to the overall design.

I'm going to complete this altar flowers tutorial by adding deep yellow roses to the final look.  I've wired the roses to give them a reinforced head.  (This is important since you will be transporting these to your church or other venue.)
I begin by adding the first rose in the upper right, directly in front of the first white gladiolus.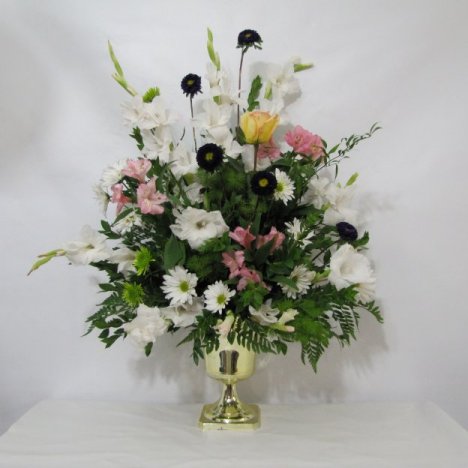 With a shorter stem, I add another rose deep in the center, with the rose head angled outward.

Two more roses are included on both the outer right and left of the spray, with their heads facing in those directions.

Finish with shorter length roses inserted lower on both sides.  Always envision the flowers starting from the center, then angling outward in all directions.
This is a three quarter design . . . meaning that it can be viewed front the front and both the right and left sides.  No matter where your guests are seated, they should be looking at the full head of the flowers on the side facing them.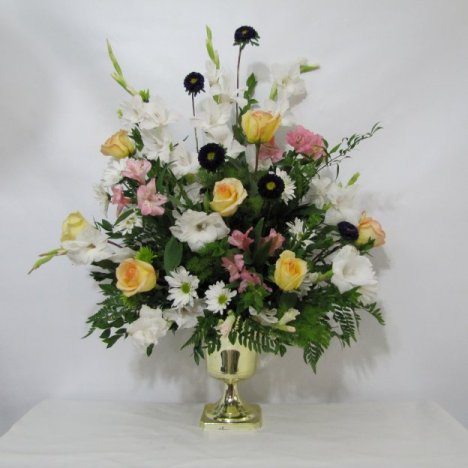 Take a critical look at your floral design from all sides.  See any holes?   I tucked in some extra greenery behind the upper left Matsumoto Aster where it seemed to be missing something.
You may need to add in a single flower here or there or some extra greenery for the final, polished look.