White Wedding
Presentation Rose
Following links on this website and making a purchase could result in a commission to the owner of the website
Tape the second set of salal leaves in place, cupping them around the bottom of the rose.

Notice how the salal leaves are framing the rose, complimenting it - but not overpowering it with too many leaves.  The focal flower is always what should first draw the eye to the design.
Keep in mind that presentation flowers do not have to always be roses.  Single flower heads or clusters of smaller flowers can be substituted.
Wax flower is one of my favorite fillers.  It has a rather grassy look with tiny star like flowers.  It is available in white, pink and purple.  In the fall they are available in dyed shades of orange and yellow.
It usually has both opened flowers and small, tightly closed buds.  Use both to add interest and texture to your flower designs.  It holds up well in cut designs such as corsages, boutonnieres and presentation flowers.
I cut apart the stem of wax flower before taping into place separately on the rose stem.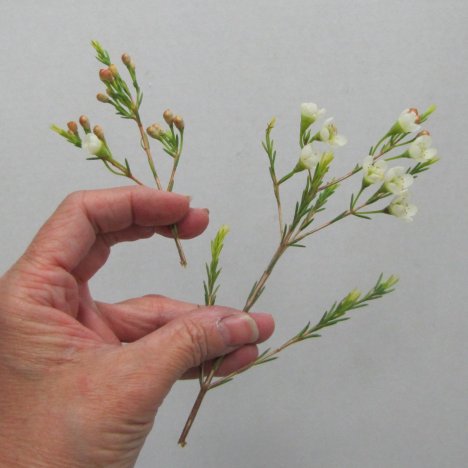 Lay the wax flower with the tiny buds right next to the rose head and tape into place.  Remember, taping should always be smooth and minimal, taking care to use as little stem as possible so the bulk is kept to a minimum.

Take care not to overpower the focal flower (in this case the rose) with the filler flower (the wax flower).  Surround the focal flower . . . don't drown it with an overabundance of filler!

Keep adding until you are happy with the amount and effect of filler flower.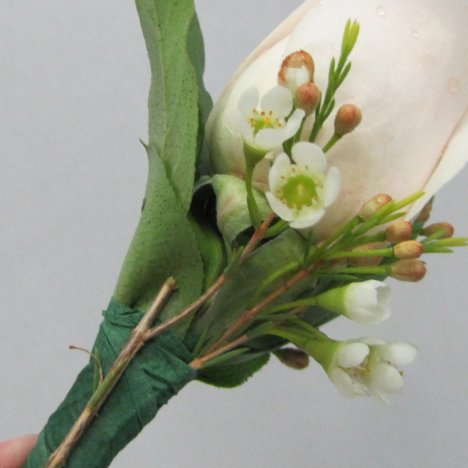 I tape each separate piece into place carefully, maintaining control over how much wax flower I use.
Don't forget to take advantage of the cool look of the tiny unopened buds of wax flower.
They add a whole other look and dimension of texture to the flower design.