Wedding Flower Prices
Why Do Flowers Cost So Much?
My goal when I first created this website was to teach brides how they could save money by designing their own flowers by providing free step by step tutorials and providing a store where she could buy the essential florist supplies without spending a fortune.
As I've grown over the years, I've now partnered with one of the largest floral wholesalers in the country that supplies real working flower shops all over the United States.  This is the same company that our flower shop used and they are experts in shipping out fresh flowers and goods.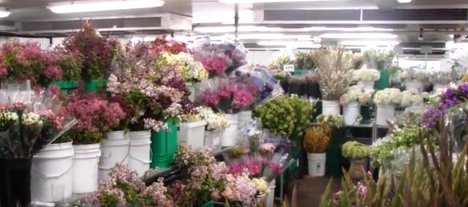 I love spending the day exploring their large coolers packed with gorgeous flowers, tropicals, greens and more!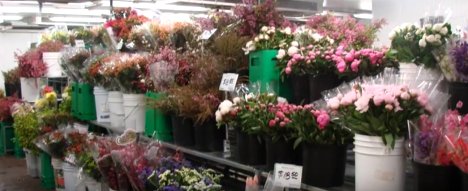 Although I started out only supplying hard goods in the beginning, I now sell fresh flowers (by the single bunch!) so that you can now truly buy everything you need in "one stop shopping" to create beautiful flower designs.
Don't see what you're looking for?  Ask me.  I'll check with my experts and there is a good chance if it's available - we can get it!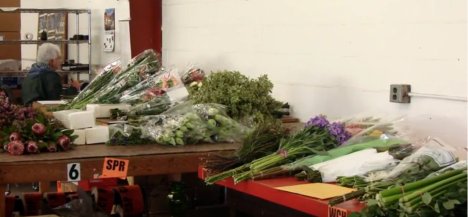 I don't require minimum purchases and I work at keeping my prices at a point where I can make money - but you can actually save money, too.  It's a labor of love for me and has allowed this retired florist to keep her hand in the wedding business without lifting heavy water buckets all the time!
First you have to understand the markup process for florists.  Just as any other store, they have to mark up the products they sell so they can make a profit and pay their employees.  Don't be too critical - it's expensive to run a quality shop and the markups are justified if they plan to stay in business for long.  After all - this is no different than you paying a higher price for a gallon of milk than the store paid.  That's only good business.
EVERYTHING in a floral shop is factored into the final price of a flower design.  Florist's Review (a well known professional florist magazine) did an interesting survey across the country, asking eight retail flower shops what they would charge for a specific table centerpiece.  The info is a little dated (this was written in 2008), but it is a real eye opener into how much of a markup is paid before those flowers go down the aisle with you or sit on your reception tables.
Take a look at the survey for yourself:
https://www.floristsreview.com/main/november2007/featurestory.html
Did you catch the suggested retail for a simple candle centerpiece?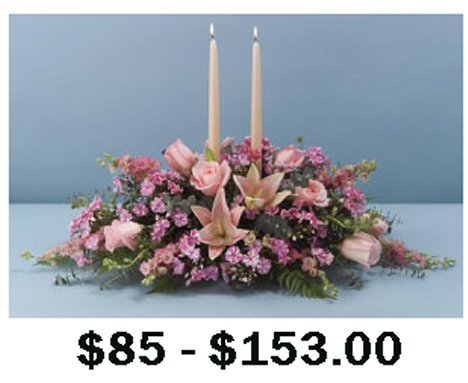 Keep in mind that this article was written in 2007 - the prices are even HIGHER now in some higher city areas!  Check out a similar centerpiece on real florist website.
Now check out MY tutorial!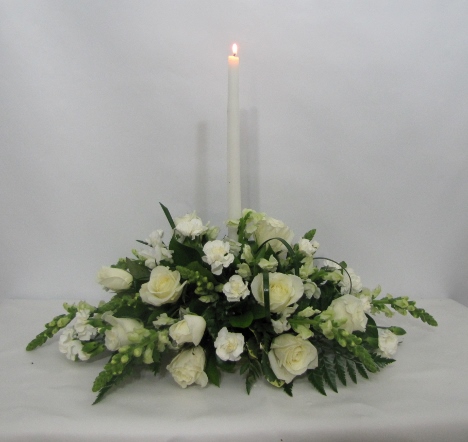 The truth is that the fresh flowers themselves are marked up between 3 to 5 times the wholesale price.  That means if a jumbo hydrangea stem costs a florist $4.50 - the customer is going to probably pay between $13.50 to $22.50 for that same stem BEFORE it goes into a flower arrangement.  Why else do you think a mixed bridal bouquet could run almost $500?  A beautiful lush FTD inspired Peony Bridal Bouquet runs OVER $500.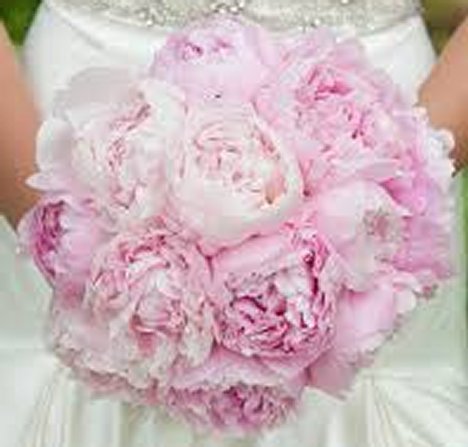 That same bouquet can be done for a little over $100 with 10 peony stems.  Suddenly paying around $9.00 - $10.00 a stem through my store begins to sound more like a bargain after I show you how to design them yourself and HOW TO KEEP THEM ALIVE.  (There is some tricky stuff to this floral design business . . . ).
You have to start out with tight buds that ship well and then open up to the beautiful lush blossoms that will hold for several days.
Buy them like this and you may find they don't hold up as long for your wedding day.
Hard goods (vases, bouquet holders, florist foam, etc.) is usually marked up 2 1/2 to 3 times what it cost the florist.  The florist usually saves money by buying in cases.  In other words, they buy 12 of a single vase at a time, thereby paying a reduced price.  If a vase cost them $3.75 - you are going to pay a minimum of $9.37 for that "cheapie" vase.  Specialty containers have even a higher markup.  If it is a "designer name" (such as Laura Ashley or Vera Wang) - the price of the arrangement goes up even more!
So how do you save money with DIY wedding flowers?  Sounds easy, right?  Simply buy from a wholesale flower farm online and watch those dollars mount up.
Uh . .  not quite.  Shop carefully online and don't always believe all the hype.  Just because the word "wholesale" is plastered on the top doesn't really mean you are getting true "wholesale price".  
It usually means that the farms are bypassing the "middle man" (the floral distributor, wholesaler and the florist shop) and selling you the flowers directly.  But you aren't exactly getting the "rock bottom" price offered to floral wholesale distributors.  Those distributors buy a tremendous amount of product from the farms and can demand lower prices.
I was a little shocked to see "wholesale" prices on some of the most popular wholesale sites actually match retail prices in my local area - sometimes being much higher.  About the only true wholesale part you are getting is that they are demanding you buy in "case lots" - meaning that to get their price you have to buy a WHOLE LOTTA PRODUCT.
You making three bouquets and a few corsages and boutonnieres?  Fine - but if you want greenery you are usually going to be asked to buy a minimum of 7 - 10 grower bunches.  For example . . . an inexpensive fern that is a staple in every single flower shop is leather leaf fern.  You know - you see it in mixed flower vases all the time.
One true grower's bunch is usually 25 stems and that is a lot of greenery - especially if you are only doing a few bouquets and flowers to wear.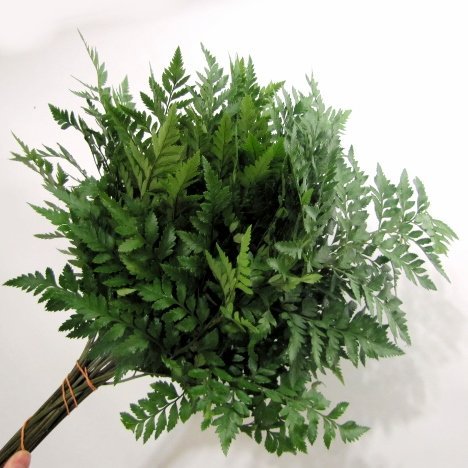 For example, a typically "greening" a cascade bridal bouquet takes about 4 - 5 stems of leather leaf.  That leaves you 20 more stems in the bunch left.  You can green in three more bridesmaid's bouquets (12 stems) which leaves you 8 more stems to create a couple of centerpieces and a few corsages and boutonnieres.
One bunch.  That's "typically" what is needed for a small wedding with a bride, 3 bridesmaids, boutonnieres and a few corsages.  But if you buy "cheap" leatherleaf from a typical "wholesale site", you are sometimes required to buy 7 - 10 bunches.
Wow!!  That means you are spending $80 on just simple fern greenery . . . and you haven't even gotten into choosing the flowers yet! There are minimums for those as well.
What if you want some filler flower?  Wax flower is lovely and a single growers bunch is pretty big.  Wait . . you still have to buy 10 bunches.
Just think . . . that's 3 - 4 five gallon buckets PACKED with one variety of filler flower.  What if you want two kinds?  You can see where this is going.

This is the amount of flowers I typically order for a wedding.  (This did not have a lot of centerpieces - just the wedding party and church designs).  
However - you can see that 7 - 10 buckets holds all the flowers.  Can you image if I had to have 10 bunches of every single flower and greenery I need?  My work space couldn't hold them all.  I would have to skip the variety and just go with single rose bouquets or something similar.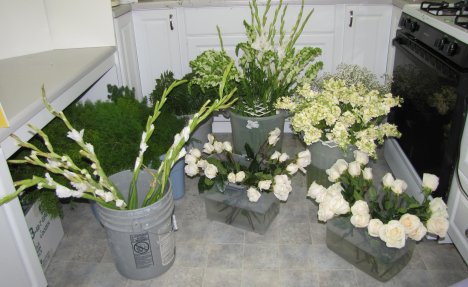 Then look at a typical wholesale price for greenery on a popular farm site.   Galax leaves are my favorite and I love making unique boutonnieres and corsages with them.  
Galax leaves typically come 25 to a Grower's Bunch and my wholesale price is typically about $8.00 for 5 bunches.  Total of 125 leaves for eight bucks wholesale.  Remember this is what it is costing me (the florist) from the "middle man" - the floral distributor (not the farm).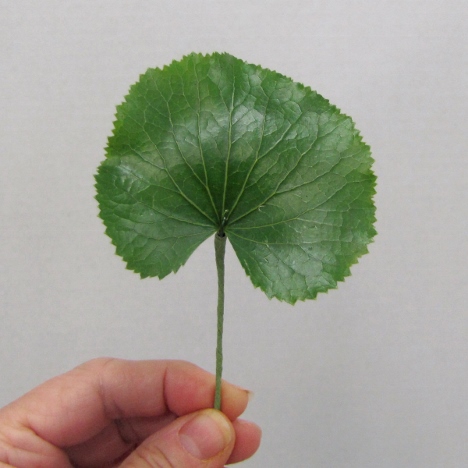 Yet I was flabbergasted to find that one online flower site charges $169.00 for 10 bunches . . . and each bunch is (in the small print) only 10 leaves per bunch.  Wow!  On top of this all - they tell you that the $169.00 is "wholesale price".  C'mon!!   You've got to be kidding me!  Convince me that $169.00 is the "wholesale" price while I'm buying 125 leaves from my wholesaler for about eight bucks.
So a bride is "saving money" by paying $1.69 a leaf while I (a professional florist) am paying around 6.5 CENTS a leaf.  It doesn't take long to figure out that most farms don't want to sell greenery.  They raise FLOWERS.  They want to market FLOWERS.  (Particularly roses and callas - their biggest crop).  
So they price greenery so over the top that most brides give up the idea of a mixed bouquet with 3 or 4 different kinds of greens in it.  Settle for a solid packed round rose or calla bouquet and you will save money.  They are in the business of selling roses.

These websites spend a lot on advertising and claim "free shipping".  I certainly hope so at those prices!  I do not claim to sell "wholesale".  I wouldn't stay in business long if I did.  
Just as a grocery store marks up steaks, chickens and cans of soup, I mark up the goods and fresh flowers that I sell to you.  
My goal, however, is for the bride to actually save money by doing her own flowers.  Where you will save will be on the hard goods (I typically mark up 75% of my cost versus the 250% markup a retail shop will charge.  
If a wrist corsage bracelet costs me $3.50 - I typically retail it for around $6.12 - probably rounded up a little higher to $6.25.  
A typical flower shop would take the same wholesale bracelet cost of  $3.50 and multiply it 2.5 times - to the total cost of $8.75.  This is BEFORE the flowers are increased and the labor is added onto the flower design.
Check it out.  Comparison shop for yourself.  
What About "Free Shipping"?
Let me address shipping costs.  I once had an indignant customer call me to complain about the shipping cost of her order.  After all, she pointed out,  her corsage bracelet was only $6.50!  Why in the world should it cost $11.00 to ship it?
My wholesaler drop ships by FedEx.  An employee is paid to pack and prepare that shipment.  Wedding have a critical time factor and we pay the shipper to guarantee when the product will arrive.  Fresh flowers have to arrive overnight.  You have a problem with dead flowers otherwise.
 My customer argued that the USPS had a flat rate box for around $6.80  True.  But the USPS does not GUARANTEE the day of arrival.  They tell you approximately when it should arrive - but they do not apologize if the package doesn't arrive on time - even if it's a week or two late.  That is not their problem.  They are non-profit and you have to put up with their rules.
If you want to have guaranteed arrival dates by the USPS - you pay a much higher price.  A GUARANTEED envelope of 2 day delivery begins at $22.95.  Uh . . . FedEx $11.00 doesn't sound as bad now - does it?  "Nuff said.  You want something rushed and you are going to pay higher for it.
Actually - if you think about it, the item in the box may be little, but they pick it up, truck it all across the country and drop it at your door - all the while paying to maintain truck fees, employee salaries and fueling prices.  $11.00 is a pretty good bargain for that kind of service.
Frankly - the more you buy through my store gets you the better bargain in shipping.  If you want just a box of corsage pins, I have it.  But I can't mark it up to where I make a whole $1.19 on the sale - and then give you free shipping while it costs me $11.00 to ship it to you.  Uh . . . that's a good way to go out of business quickly.
Are there companies online that sell some of the products I sell cheaper?  Yes.  But some of my prices are cheaper than theirs.   Many of the prices you see that pop up on a Google search really ARE wholesale companies - and you have to provide a retail license in order to buy from them and then you have to buy in larger quantities.
My goal was to help DIY brides with realistic doable step by step tutorials, allow them to buy the products needed to keep the flowers fresh and mark up the goods enough that I can stay in business . . . but low enough that the bride can save money by creating her own flowers.  
I will sell you the corsage bracelet . . . the florist foam . . the fresh flower spray . . the florist containers . . and hundreds more.  I'll show you the tricks and tips of the trade and how florists create those stunning arrangements.
I'm working to add more fresh flowers every single day, gearing up for a busy wedding summer.  Browse my site and my store . . . don't see it?  Ask me about it.
Look past the hype.  Check out the flowers.  Read the delivery terms.  Give me a call if you want to talk about it.  I LOVE talking flowers . . . one wedding at a time!  I may not be the biggest online floral supplier . . . but then I don't charge big big prices in order to pay my advertising bill! 
Free Flower Tutorials