wedding cakes with fresh flowers
Following links on this website and making a purchase could result in a commission to the owner of the website
Wedding cakes decorated with fresh flowers usually reflect the colors and flowers carried by the wedding bride.  This sweet design is made up entirely of blue hydrangeas.
Give your hydrangea heads a quick so in a sink of water treated with a few drops of bleach,  shake them lightly and allow to dry on paper towels.  Mist lightly with Finishing Touch and allow to dry.  so they will be clean and sanitary before inserting into your wedding cake.  
To duplicate this cake, you must have tiered columns between each cake layer.  The flowers must be inserted as the cake is put together, as it is awkward to work them in once the cake is assembled.
You will need"
16 stems of Blue Hydrangea
2 stems of loose Hydrangeas, to be pulled apart as petals
Circle of Wax Paper (sized to fit in between each layer)
2 small Iglus
Crystal Clear Flower Food
Finishing Touch or Crowning Glory Flower Sealant
Hydrangeas are very water loving, so it's best if you use a water source to keep them fresh as possible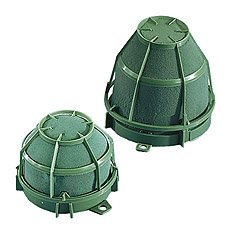 Looking down on the cake (before the second and third layer of the cake is in place, you can see the Iglu goes in the center, and the stems of each hydrangea insert into it from the sides.  The black circles are the pillars between the cakes.
Often the cake decorator will desire to place the flowers in place as she assembles the cake. Be sure to ask, or have someone waiting to put these in place before the cake is fully assembled.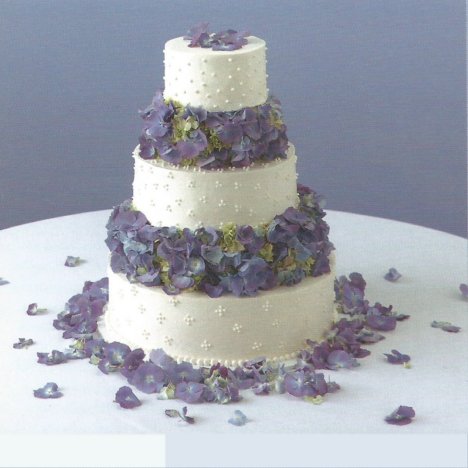 The topper is a simple sprinkling of a few hydrangea petals on the top of the cake.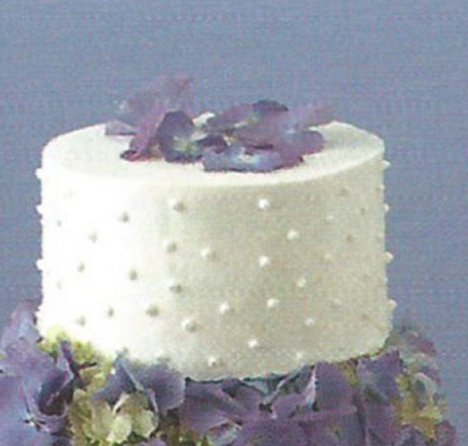 The leftover petals are sprinkled generously around the cake as shown in the photo.