Fresh Flower Wedding Arch
Florist Foam Raquettes, Cages
and Sculpting Foam
Cut flowers will stay fresh longer for your outdoor wedding if you use professional florist foam that is wired to the arch's framework.  There are a variety of different sizes and shapes of cages and you need to choose the ones that are best suited for your arch's shape and size.
Remember - the larger amount of flowers - the more foam you will need.  Most cut flowers are very thirsty and will draw a huge amount of water out of foam.  
Raquettes work well because they are a slender length brick that is encased in a polyfilm that covers the whole surface of the florist foam.  This slows down the evaporation of that precious water out into the air and keeps the water confined within the foam for the flower stems.
As you can see, they come in various lengths and can be wired into place or taped with several wraps of waterproof tape.  I literally call these handy bricks "soak and poke" . . . because you merely soak the foam in water until completely saturated and then poke the flowers in.  Couldn't be easier!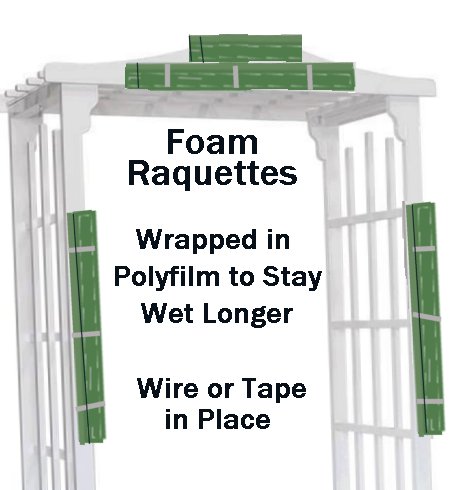 Free Flower Tutorials
Following links on this website and making a purchase could result in a commission to the owner of the website