Wedding Arch Flowers
Following links on this website and making a purchase could result in a commission to the owner of the website
Raquettes (long bars) and Spray Bars (shortest block of foam) encased in a dark green polyfilm that is pierced with tiny holes so it can be float soaked in water treated with professional flower food.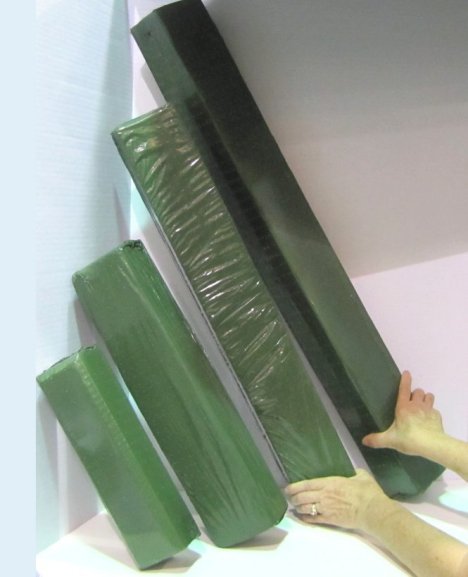 As you can see, these  blocks of foam are very versatile and can be used on bridal table edges, down the centers of long rectangle tables, on outdoor railings, fastened to candelabras and (of course) used for flowering in the sides and edges of outdoor wedding arches.
I think these are particularly well suited since the polyfilm covering helps slow the natural evaporation of water (especially in a warm outdoor environment).  Obviously you want the water contained in the foam rather than evaporated out so the flowers get as much water support as possible.
Don't forget to use a professional flower food - mix it into the water in which the raquettes or spray bars are soaked.   Just follow the directions on the container to get the right mixture.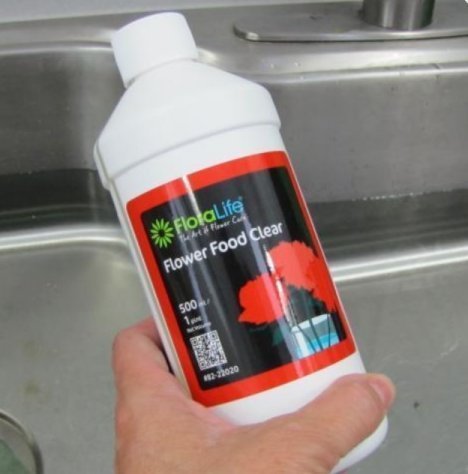 Be patient and allow the foam to go "face down" in the water.  It will tend to float, since there is a built in water tray on the "bottom" of the foam.  These built in trays are helpful when placing the piece on tables.   Most Oasis foam pieces sink quickly to the bottom of the water container.  Those with a built in plastic tray like spray bars and raquettes will get heavy with water when saturated, but may never completely sink since the plastic tray tends to keep it afloat.
In this closeup, you can see that the polyfilm is pierced with lots of tiny holes to allow the foam to "suck in" water and saturate completely.  Give it time to do this, because otherwise there may be dry spots that won't give your flowers the much needed water when needed on the wedding day.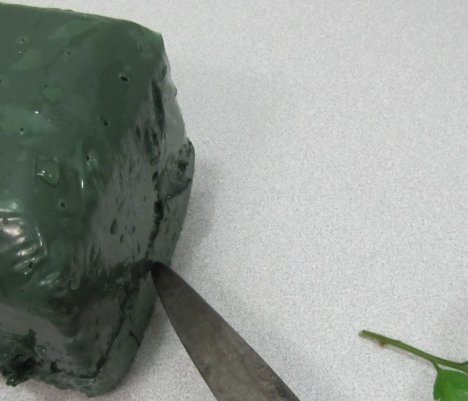 The foam bar will feel very heavy when completely saturated.