wedding arch decorations
Following links on this website and making a purchase could result in a commission to the owner of the website
Wedding arch decorations do take a bit of time.  If you are planning for your arch to be outside, you cannot decorate it the night before.  However . . . you CAN green in the Oasis floral foam and even add the flowers at home, transporting these pieces to the venue to wire onto your beautiful arch.
You have to do some calculating if you want a fully flowered arch like this one.  They are not that hard to do - but they can be a bit time consuming.  Let's break down how you get started.
First consideration is what time of arch you have (if you rent one) or perhaps your wedding venue can provide one for you.  Some industrious brides make their own, with curly willow branches or tree branches.
Then you have to decide if you want a fully covered arch with loads of flowers or just a few lovely swags of flowers clustered at the top or sides.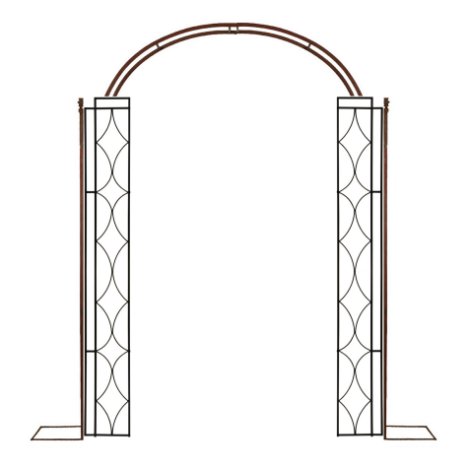 The manner that you choose will determine what type of floral foam you have to order.  There are many different sizes of pre-filled cages to wire to your arch. These cages are handy for swags or clusters of flowers, because they come ready to soak in water and use.  The have handy tabs with holes to make it easy to attach to your frame with wire, electrical ties or pipe cleaners.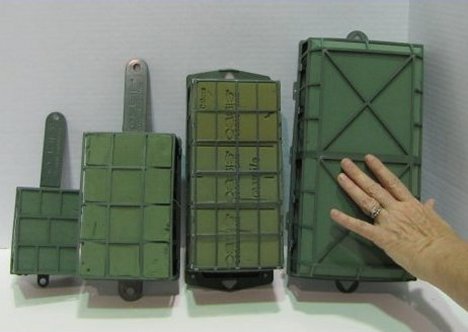 For this demonstration I'm using spray bars and raquettes.  These are simply long blocks of foam, ranging from 18" to 32" long, and come with a built in tray on the bottom while the foam is wrapped with a dark green polyfilm.  There are tiny holes punched into the polyfilm so the foam can soak up water.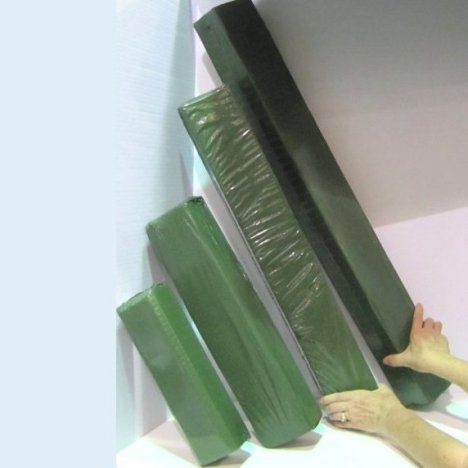 Overall sizes of arches differ, so you'll have to measure yours ahead of time to calculate the size and lengths of foam to order for your own wedding decorations.  Check under "Wedding Rental" to discover companies near you if you want rental equipment.  The gold and silver toned metal rentals used to be vary popular, but today's brides seem to prefer an all flower coverage or to attach curly willow and other sticks for a more rustic look.
I generally used paddle wire to attach the raquettes to the arch framework.  Push large lengths of wire through your foam (right above the built in tray) before you green and flower it.  It is much easier to do it then than trying to force that wire through after all the greens and flowers are in place.
Then upon delivery you simply have to twist the wires together to quickly attach your flower decorations.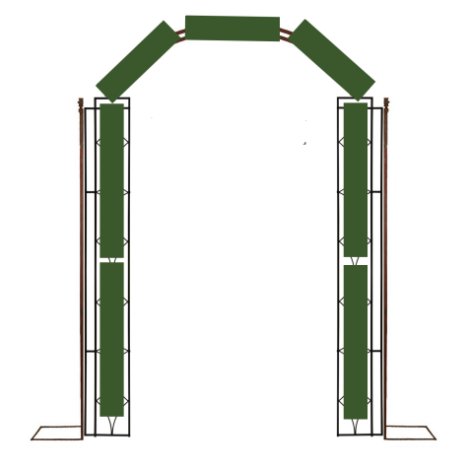 I like to green in with leather leaf fern.  This inexpensive greenery is easy to cut and quickly covers  the raquette.
Here's one of the 32" long raquettes being greened in by one worker who has a bucket of leather handy at her work station.
After quickly filling in with the greenery, she'll hand it off to another person who has the buckets of flowers around her station.  If you keep organized, it is much faster than people moving about, trying to get at all the buckets for everything from greens, to flowers, to wire and more.  Work as a team on an assembly line and you'll be surprised how much faster it goes.
Here is the same arch greened with just the leather leaf, keeping the pieces short and close to the foam.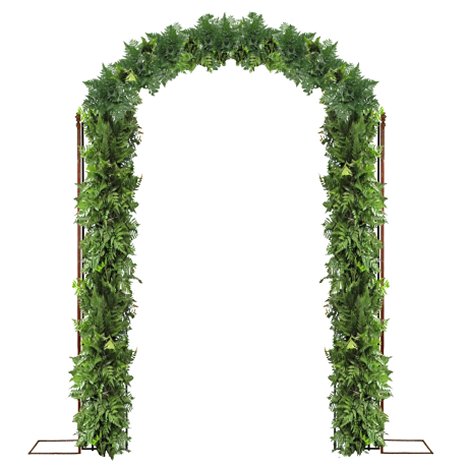 You can see by the closeup how dense the leather leaf is and how it conceals the mechanics of foam and wire of the wedding arch decorations.
Don't like the tight packed look?  Add in some longer lengths of leather leaf to give it a more casual flair.
I enjoy doing the basic greening of my wedding arch decorations with leather leaf and then adding in a few other different greens to add color contrast and variety.  A cool mix of different greens is beautiful all by itself!  Here's the look with some flat fern added.
Here's what a casual mix looks like.  Consider adding in variegated pittosporum, seeded eucalyptus, salal leaf tips and more.  This is where mixed boxes of wedding greens can be used to advantage.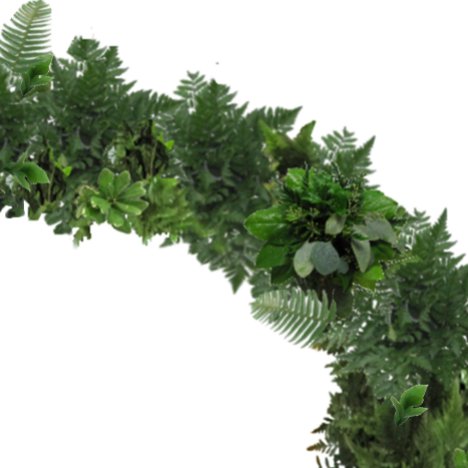 Want to give it a lighter air?  Use some baby's breath or other filler to add a sheer accent to your wedding arch decorations.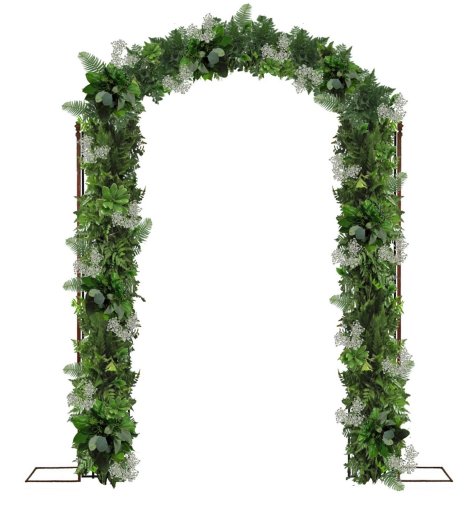 Perhaps you'd like to add some stock flower.  It comes in pure white, creamy ivory, pinks, bright pink, yellows and lavenders.  It has an additional bonus of a luscious scent.
It's really up to you to fill in your wedding arch decorations with the flowers you love.  Just be sure to mix in some bigger headed flowers, such as asiatic lilies, oriental lilies, hydrangeas, sunflowers, carnations, chrysanthemums, orchids and roses.  I don't recommend heat sensitive flowers like Lily of the Valley, gardenias or Calla Lilies.  They wilt very quickly outdoors on a warm summer day.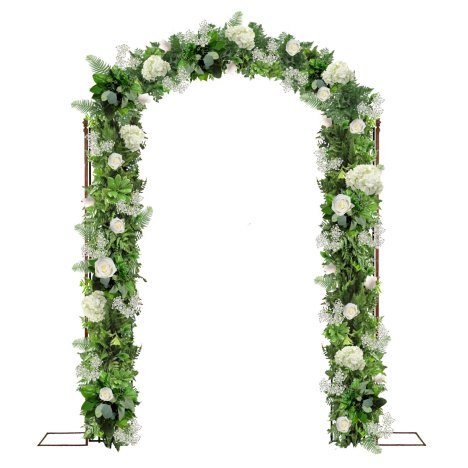 Continue adding flowers that fit your wedding scheme.  For example, these pink hydrangea and red roses really pop against the greenery.  Add one variety of flower at a time.  Finally add in your filler flowers, such as Baby's Breath or Wax Flower.
Make sure your wedding arch decorations do not go dry, rewater them as the flowers will drink more than you realize.  Remember - it's a living thing and needs water and flower food for the longest life.  Don't forget to order the Finishing Touch or Crowning Glory.  A flower sealant keeps moisture locked in flower petals longer.
Always make plans for delivery.  It's much easier to deliver the raquettes greened and flowered separately than a whole arch at one time.  You must appoint someone to do the assembly work, as you and your wedding party will have much more important things to do - like getting to the hair dresser, nail salon and getting your gowns on!  Put someone in charge that are not in your wedding party so they can get the delivery and assembly done on the day of your wedding.  
Organize!  A well worked out plan is half the battle.  Choose the things that mean the most to you.  Don't try to do so much that you overwhelm yourself and end up hating your wedding day.  Flowers are meant to bring joy on this delightful day - not frustration.  Greenery lasts much longer than flowers and can be made up several days in advance and long as you keep misting them with Finishing Touch.