unity candle ceremony flowers
Following links on this website and making a purchase could result in a commission to the owner of the website
The unity candle ceremony is a special way to bond as husband and wife after the vows have been said.  This is a unique way to surround the candles with a three dimensional heart shaped wreath and rose candle stands.
For this flower tutorials, you'll need the following products and fresh flowers:
Create this standing rose arrangement in any color you like and coordinate it with a colored pillar candle.
Cut the first rose short, with only about a 2" stem.  Insert completely into foam at the bottom point of the heart.  In turn, cut each new set of roses an inch taller stem, but do not insert but 1" into the foam.  Continue to follow around the heart shape, inserting each rose only 1" into the foam, but consistantly cutting the roses 1" longer in stem.  When you have reached the top back of the heart, begin cutting the stems shorter, stair stepping down as shown until the center is reached.
Fill in around the rose stems with the carnations.  Cut several loops of the ribbon, wiring them to the wooden picks.  Tuck loops behind the lower roses and allow trails of ribbon to overlap and spill over the table edge.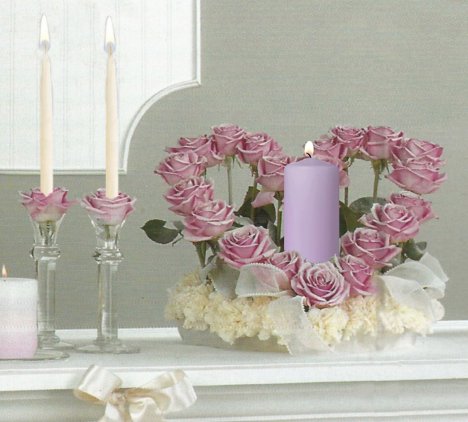 For the tapers, gently pull out the center of the roses, laying the clusters down in sets of petals (much like you would prepare the roses for making the composite rose bouquet). 
Wire the groups of petals, cutting the hairpin wire short and folding over like a large staple.  Glue these groups of petals around the glass taper candle top, recreating a rose surrounding the taper candle cup.  Do NOT use hot or cool melt glue.  These have to be refrigerated and that makes hot glue and cool melt glue brittle and prone to break off the glass.  The floral adhesive holds, even in damp or cold refrigeration.
Mist both the heart and the candlestick arrangements well with Finishing Touch or Crowning Glory, continuing up to the day of the wedding and replenishing the water to the heart foam if it feels dry.  Do not allow it to go dry.