unique flower girl baskets
Following links on this website and making a purchase could result in a commission to the owner of the website
Unique flower girl baskets don't have to be the "traditional" white wicker basket look.  This design actually uses a corso foam cage and creates a lovely look any flower girl would love to carry down the aisle.  If you make these a little larger,  they can work for attendant's bouquets as well.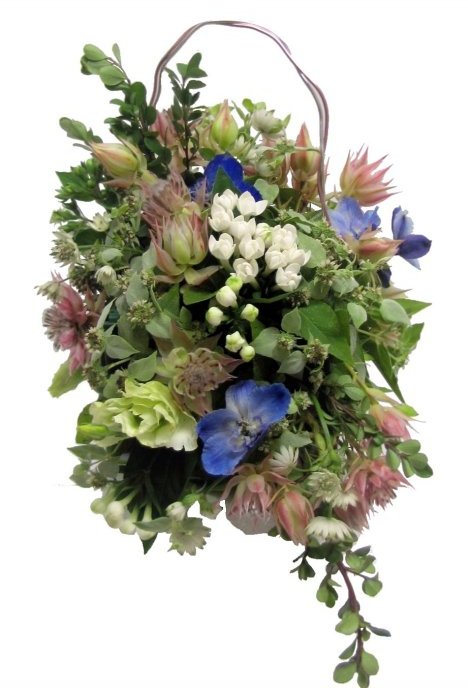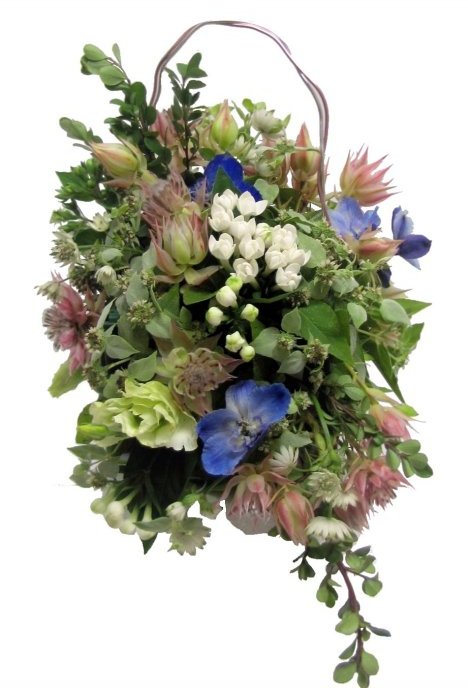 In this particular design I used an Oasis corso cage.  This simply means a plastic cage that used 1/2 brick of Oasis florist foam.  Florists can reuse these again if they wish.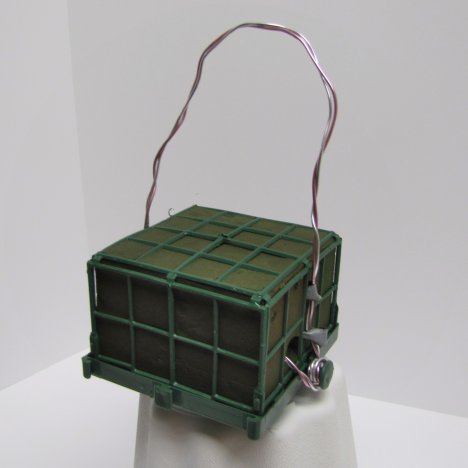 If you'd like a smaller design, such as for little girls under the age of 3, consider using an Iglu Oasis Holder.  Again, attach the wires, tulle or nylon ribbon directly to the cage.  Don't use satin ribbon, as the wet foam could cause staining where it contacts with wet foam.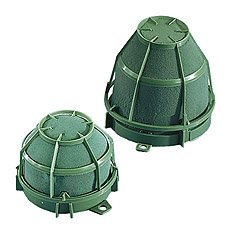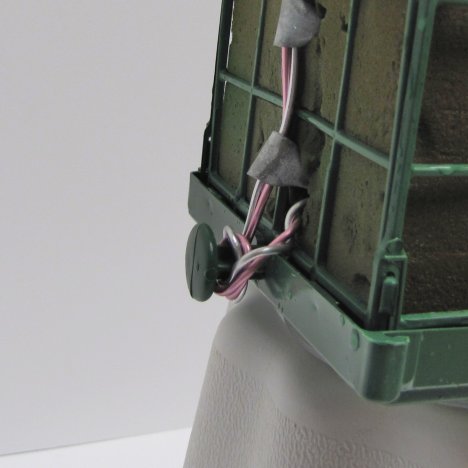 Begin by filling in the cage with greenery.  Don't go too tall, as you want your decorative handle to show as part of the design.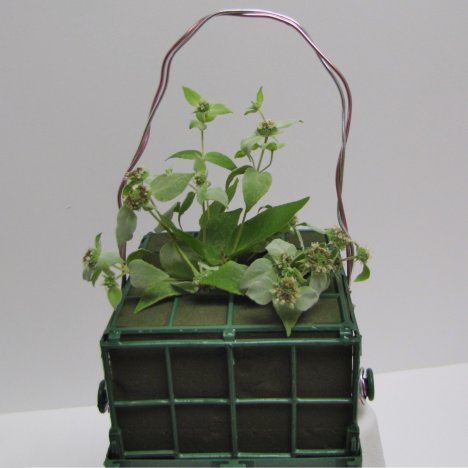 Cover all sides, taking care to conceal the cage and foam with the greenery.  If you wish, substitute other varieties of greens available in my bulk greenery section.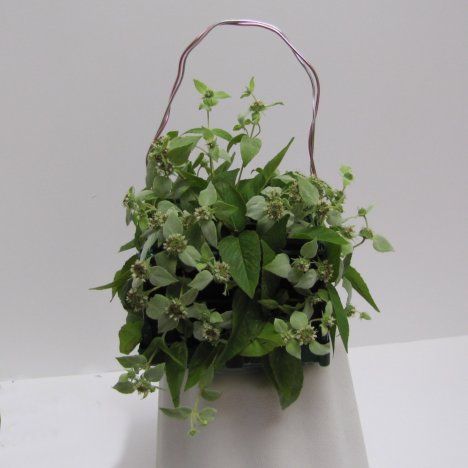 White astrantia comes in white and lavender/pink colors.  It adds a whimsical wild flower look to this overall design.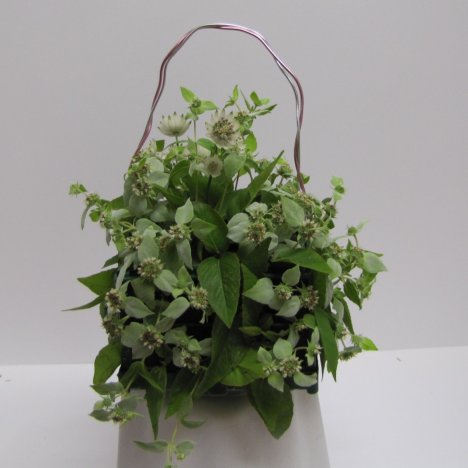 I also tucked in white bouvardia and a pinkish cast bridal protea.  The protea is a variety of tropical flowers and hold up very well in bouquets, corsages and boutonnieres.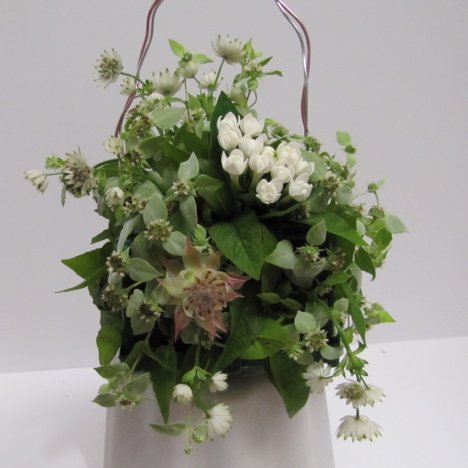 I also added white lisianthus (bottom left).   This flower is also available in pink, lavender and purple shades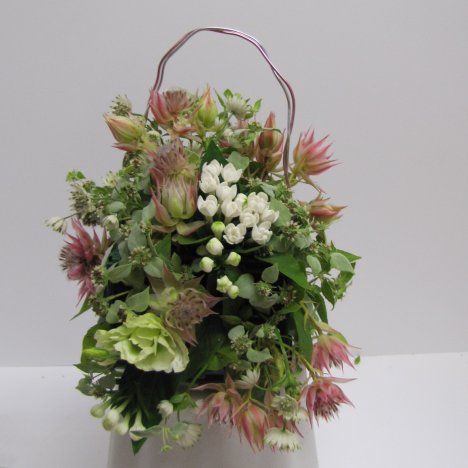 Blue delphinium gives more depth with a darker shade of color.  It comes in both light blue and a deep, bright blue.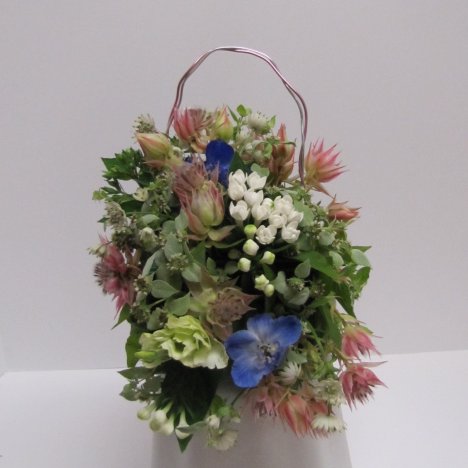 You can see how the overall design has filled out nicely, while staying small enough for a flower girl to carry.  If you want a larger look, extended the stems longer, but remember that will require more flowers.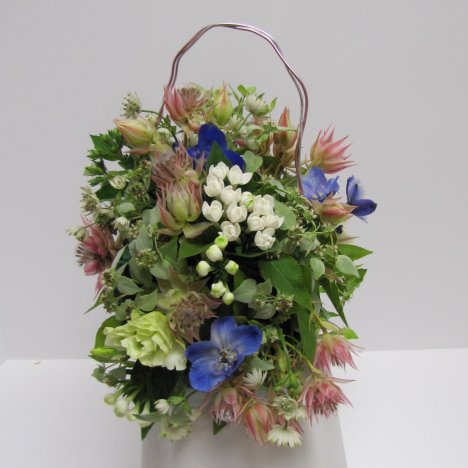 I added some boxwood at the upper left, standing tall and angling towards the back, and also in the lower right, extending down to give a cascade effect.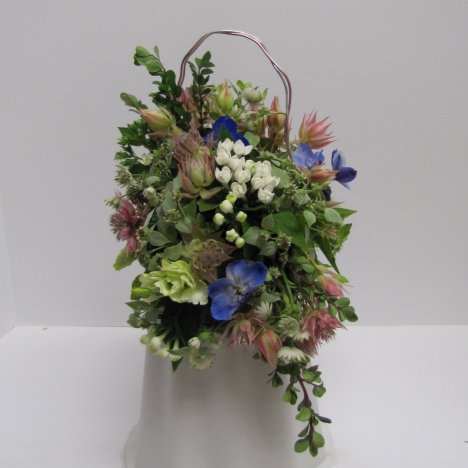 Remember that flower girls tend to play with their baskets and swing them around.  If this is the case, you may want to use Floralock Flower Adhesive.  You insert the long nozzle into the spray of the can, shake it thoroughly and then spray in short bursts near the place that the stems are inserted into the foam.  You must wait until you are totally done with the design, because it can be difficult to insert more stems into any area that the glue covers.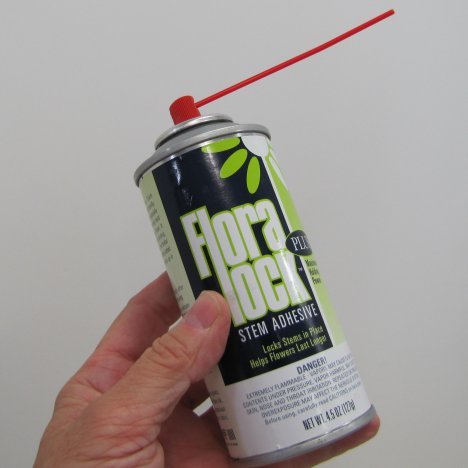 Once you are finished, mist your own unique flower girl baskets with Finishing Touch sealant.  This helps lock moisture into the petals and slows the natural wilting process.