Traditional Wedding Cake
Following links on this website and making a purchase could result in a commission to the owner of the website
A traditional wedding cake decorated with fresh flowers is a favorite of mine.  If you wish to put fresh flowers on your own wedding cake, please take time to read how to prepare the flowers so that you don't contaminate your cake in any way.
This lovely old fashioned cake is topped with a simple mixture of flowers in white.
You'll need the following supplies:
Mist your flowers ahead of time with the Finishing Touch so they have a chance to dry before arriving at the reception venue.  Do not mist again.  Remove any pollen from the Asiatic Lilies while they're still green, so to keep them from staining fingers or clothing later.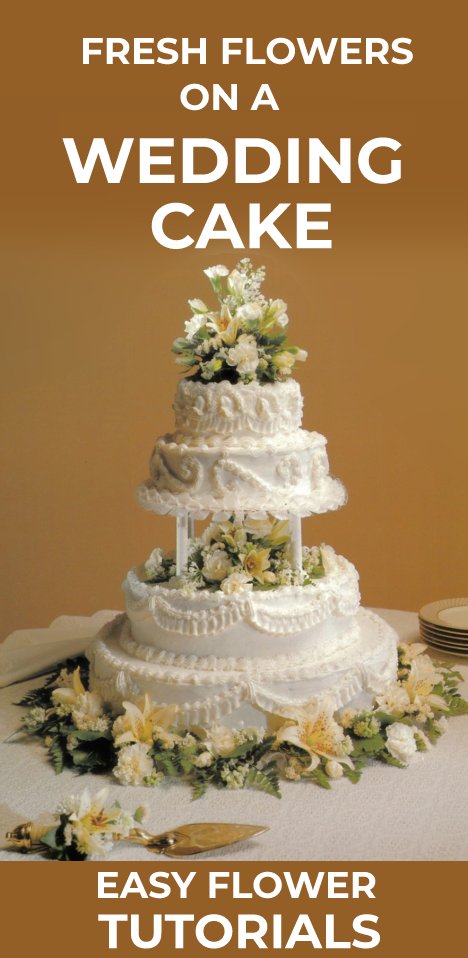 If you read the first cake decorating tutorial, you'll see that I place a lot of emphasis on keeping anything that goes on the cake clean.  I always open a brand new roll of floral tape and use a fresh box of wooden toothpicks for inserting into the shortened stems of each flower and inserting only the toothpick into the cake itself.  
Cut either wax paper or parchment paper into small squares and poke a hole in each one.  I lay these in the clean cake pan along with each prepped flower cluster.  Doing this up ahead of time makes it very quick to get in and out while decorating cakes.
Always slide the wax paper up against the flower bulb before inserting the toothpick into your cake.
Cake toppers can be done up ahead of time.  There is wet foam involved, so I usually set the finished cake topper on top of a clear dessert plate or the parchment paper.  
If your cake topper is heavy, warn the cake decorator to put in supporting dowel rods so it can  the top without sinking into the cake.
I generally just lay the flowers on the inner layer on top of the protective parchment.  Maneuvering a finished flower decoration in between cake toppers can be very tight and I didn't want to take any changes of knocking the cake over!  It's easier to lay the flowers in one at a time.
Lay down your greenery first, the tuck the flowers around the bottom of the traditional wedding cake for a finished and polished look.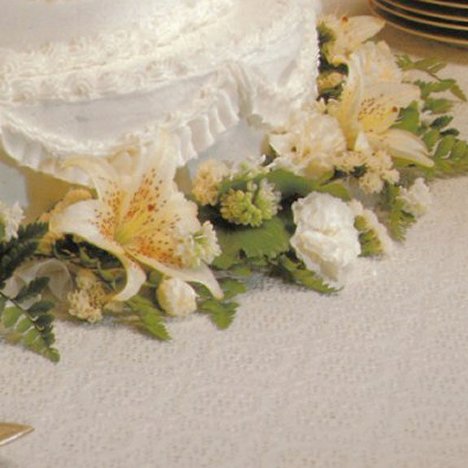 Please feel free share my tutorials on Facebook, Pinterest or Twitter.  This keeps me motivated to create new tutorials!