tall wedding centerpieces
Following links on this website and making a purchase could result in a commission to the owner of the website
Tall wedding centerpieces that use tower vases (also referred to as Empire Vases) are more about construction of the mechanics than it is about what flowers go in them.  These vases are hand blown, which means they aren't always consistent in the size of the opening in the vase as they would if they came out of a mold.

I've often seen Belle Bouquet Holders used for these vases.  That's a problem for me.  Even with the new "clear" handles (which aren't really that clear), I don't like for the guests to see the bouquet handle sticking down the neck of the vase.  That seems rather tacky.  Plus this option became popular when the Ostrich Feathers was "the thing" . . . and for some reason were always photographed in a white tower vase rather than clear.  That takes us back to the tacky issue
The sign of a good floral designer is covering your mechanics.  That means that the products like florist foam, waterproof tape and anything else not meant to be a part of the design needs to be concealed.  Remember your guests will be seated at these tables and looking up.  You don't want them to see or remember anything but the elegance of the design.
Tower vases are available all over the internet.  I advise my brides to call around to see if local wedding renters have tall vases available for rent.  This is usually a cheaper alternative than purchasing them.  Shipping glass is heavy and can add a lot to your cost.  Look for the tallest Tower vase you can find (usually 32").  You always want to keep your centerpieces either high enough or low enough so to allow your guests to be able to see each other's faces and converse at the reception dinner.
If you rent your vases, keep in mind not to fill with marbles or rocks.  Anything that can't come out may end up with you buying the vase after all!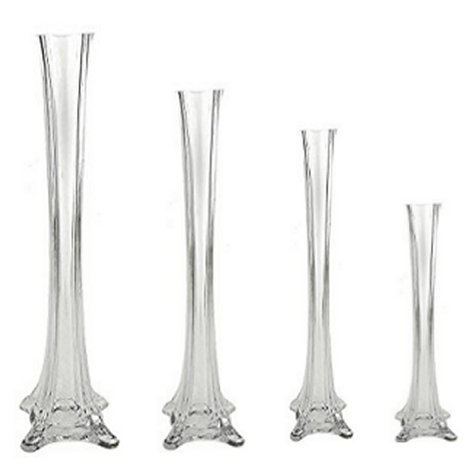 You also have to consider maintaining balance.  The tall slender design of the vase can make it top heavy if you plan on using fresh flowers.  I'll show you in this tutorial how to counter that problem and stabilize your vases so they don't tip over onto the nearest dinner plate.
To design in the vases, you'll need the following products: