submerged centerpieces
Following links on this website and making a purchase could result in a commission to the owner of the website
Submerged flower centerpieces look well in tall cylinder containers, creating a grouping that clusters in the center of the table in a pleasing arrangement.  Staggering the heights of the vases and adding shorter votives also adds interest to the centerpiece.  The Eastland Cylinder Vase set comes in four different heights, 6",  7.5", 9" and 10.5".  They look well clustered in sets of four and arranged on a round table mirror.  These are considered to be a "break away", which means the centerpiece is more than one single piece.  Votive candles or floating candles on top of the submerged flowers add and element of light and visual interest to the centerpieces as well.
The natural composition of a live flower breaks down very quickly when submerged in water, so it's best to wait until the wedding day before pouring in the water that covers the flowers completely.  You can place the flowers in ahead of time, anchoring the stems with either rock or flower pins to keep the stems from floating to the surface when the water is poured in.
This 6" Cylinder Vase is the shortest of the Eastland Cylinder Vase Set of 48, 4 different heights.  The flowers you choose are the color scheme that will show since the vases are clear.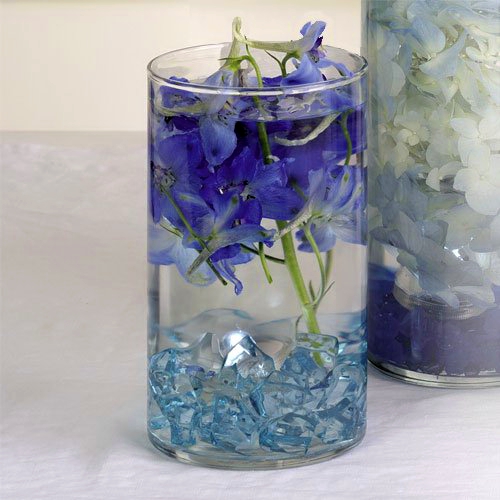 Another product that can keep the submerged flowers in place are water gel beads.   If you like the clear look (where the beads are not visible and remain transparent) you leave the extra water in the vase.  If you want the beads to show, drain off the excess water or use colored water beads.
These water beads are invisible if you don't pour out the excess water.  Like these pearls, the invisible beads keep the floating flowers in place, seeming like magic.  Look under the floating candle.  It's not really floating, it's actually resting on top of the clear water beads.  An added bonus is that they really are cheaper than the rocks or metal frog pins.
This arrangement has 2 stems of lavender scabiosa, 1 submersible floralyte, 1 small flower pin, and blue designer stones and designed in the  10.5" clear cylinder vase that is part of the Eastland Set of 48 vases.

This centerpiece is composed of four different staggered heights of cylinder vases, then add an assortment of rocks or other vase filler.  Don't choose something lightweight (such as plastic or lightweight acrylic stones) or those fillers will float to the top with the flowers and your arrangement will not look polished.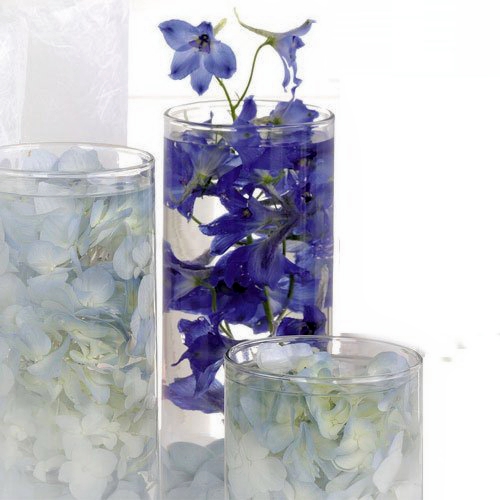 The cool blues are found in Volk Delphinium (Dark Blue), Light Blue Hydrangea and a soft lavender blue of scabiosa.  Lights hidden among the vase stones give a lovely glow if your wedding reception draws into the evening hours and the lights are dimmed.
This 7.5" Cylinder Vase has 1/4 a blue hydrangea head, a blue submersible light and dark blue glass vase filler.