rose bridal bouquet
Following links on this website and making a purchase could result in a commission to the owner of the website
This rose bridal bouquet becomes quite fragrant as it is now surrounded with this lovely cream stock.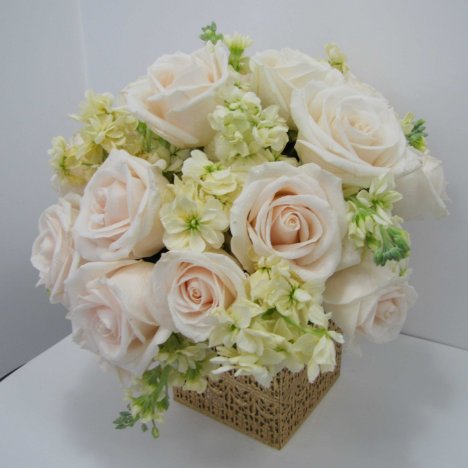 Adding delicate freesia to any wedding bouquet creates a lot of visual interest, texture and a sweet scent.  Freesia is available year round and comes in many different colors, including white, soft mauve, red, lavender and golden yellow.
The stems are slender and light green, with several heads that opens up as the flower matures.
It is a pricier flower, so I generally recommend it for bridal bouquets (to set them apart from other bouquets carried by the wedding party) corsage work and boutonnieres. 
Although it adds a wonderful look to centerpieces, any large quantity of them can add considerable expense if you have a tight flower budget.
Tuck the stems in between the other main flower heads.  Use the budding stalk as a great way to increase texture to your bouquet.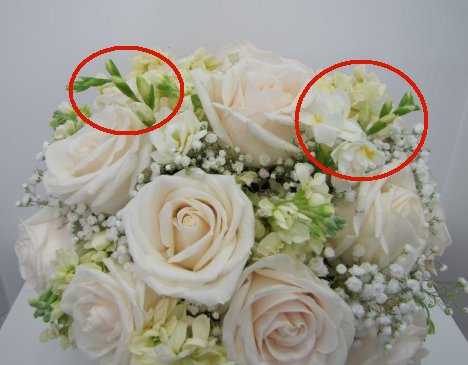 Freesia comes 10 stems to a bunch, so you can see that even just a few stems can add considerable impact to the overall look.  If used in a bridal bouquet, be sure to hold back a stem or two for the groom's boutonniere to make it unique and different from the boutonnieres worn by the other groomsmen and fathers.

Now comes the fun part.  I love the look of a hand tied bouquet - but as a florist I advocate that a continual water source (such as Oasis foam) which is vital to the life of the flowers. 
Bouquet holders also are much easier for DIY brides than having to master the technique of rotating a large handful of flowers in order to achieve a rounded, well designed look of a true hand tie.

Thus I have the best of both worlds when I create a "mock hand tied" look for bridal bouquets using a holder   This gives the flowers stability, considerably lessens the weight and bulk of the final design and provides a continual water source for the flowers.

I love the look of Salal (also commonly known as "Lemon Leaf").  It is available year round and the leaves have a dark green glossy finish.  The leaves are fairly broad, usually measuring about 3 or 4 inches long.  They are usually packed in 2-pound bundles - so the amount of stems you receive is bases on weight, not number of stems.

Lemon leaf has a flat face surface and looks beautiful for edging bouquets, backing corsages and boutonnieres or clustered in centerpieces.

The leaves spiral around the center stalk and face in different directions.  I like cutting them off the center stem so I have more control in a bouquet of how to place the face upward to it's best advantage.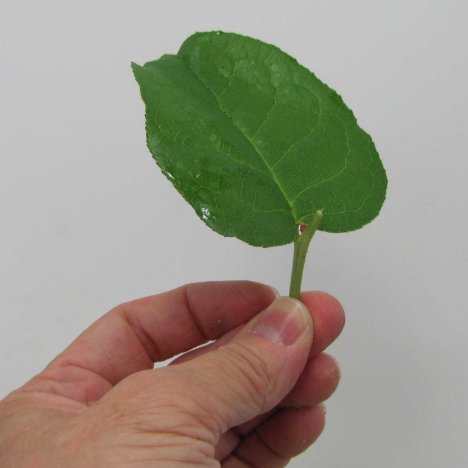 I want to create the illusion of a hand tied bouquet for this design, so I began adding clusters of lemon leaf around the edge of the holder.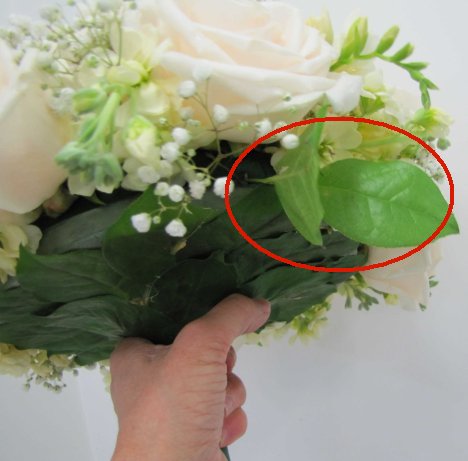 Don't worry about perfect placement unless you want a flat collar look.  I'm just tucking the leaves in the sides to give the illusion of a casual bouquet of flowers hand gathered together and framed with greenery.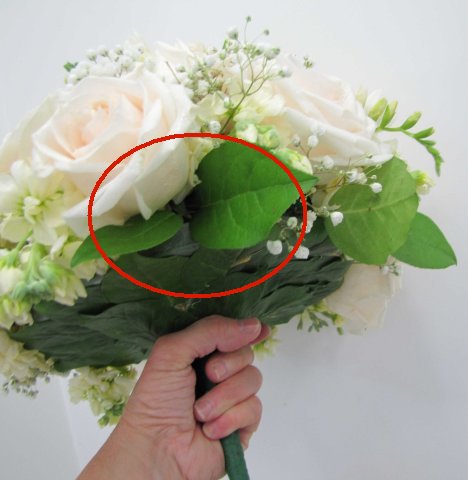 Extend the leaves a little beyond the outer flower heads and tilt downward a little, to hide the underside of the bouquet holder.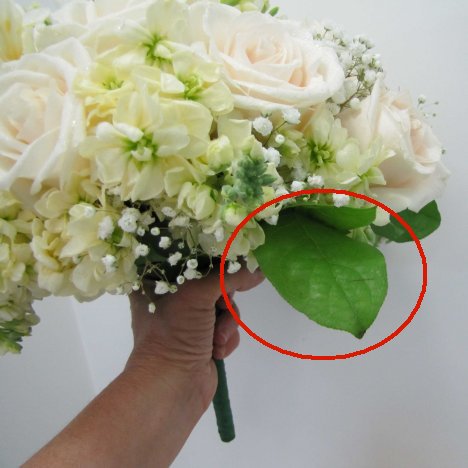 Add as many as you find pleasing to your design.  I wanted a casual frame to surround the entire bridal bouquet, so I used only a few leaves.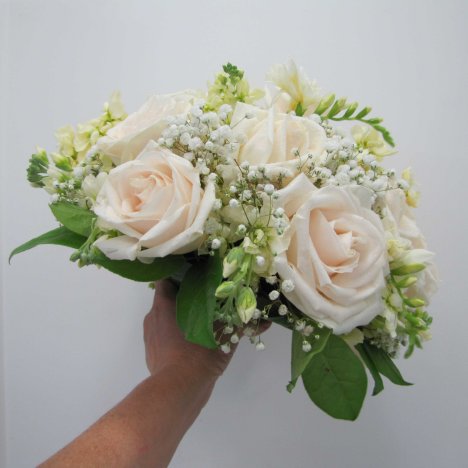 When cleaning your flowers, don't discard the stems that you cut off while designing.  Instead, you will want to rinse the stems off and then remove any thorns or excess foliage.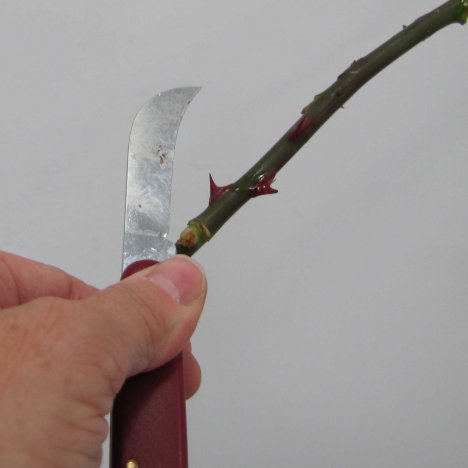 I do like to leave a few laterals of leaves at the very top, which will cluster beneath the underside of the bouquet holder, adding to the realistic look of being a hand tied design.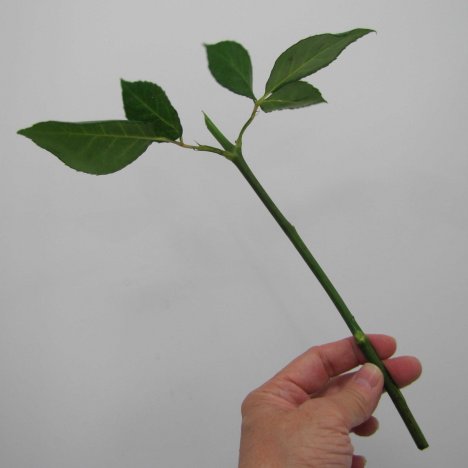 It would be wise to spray any leaves with a leaf polish to seal and hydrate them against wilting.

Be sure to use a mixture of all your stems, including the stock as well as roses, for the color variety and interest.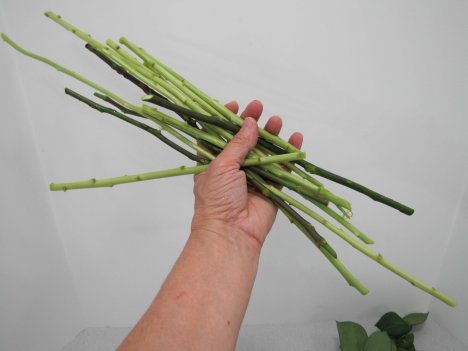 Keep the stems fairly long.  You can cut the final stems to the desired length after you are finished attaching the stems to the bouquet handle.