reception candle centerpieces
Following links on this website and making a purchase could result in a commission to the owner of the website
This long wedding centerpiece looks so stunning . . . but is very easy to do if you have the right floral products.  Florists use a bar of Oasis called a raquette.  It comes in various lengths, but the design shown below is the longer 36" length.
How many raquettes you need will depend on how wide and how long you want your centerpiece to be.  The one shown below uses one 36" raquettes.  If you need a wider centerpiece, bind two  together with Bind It tape.
Here is a complete list of products needed
(Please feel free to substitute cheaper stems of flowers if you wish to keep down costs - you will see I already did that in some places because some of the flowers are so seasonal):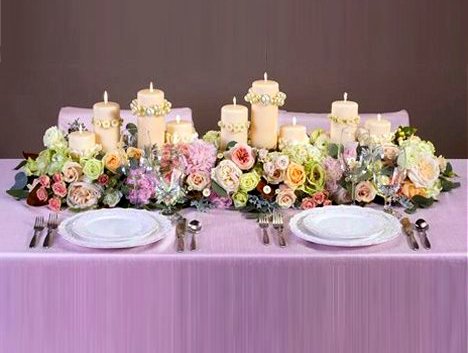 Start by making sure your Raquette bar is placed on the work space with the foam tray on the bottom, resting against the table top. 
Float soak the foam in water treated with cut flower food.  Please don't skip this simple product - it provides nourishment for your flowers and keeps them alive much longer than plain water.

Cut wooden stakes and tape to the bottom of the pillar candles with waterproof table.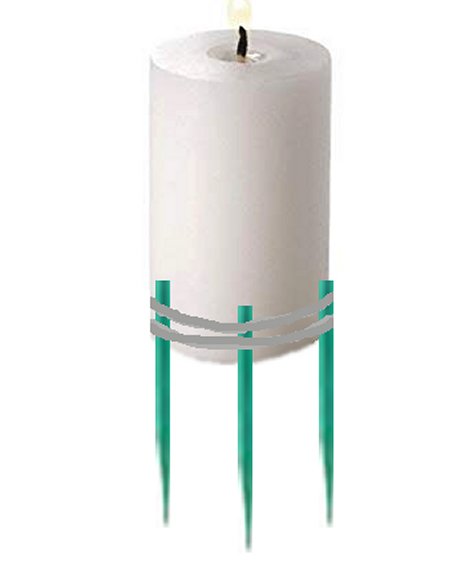 Insert a tall stake each place you plan on placing a candle.  It's not advisable to transport with candles in place, because the risk is high that the candles will topple out of the flower arrangement.  You do have to leave an open space for the candle placements.  Place the candles in each arrangement once you've reached the reception hall.
Don't be afraid to cluster the candles rather than keep the spacing perfectly even.  Using different heights of pillar candles also adds to the dimension and style of the piece.
Use your knife to poke tiny slits in the poly film covering the Oasis.  It makes it easier to insert the flowers.  Insert your flowers in groupings, clustering some similar colors in masses.  Don't be afraid to put some heads deeper, giving a look of depth to the centerpiece.
If you extend the stems too far out, the piece may be too wide for your table top and encroach on eating spaces.

Extra glamor was added by twisting Oasis Mega Beaded Wire around the tops of the candles.  Secure into place by heating a corsage pin over a lit candle then piercing it into the cluster of beads while the corsage stem is still warm.  This will keep the wired pearls from sliding down the candle later.
When finished flowering, squirt Floralock carefully around the stems of the flowers, inserting the nozzle deep into the flowers.  Don't overdo - you don't want glue running down the sides.  This will lock the flowers into place.
Mist well with Finishing Touch.  If you have to do the centerpiece in advance, keep the foam soaked with treated water - replenishing what the flowers drink up each day.  Re-mist with Finishing Touch to prevent petal transparency.