pumpkin centerpieces
Following links on this website and making a purchase could result in a commission to the owner of the website
Fall pumpkin centerpieces come pouring out of flower shops around the country as autumn sets in.  Whether you create your arrangement in a fresh pumpkin as shown or in a ceramic one, the steps are relatively the same for designing. 
You will need the following supplies: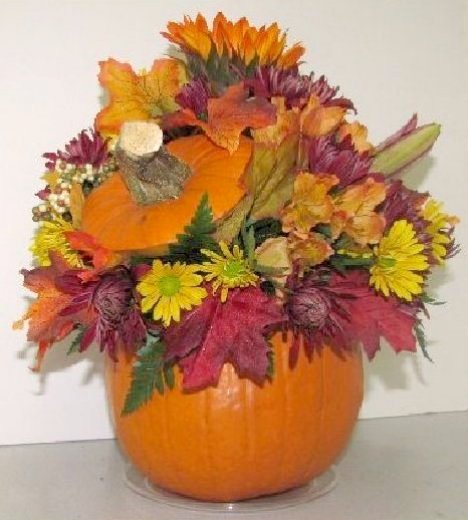 When choosing your pumpkin, look for one that can fit comfortably in the palm of your hand and that looks good from all sides so it can be placed in the center of a table.
Go too big and you can have a giant arrangement that makes it difficult to have dinner conversation over.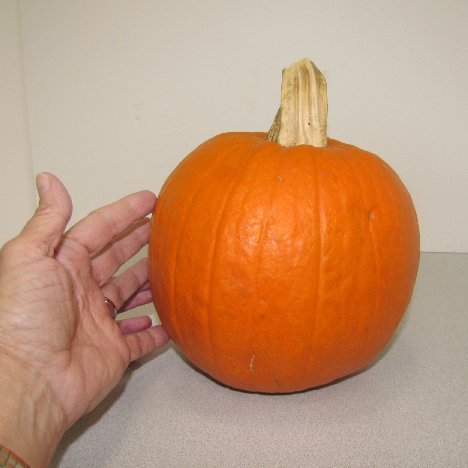 Always line your pumpkins.  Never put the wet floral foam directly in the pumpkin cavity or you are libel to have water seepage on your table because of the porous nature of the pumpkin.

I have a small metal bowl, but a round plastic butter dish or other similar containers can work as well.  Trace around the opening of the container on the top of the pumpkin, scoring lightly with your floral knife.

As you can see, a fresh pumpkin often sweats out moisture when the outer peal is cut.

Use your knife to carefully cut the top portion off your pumpkin.  Please take care - pumpkins are slippery and the knife can cut into your hand very easily!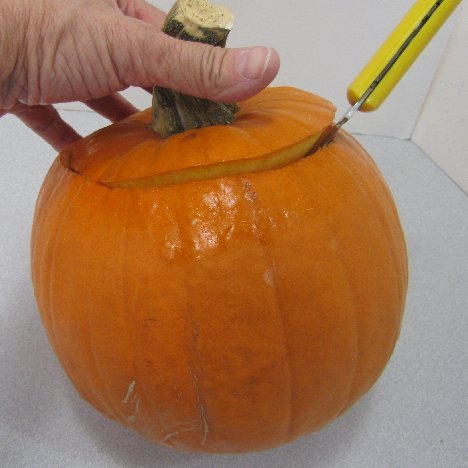 As you can see, I created an angled cut.  This helps support the container in the neck of the pumpkin later.

The next step will be to thoroughly clean out the seeds and pulp from the cavity of the pumpkin.