Following links could result in a commission to the owner of the website
Florist coolers are design to put humidity INTO the cooler. Help stop the moisture loss by misting well with Finishing Touch and laying plastic wrap gently on the flower heads.

If no refrigerator is available, simply store in a darkened room with the air conditioner on a very cool setting.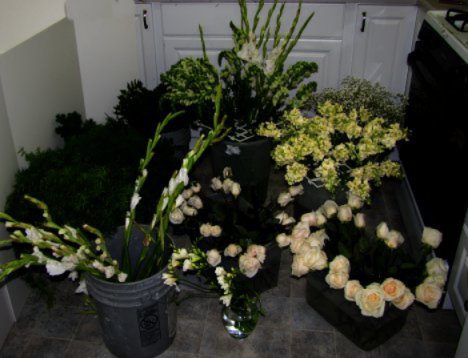 If you have a cool mist humidifier, run it near the flowers. With this, you can skip the plastic wrap. The flowers will draw moisture out of the air that is put there by the humidifier.

11.  Re-add water as needed to buckets or foam and mist with finishing touch each day
Please remember your flowers are a living product. Check on the level of water each day and add more if necessary. Make sure every cut end of each stem is fully immersed so that the flower can get the water it needs. A limp flower generally means the cut stem has been out of the water.  Do NOT immerse over the leaf line.
Caution - keep the water level in Gerbera Daisy, Iris and Calla Lilies, hyacinths (all bulb flowers) low in vase containers - since sitting in a bucket of water all the way up to the neck of the flower head will soften and cause quickened rotting of the stems.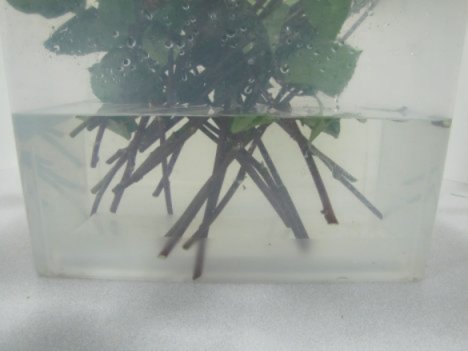 I highly recommend using a spray flower sealant such as Finishing Touch. I use this on every arrangement I design. It seals the petals and helps slow down petal transparency and lengthens the life of your flowers by sealing against moisture evaporation out through the petals.

12.  processing greenery
Greenery should be cut under water, dipped into a re-hydrator (such as QuickDip) and placed immediately in buckets of plain water that has had one teaspoon of common household bleach per each gallon of water. The bleach keeps down the bacteria. 

Do not use flower food in water intended for greenery. The formula can turn greenery yellow. To extend the life of greenery, simply use a plant polish such as LeafShine to seal the leaves and make them last longer.

Designing wedding flowers takes a dedication of your time, the forethought of planning out your work space and allowing yourself enough time to finish the designs. Using the right products can extend the life of your flowers. Since the labor markup on weddings can sometimes run 50% to a staggering 300% of the cost of the flowers, you can definitely help the wedding budget by designing your own flowers.

My advice is to always consider the amount of time you have to devote. Saving money is not worth it if you become frazzled and frustrated right before your wedding day. Relax, choose simple designs that are easy to create and you'll always have the joy of knowing that "you did it!"

Please send me photos . . . I always love seeing the beautiful creations of each of my customers!