angled wedding bouquet
Following links on this website and making a purchase could result in a commission to the owner of the website
An angled bouquet is simple to create.  Give it more style and distinctive qualities by including interesting foliage and greens.

You will need the following products.  Please feel free to change colors or flower varieties to suit your own taste:
Belle Bouquet holders by Oasis come in either straight or angled styles.  I use straight if I want to create a "mock hand tie" or an angled holder for a cascading bouquet.  This let's the bride hold the angle more comfortably for the walk down the aisle.
I generally opt for the Grande, as I like plenty of foam to support a lot of flowers.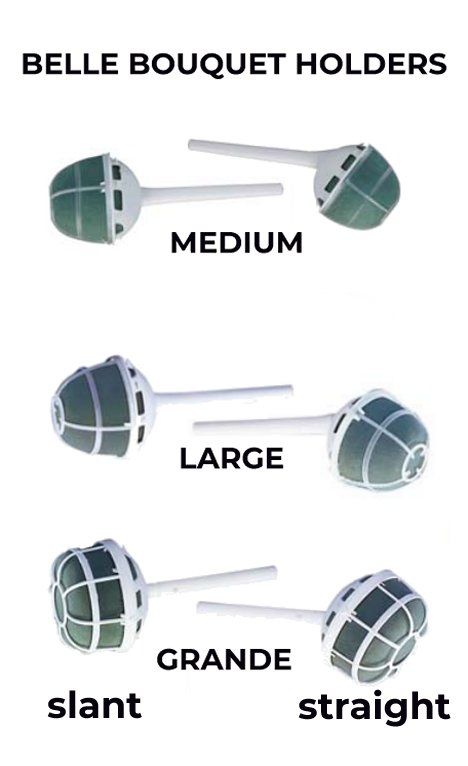 Always begin by "float soaking" your Belle holder in water treated with professional flower food.  For something as important as your wedding flowers, don't skimp on the professional products that show you how to extend the life of your flowers for as long as possible.
Float soaking means you allow the florist foam to absorb the water naturally.  You don't want to force it under the water level, as this could cause dry pockets in the foam head.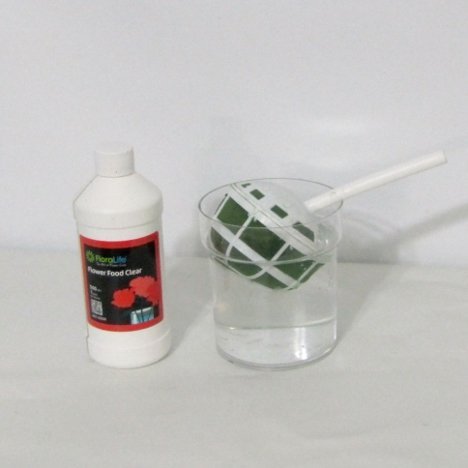 Always secure the holder in either a stand or vase weighted down with either marbles, gravel or similar.  You can squeeze a portion of dry foam into the neck of a vase.
It's important to do this, as the holder becomes very heavy with both water soaked foam and the weight of the flowers.  The bouquet can suddenly topple forward, bruising flower heads and petals.  Take care that this doesn't ha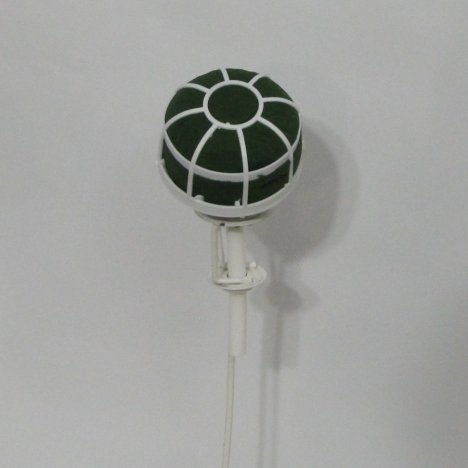 Leather leaf fern is a low priced greenery that lasts a long time and is a staple in all flower shops.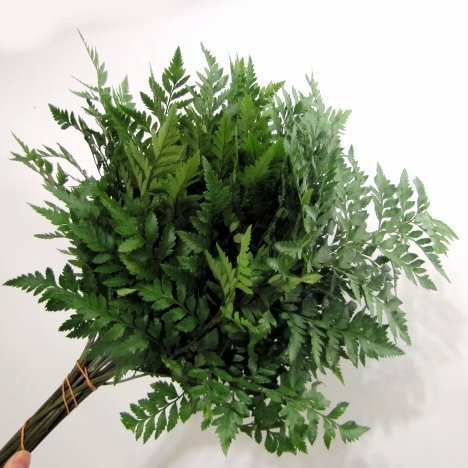 The single stems can have their individual fronds cut apart and used to insert into the bouquet holder.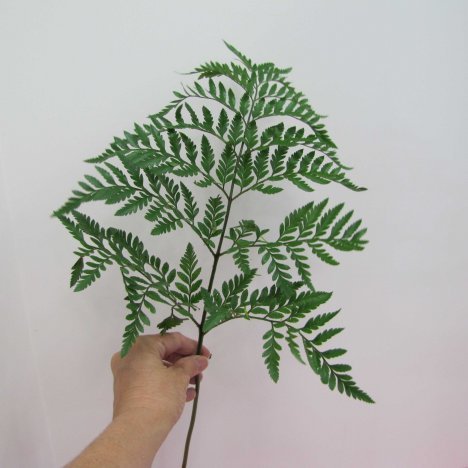 Begin by cutting the individual fronds apart and inserting them around the outer rim of the foam head.  I like using a floral knife, as this gives me a clean cut and inserts more easily into the wet foam.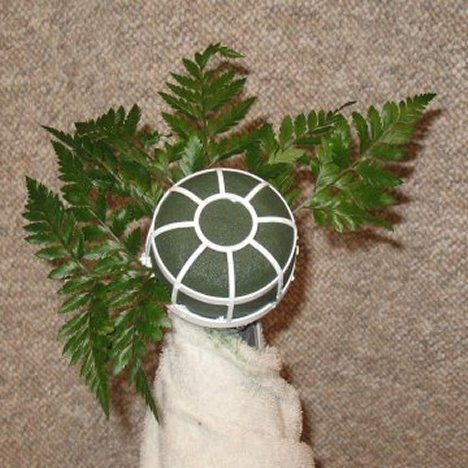 I'm going to use bright green hypericum berries.  Not only do they add a color contrast, the round berry shape gives a delightful texture accent to the flowers.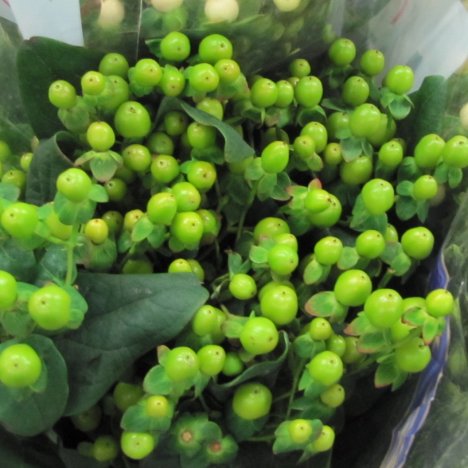 The stems can easily be cut into separate pieces and inserted using their own stems.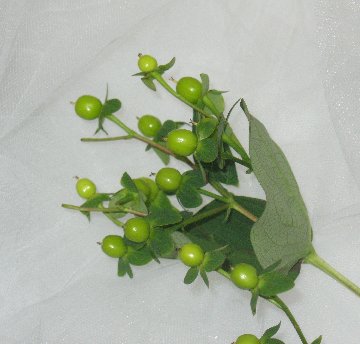 Insert two pieces of the hypericum, one angled towards the top and the other counter balanced on the lower left.
Lily grass has broad green leaves and comes in both solid green and variegated.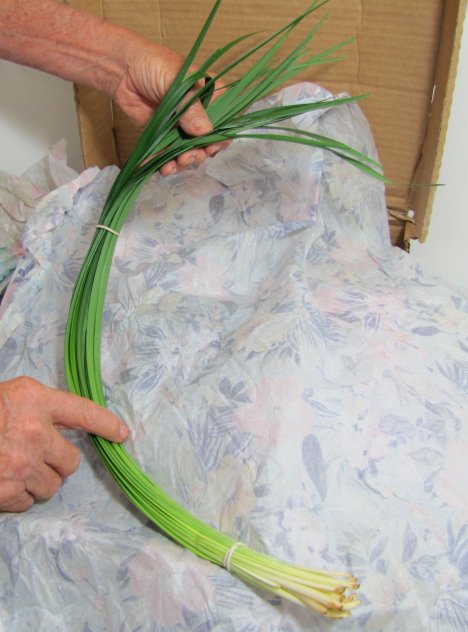 I like using the blades of this grass to create another design element to the bouquet.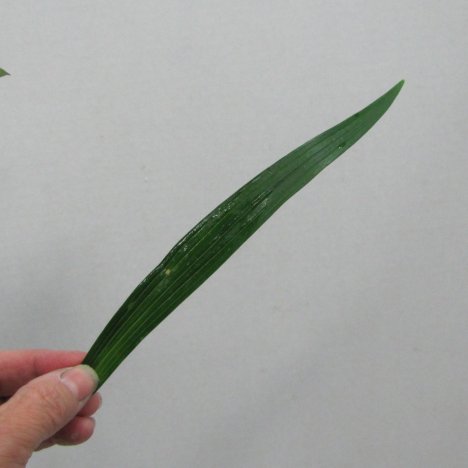 I create several loops of grass and then wire, tape or staple them together.
The first set of loops go into the lower right, inserting them directly into the foam.
Stagger the size of the loops and add a few of single blades as well.
Variegated pittosporum is another favorite of mine.
The waxy rounded leaves add a nice contrast and one stem can yield several pieces.  Be sure to set aside some to be used in boutonnieres and corsages later.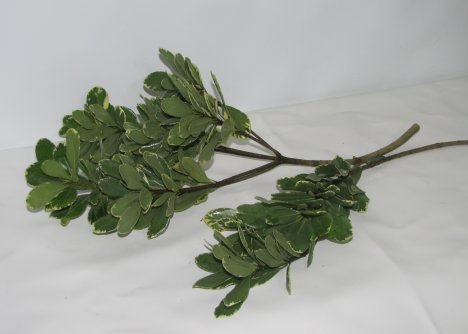 This greenery comes in both solid and variegated varieties.
When cutting the stem apart, do it at a sharp angle, which conceals the cut after insertion into the bouquet.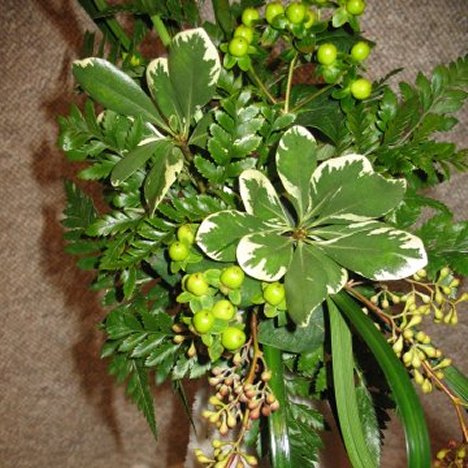 I love seeded eucalyptus.  Regular seeded euc has both leaves and seeds.  You can elect to purchase naked seeded eucalyptus, which has no leaves as shown below.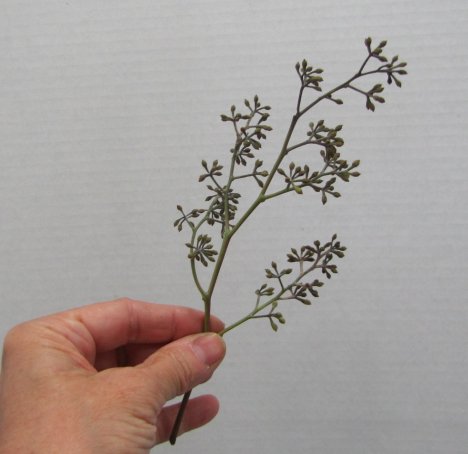 Ming fern has both a light spring color and easily cuts into smaller pieces.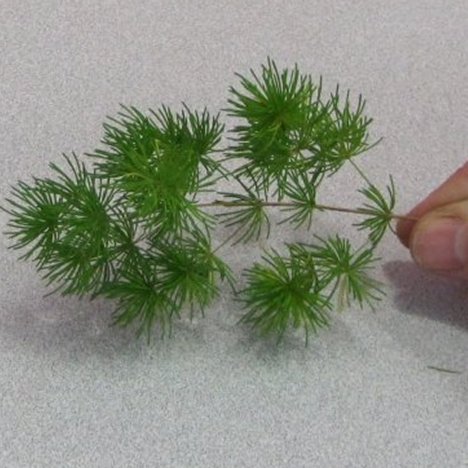 As you can see, just the greenery alone creates a beautiful bouquet filled with a lot of interesting shapes and color contrasts.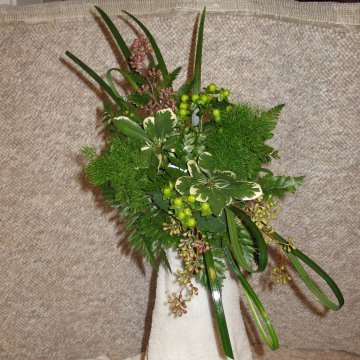 You must wire cymbidium orchids to give them a stem.  These orchids grow on a long stem, with a short lateral that supports the bloom.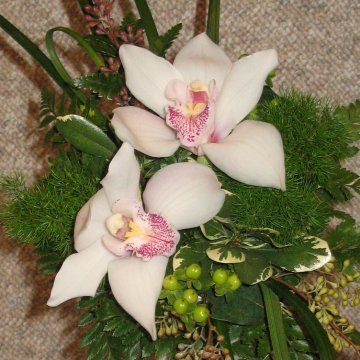 Tuck in a few colored spray roses at both the lower right and upper left.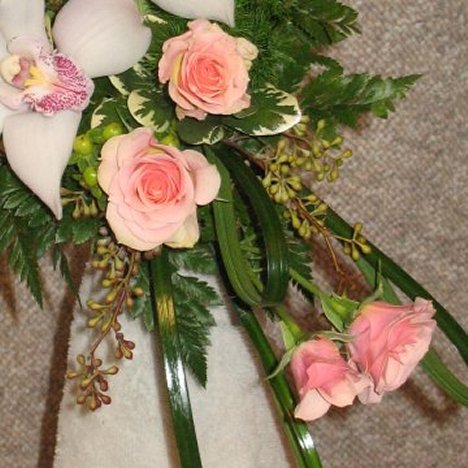 The minimalist use of flowers can save you money, but in no way prevents you from carrying a lovely bouquet down the aisle.  This style would also work very well for your attendants bouquets. 
I generally use a floral adhesive like Floralock.  This adhesive makes sure the flower stems stay in place in the wet foam.  Do not do this before you are totally finished with the design, as it is difficult to insert flowers into the foam after the glue dries.  
You also don't want glue clogging the stem of the flower, making it hard for water uptake.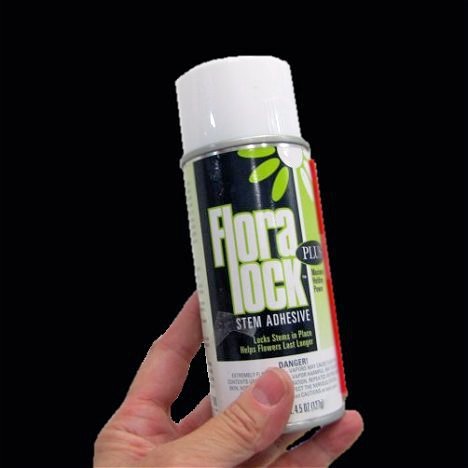 Always mist well with a flower sealant such as Finishing Touch.  Home refrigerators and air conditioning (unlike flower coolers) take moisture out of the air.  Finishing Touch helps prevent petal transparency and keeps the petals moist.
Spray the design and allow to dry before putting the design into a cool refrigerator.  Turn the fridge a little warmer than you would for food.  If you don't have a fridge, use a basement, darkened room and turn the air conditioning down.  It helps if you use a cool mist humidifier to add moisture to the air.