lavender cone topiary
Following links on this website and making a purchase could result in a commission to the owner of the website
This lavender cone topiary can serve as a bridal table decoration, line both sides of a wedding aisle or make a spectacular arrangement to great guests in the church foyer.
Take the time to read through the cone topiary tutorial.  Although it shows a holiday theme, the step by step photos show how to block in the florist foam and hold the mechanics together.
For this arrangement, you'll need the following:
Learn how to correctly process your fresh flowers when they come.  Read the step by step cone flower tutorial before continuing.  Float soak the foam in water that has been treated with Crystal Clear Flower Food.  Block the foam in the container and pin with wooden stakes.
Flatten the top with a sharp cut of your florist knife. Carefully insert your Lomey pedestal down into the center of the cone.  Line the top of the pedestal with florist clay.  Later (after the arrangement has been delivered) press the candle down on top of the arrangement.  Don't place the candle until you've reached the venue, as the swaying of the delivery vehicle can cause the candle to fall off.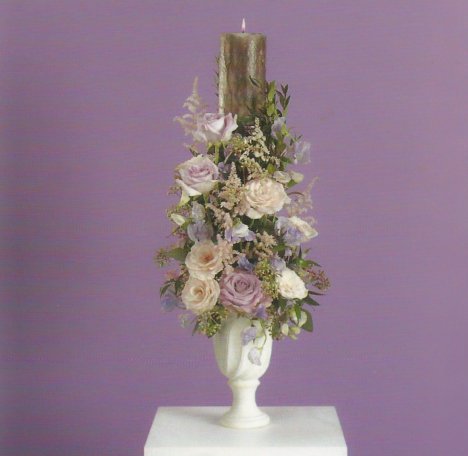 An alternative to the florist clay is to tape several wooden stakes to the bottom of the candle and insert down so the wooden stakes sink into the foam, steadying the candle.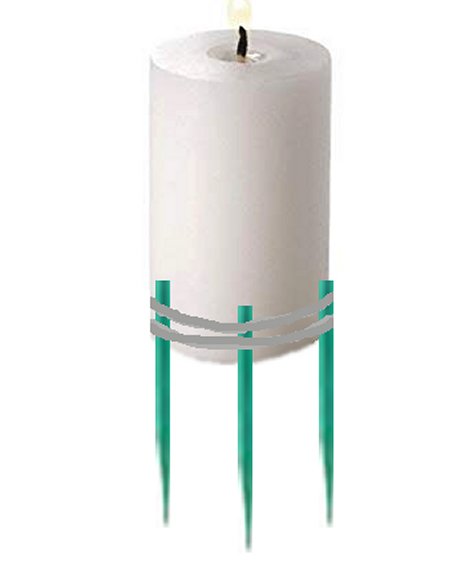 Insert your flowers, concealing the mechanics of the topiary.  After finished, mist well with Finishing Touch or Crowning Glory.  Store in a cool area.  Replenish water in foam as needed.