kissing ball
Following links on this website and making a purchase could result in a commission to the owner of the website
A kissing ball is called a pomander, often carried by flower girls.  Cut the stems short and insert deeply into the wet foam. For this demonstration, I used a combination of burgundy mums and miniature hot pink carnations.

Remember that the larger the size of the Oasis sphere, the heavier the finished pomander will be. Wet foam can be very heavy. The smaller 3" and 4 1/2" balls are much more suited for bouquets while the larger 6" and 8" balls can be used for centerpieces or for hanging from sturdy supports.

If you want the bouquet to be bigger, simply cut the stems longer rather than go to the larger size.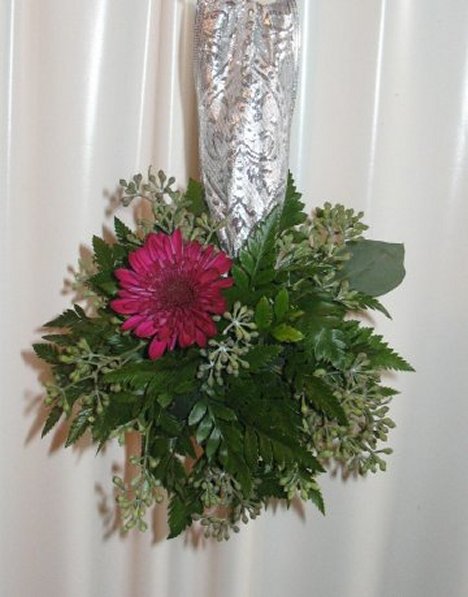 I fill in completely with just one type of flower first, so to get an even "all over" effect.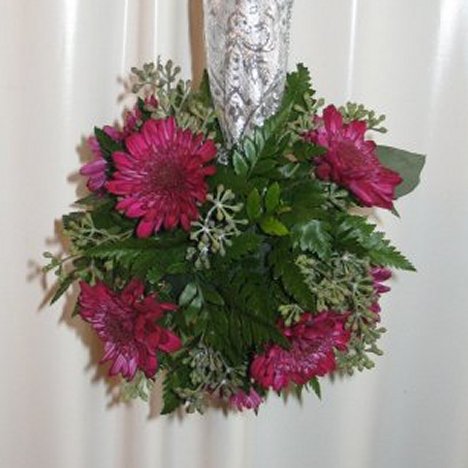 Then I began inserting the pink carnations in between the burgundy mum heads.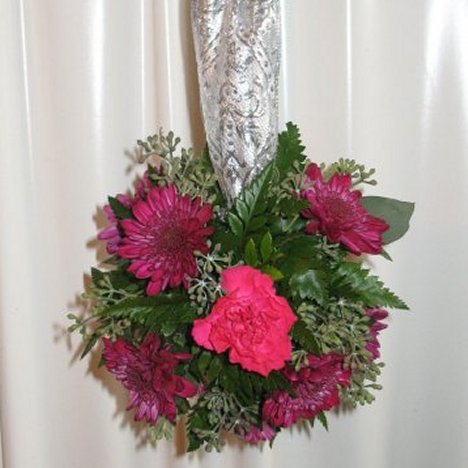 Add beautiful accents to your wedding kissing balls with Lomey Pearl Pins and other bouquet jewels. The corsage pearls come in a large array of colors and come 144 to a box. They look lovely, especially when clustered in groups in your floral design.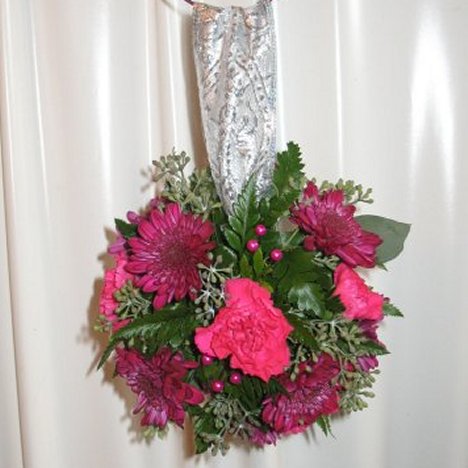 Diamante Pins come in clear, pink, light blue, red and apple green. See how they add sparkle to the heads of the burgundy mums? What I especially like is that they are not backed with foil, like some rhinestones are. Foil looks black in photographs, causing ugly black spots rather than a shine in pictures.

See how quickly this little pomander was to make! Now on to the final step - keeping the flowers locked into place and staying fresh all through the wedding day. 
Floralock Stem Adhesive is another product I rely on heavily for my wedding designs. Remember - those little flower girls swing those bouquets around with wild abandon. I don't want flowers dropping out of those bouquets!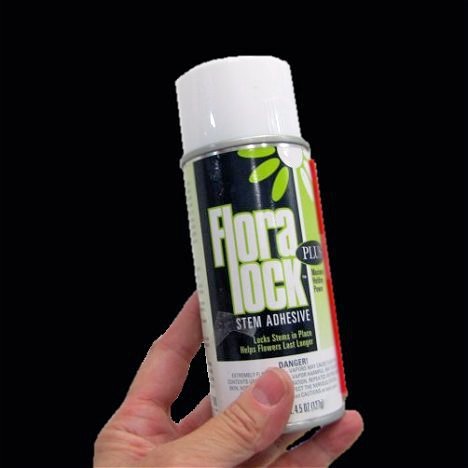 Shake the can THOROUGHLY for at least a minute before using. This liquifies the glue and allows it to flow evenly through the nozzle straw. Use in short bursts, close to where the stems meet the foam. Don't overdo, or you'll have glue running down the sides of your bouquet. Be sure to lock in all the stems of both flowers and greenery.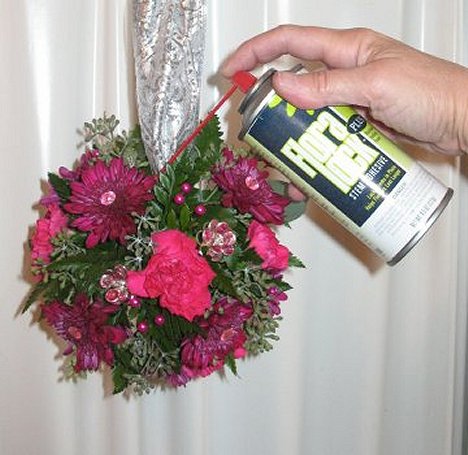 Spraying the flower ball with Finishing Touch seals the petals and actually hydrates through the flower head.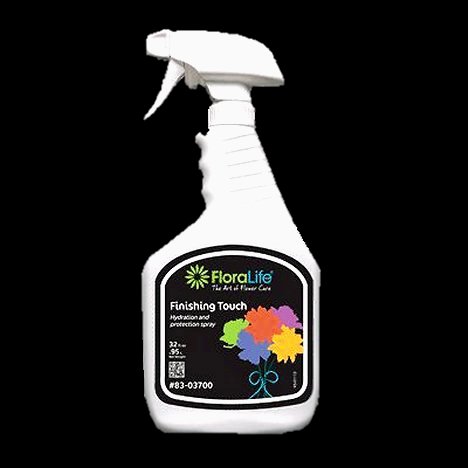 If possible, store in a refrigerated area to keep that pomander fresh. If you can't do this, turn the room down cool via air conditioning and keep away from windows.  Turn lights off when not designing.  Be sure to check the sphere every day and dribble more water onto the foam if it is going dry. Flowers drink a great deal of water and begin to wilt quickly if the foam goes dry.