Hydrangea Bridal Bouquet
Following links on this website and making a purchase could result in a commission to the owner of the website
This hydrangea bridal bouquet is going to become heavier as we add flowers.  Take care that before adding flowers to your foam bouquet holder, make sure it is firmly secured in a vase or container that is weighed down and does not allow the bouquet to fall forward.
Fresh flowers are heavier than you think.  Having your designed bouquet topple forward and landing on the table top could bruise or damage your flower heads.  
Narrow necked vases can be filled with with marbles or stones in order to offset the heaviness of the final bouquet.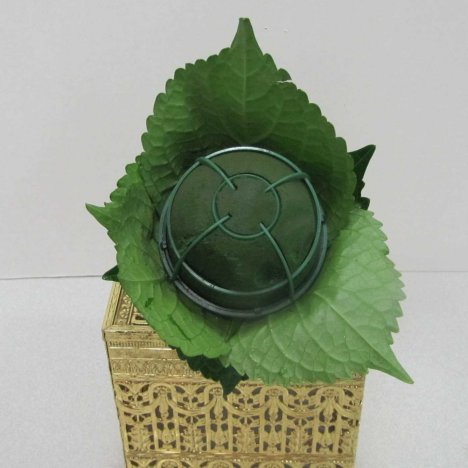 Hydrangeas love a good soak in a tepid bath before using in floral designs.  Some florists pierce the woody stem with a needle to allow more water to be drawn up the stem.
I don't bother with doing it on this tutorial, since I am cutting off the individual florets to insert into the florist foam head of the bouquet holder instead of using the hydrangea as a single stem.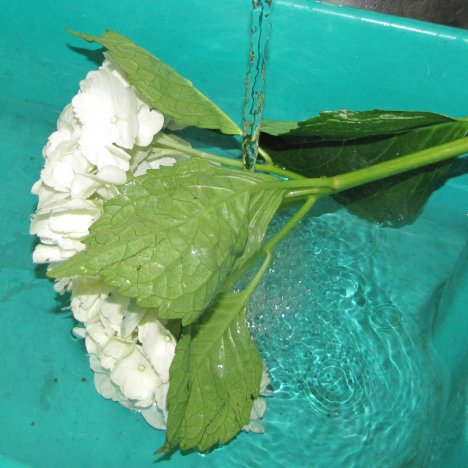 Not all hydrangea flower heads a "perfect" - but you can use the individual florets to create that illusion as you design your bouquet.  Always keep in mind that flowers are living products.  
Acting as your own "florist" - you need to think as a professional designer would.  This includes calculating for wastage, pinching off browned blooms, using the right floral products to get the longest life out of each and every flower and planning alternative solutions if the flowers should have a mishap on their way to you.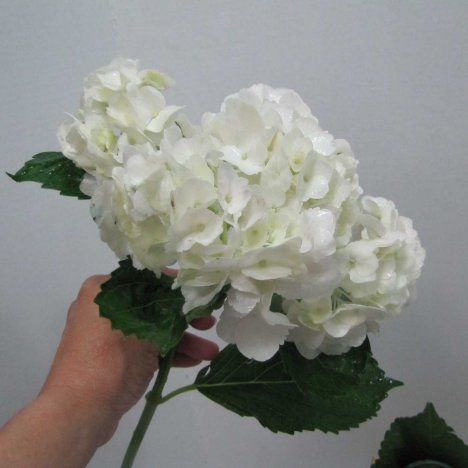 The individual florets (bracts - or clusters of flower petals) branch off from stems that (in turn) branch off from the heavier flower trunk (the biggest stem).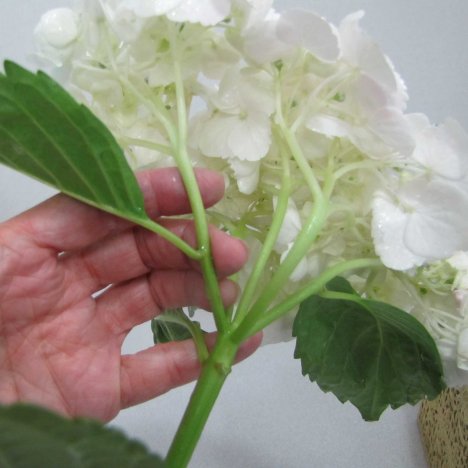 A clean cut with a sharp florist knife will keep the delicate flower cells intact and able to draw up water out of the foam.  Cutting with regular scissors can crush these delicate stems and stop the water flow, causing your petals to wilt quickly.
This is why florists use a knife instead of scissors when designing.