Hydrangea Bridal Bouquet Tutorial
Following links on this website and making a purchase could result in a commission to the owner of the website
This hydrangea bridal bouquet is now finished.  I do want to recommend that if you plan to act as your own florist, be sure to treat your flowers the same way a professional florist would.  That is what sets professionals apart from amateurs.  
If possible, put flowers like the bridal bouquet and cut flowers like corsage and boutonnieres in the refrigerator.  Settings should be a little warmer than you would for your cold food storage.
Never store fresh flowers with any type of fruit or vegetables.  They can give off a gas that can cause early wilting in flowers.
Floralock Stem Adhesive is a flower glue that is specially designed to spray around finished stems inserted into wet flower foam.  Do not do this until you are totally finished with the design, as it forms a protective shell over the foam slowing loss of moisture.
You fit the attached red spray straw to the spray nozzle after thoroughly shaking the can to aerate the contents.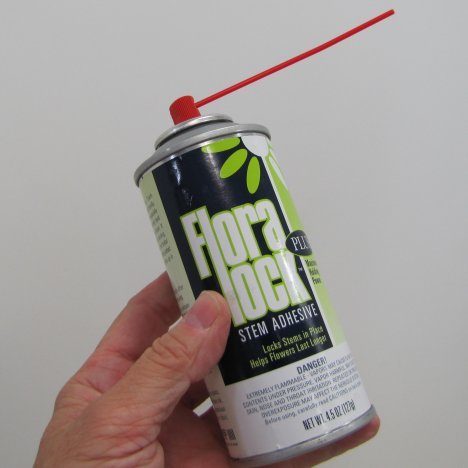 Insert the nozzle deep into the finished bouquet and giving short bursts of glue to secure the flower stems into place.  This prevents the dreaded fallout of flowers from the bouquet as the bride makes her way down the wedding aisle!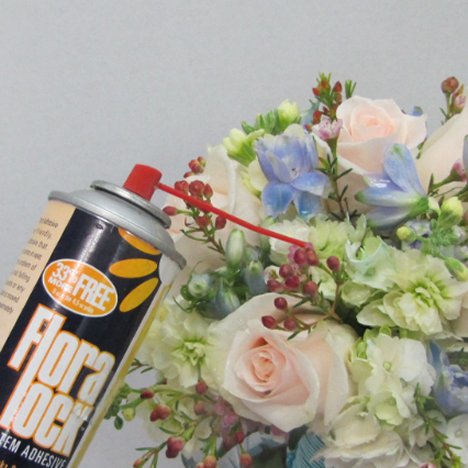 Remember that both air conditioning and home refrigerators are designed to remove humidity from the air.  Professional floral coolers are designed to ADD humidity to the air.  You do not want the moisture to be pulled from your fresh flower petals.
To counteract this drying, mist your finished designs with a flower sealant such as Finishing Touch or Crowning Glory.  Both are excellent products and will extend the life of your wedding flowers.
Be sure to visit all my step by step flower tutorials.  Learn the basic steps to create different styles of bridal bouquets, including round, crescent, cascading and more.  
You can also design corsages and boutonnieres like an expert, while learning what flowers are the hardiest and what to avoid when designing cut work that doesn't have a continual water source.
Check out the page that I've gather, finding the best prices online for the products you need. where you'll find everything you need in one convenient place to create your own beautiful flower designs.