How to Make a Corsage
Following links on this website and making a purchase could result in a commission to the owner of the website
Choosing the correct flowers for a corsage or boutonniere is important.  There are some lovely flowers that just don't hold up well.  (Gerbera daisies, hydrangeas, lily of the valley, daffodils, oriental lilies, pansies and tulips).  You often find these flowers pictured in design books or pictured on the internet.  Just keep in mind that these flowers have a shortened life as a cut flower when there is no water source.
But most flowers with a straw-like stem are very water loving and tend to wilt quickly once cut off from their water source.  
Here's a perfect example.  A bride begged me for Gerbera Daisies for boutonnieres.  I tried really hard to talk her out of it.  They are beautiful . . . but do not hold up well in cut work.  She was adamant. . . so I caved.
I did everything I could.  I used the freshest Gerberas, misted well with a flower sealant and made the bouts right before the wedding.  Coming out of the fridge, they looked beautiful.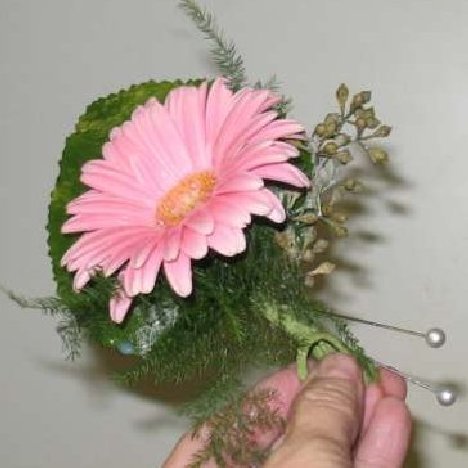 I took a shot of it later on the groom's lapel.  Mind this was a couple of hours before the wedding even started - but they were getting ready to take some outside photos.
I was dismayed that the flower was already showing definite signs of wilting within the hour.  The tell-tale signs of flower stress is when  petals begin to droop.  The only reason it held up as well as it did was that I had made a ring of wire and "framed" it behind the flower petals to give it support.  Had I not done this, the flower would have been sagging even more.
If these flower varieties are essential to your wedding theme, I suggest you look into silk alternatives.  There are some beautiful ones that are very hard to tell the difference from fresh.  Look for clean cut edges and no fraying.
I don't say this to disappoint the bride . . . merely to give her my advice as a professional of what flowers will work well for what she wants.  I don't care if flowers are shown on the internet as a boutonniere or corsage - some simply do not hold up well!
But keep in mind that YOU have to keep those flowers refrigerated all the way up until the wedding as well.  There are plenty of beautiful flowers that hold up well for days in normal temperatures.  As a DIY bride - don't look for ways to give yourself additional headaches and stress.  Research what you buy and choose durable flowers that will look beautiful all through your wedding day.

Wilting flowers can give a florist a bad reputation and should be avoided!  OK . . 'nuff said!!
Roses make beautiful corsages and (understandably) a traditional favorite with brides.  Consider the size of the rose heads.  40 cm (short stems) are generally a better choice since they won't overwhelm the wearer.
I love using snapdragons.  This hardy flower holds up well in both corsage and boutonniere work and reminds me a bit of Sweet Peas (but hold up better).  They come in shades of oranges, white, reds, yellows and pinks.  
The individual florets can be snapped off the main stem and quickly glued into place.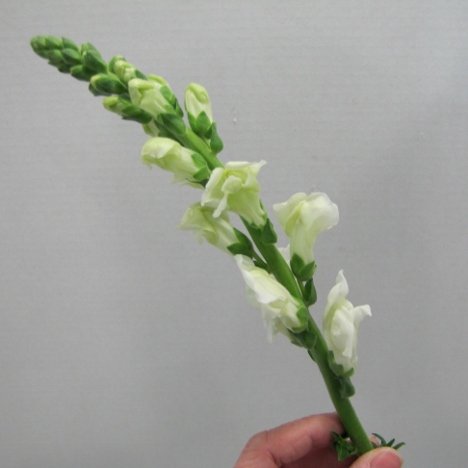 Miniature carnations were scorned back in the 1990's for being "too common" . . . but the newer brides of today are finding that this versatile flower holds up well, has an amazing scent and comes in a large range of colors!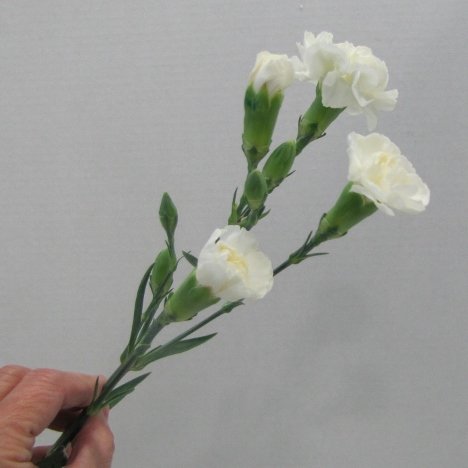 Wax flower is a favorite of mine.  These perfect little flower heads come in shades of white, pink and purple and are a perfect accent flower.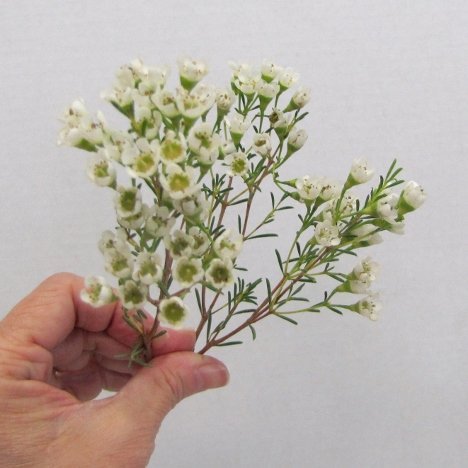 Don't feel limited to just flower flowers used in tutorial.  The technique can be applied with spray roses, button mums, alstroemeria, miniature callas, astilbe, cornflowers, daisies, hypericum berries, delphinium, freesia, nerine lilies and more.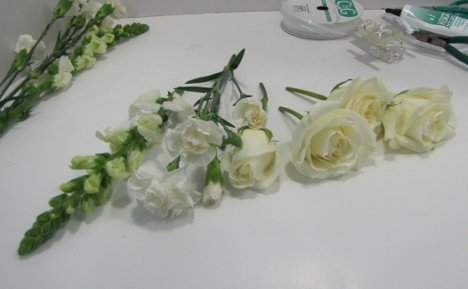 Where you buy your flowers is important.  I am in favor of ordering your flowers ahead of time from a reputable flower source.  Buying flowers from the buckets of a grocery store has several problems.  You don't know how long they have been there (age is calculated in days), how long they have been out of refrigeration, whether they've been pulled in and out of the water by customers, and whether they were processed correctly by the store clerks before going on display.

 Buying your flowers in bulk (dry pack) means that you process them yourself and know that it has been done properly.  Pay attention.  This is an important part of flower work and is why florists get the big bucks.  It's what goes on behind the scenes and how the flowers are treated from field to your church that makes a difference.
Flowers come in grower's bunches, such as the wax flower shown below.   They are either packed by a certain number of stems (5, 10 or 25) or by weight if the flowers are grassy or cut from a bush type source.
The wax flower shown below is in it's prime season - making it full and lush.