Hand Tied Bouquet
Following links on this website and making a purchase could result in a commission to the owner of the website
Choosing your flowers is one of the most fun parts of your floral design.  Obviously you want your flowers to compliment the colors of your wedding scheme and go well with your dress and attendant's dresses.
Another important aspect is the head size of your flowers.  The largest flowers in the bouquet are usually considered to be the focal flower (the bloom that stands out the most in a bouquet.)  To balance out the rather large heads of these oriental lilies, I'm going to use the rather large heads of hydrangeas to give a counterbalance to the look of the bouquet.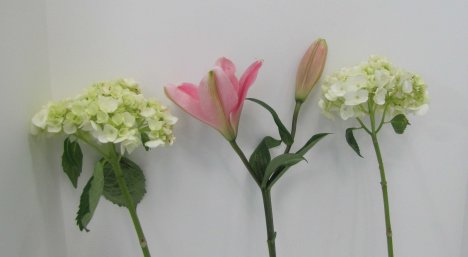 Oriental lilies are large, often having blooms as large as 8" across the face.  They have a heady, strong scent and need several days to open.  Do not have these delivered as a tight bud just a couple days before your event and expend them to open quickly.  

These beauties open slowly and can take four to five days (or longer) to open to their fully bloomed size.  You may have to have these ordered and delivered a couple of days in advance of other flowers that are used more quickly and don't have quite as long as life as Orientals.
On all lilies, take care to remove the inner pollen that shows after the petals open.  If allowed to remain on the flower, they can drop and discolor the petals, tablecloths, carpets and (oh, no!!) bridal gowns.  They do stain fingers, so use gloves when removing this pollen. 
If you are sensitive to pollen -  do NOT touch your face or skin with the pollen - but pull it off with a tissue or wrap it in a paper towel and discard.
That will also cut down on any allergy sensitivity.  This is a good question to ask your bride or her maids, as the more scented flowers (especially lilies) with such open pollen often affects people with sinus issues more.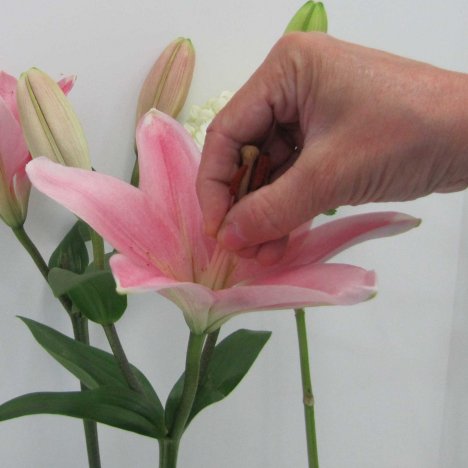 Take care not to crowd your flowers as they open, or it can cause the petals to press up against each other and crease.  This causes unattractive lines and browning, which makes them unusable for bouquet work.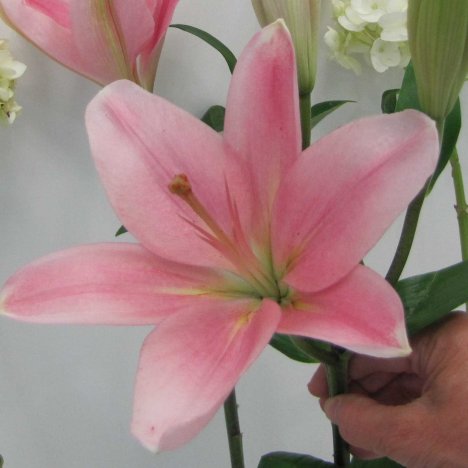 Stripping off leaves under the water level will keep down bacteria in the water and extend the life of your flowers.
Once I've stripped and cleaned by stems of leaves and thorns, I begin selecting the flowers to start out my bouquet design with.