gerbera daisy bouquet
Following links on this website and making a purchase could result in a commission to the owner of the website
A Gerbera daisy bouquet is easy to make and looks lovely for both the bride and attendants.
For this wedding bouquet design, you'll need the following:
Always process your flowers correctly, using a rehydrator such as Quick Dip.  This is especially important when using a water loving flower like Gerbera Daisies. I included waterproof tape (which she uses in the video to bind the bouquet.  I prefer green stem wrap - but that is up to you.  The waterproof tape comes in handy for making a grid over your water buckets, as the flowers should rest in on a grid rather than "stand" in a bucket of flowers.  Too much water can soften the stems and they bend easily.  Hanging them from a grid keeps the stems straighter until you are ready to use them.
Using the same products that a professional florist uses assures that you have nourished your flowers correctly from the start and will help keep them fresh throughout the entire wedding day.
The Gerberas need to be wired in order to support the heavy heads.

 Do NOT use regular scissor to cut your flower stem.  They could crush the flower cells and not allow for uptake of water.  Floral scissors or a sharp knife will not do this and are better for flowers.
Finish all your designs by spraying thoroughly with a flower sealant (such as Finishing Touch) and keep the cut stems in water as much as possible up to and on the wedding day.  Be careful when refrigerating, because some household fridges are colder in the back and can freeze flowers.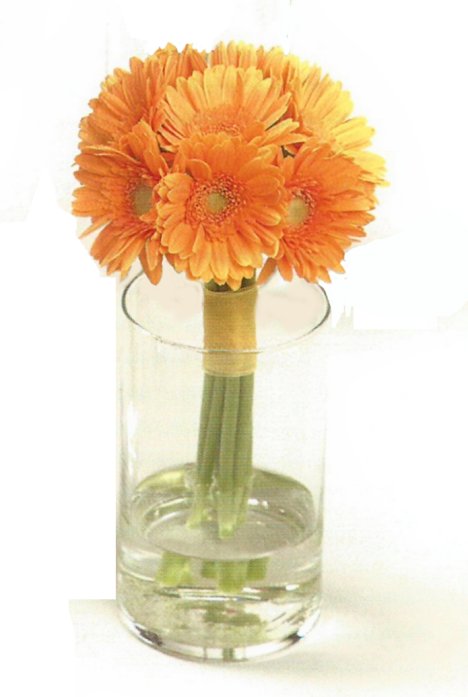 This video shows just how easy it is to prepare the Gerbers by wiring the stems first, as the flower heads can be heavy and the stem rather soft.