gerber daisy wedding bouquets
Following links on this website and making a purchase could result in a commission to the owner of the website
Gerber daisy wedding bouquets can be made in two sizes.  The standard Gerber daisy head is between 3 to 5 inches wide.  The average stem length is 20 inches. A miniature Gerbera (also referred to as Germini daisies) is usually 2" to 3.5" face head.   Both sizes of the daisies are available in a large assortment of colors. 
After choosing your Gerbera variety, read the description carefully and make sure that your choice is available in your wedding month.  Many brides miss this detail and are disappointed when a variety substitution has to be made.
Simply gather the Gerber daisy together in your hand, arrange the face heads that are pleasing.  Secure the stems with either green stem wrap or Oasis BindIt.  Place the Gerber Daisy wedding bouquets in their own individual vase so not to crowd the petals.
Cut the bottom stems of the Gerbers under water with a sharp knife.  Do NOT use household scissors, as they can crush the delicate stem cells and make it hard for the flower to take water upward to the head.  Rest the bouquet in a vase with the bottom cut in resting in water and only a couple of inches above that.  Too much of the stem below the water line can cause them to become soft and allows bacteria to grow.
Replace the water every day to get rid of any bacteria, each time adding a small amount of flower food.
On the wedding day, recut the stems one final time and wrap over the taped section with first the double faced tape, then with the decorative sheer ribbon.  Fold under the cut end and secure with either a corsage pin or a piece of the double faced tape.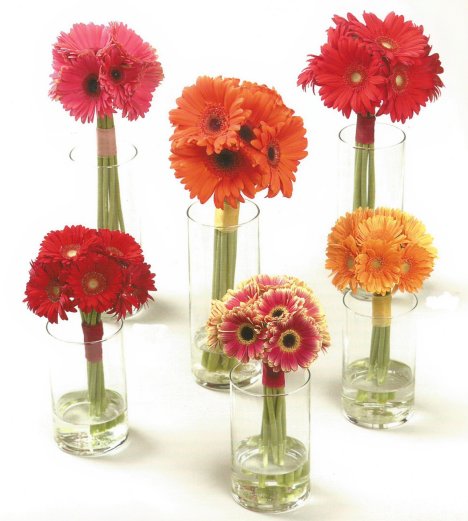 Always finish by misting both the front and back with either Finishing Touch or Crowning Glory.  Allow to dry and then refrigerate if possible.