gerber daisy wedding bouquet
Following links on this website and making a purchase could result in a commission to the owner of the website
This gerber daisy wedding bouquet is designed in a Scepter style with the fun addition of a cluster of bright pink nerine lilies and a gaily striped bow.
To create a similar look, you'll need the following products and fresh flowers:
Take care to process your Gerbera daisies by cutting the stems underwater using a sharp knife.  Before designing, I like to hang my Gerbers on a gridded bucket, resting from their heads without the stems touching anything.  This keeps the stems from bending.  Have your Gerbera cut ends rest in water only a couple inches deep.  Gridding buckets is explained in the processing your flowers section.
If the water is too deep, the stems under the waterline will soften and allow bacteria to grow.  Change water each day until the wedding day and trim off any softened stem ends.  Never allow your daisies to go dry as they wilt quickly without a water source.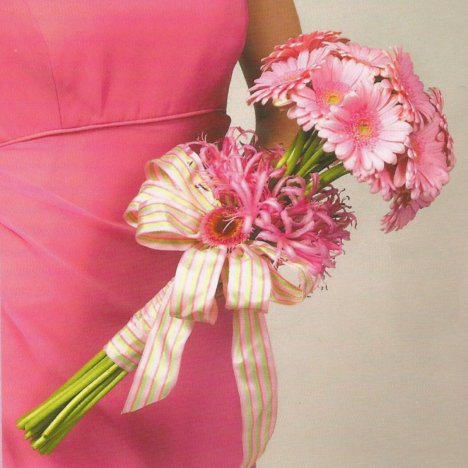 Arrange your Gerberas first, reserving one daisy for later, gathering them together in your hand and making sure the face heads face outwards and upwards in a pleasing manner, then bind with green stem wrap.  Wrap about 2/3's the way up, leaving some stem between the daisy heads and the stem wrap.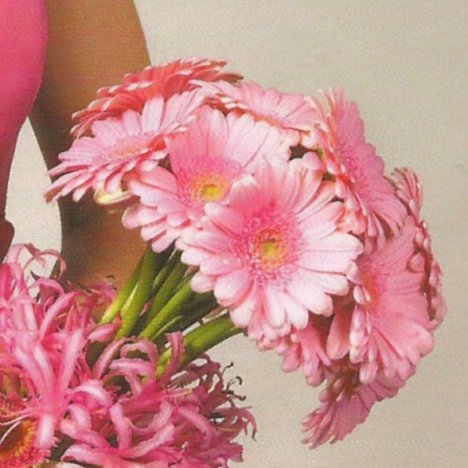 Arrange your Nerine lily stems around the Gerbera Daisy stems, concealing the green stem wrap.  Tape the Nerine lilies into place.
Wire ribbon loops individually, creating 9 or 10 loops and two ribbon tails.  Tape off the wire, leaving about three inches of a wire stem.  Tape each ribbon loop individually, clustering the loops around the Nerine lily stems.  
Depetal the last Gerber, leaving just the center.  Insert a wire up though the stem and out the center of the daisy.  Bend over like a hook and pull down.  Tape down the wire with stem wrap.  Look at your photo below closely for placement of this wired center, using it as a focal point in the bouquet.  Tape in same manner that you did the Nerine lilies.
Wrap the double faced tape down about 5 inches beneath the loops, then wrap your ribbon around and down the stem around 6 inches.  
Leave your Gerbera and Nerine stems as long as possible so you can trim off a little each day.  (But still allow the bouquet to fit in refrigerator).  Be sure to turn refrigerator a little warmer and do not store any too close to the back so not to freeze any flower heads.
Always mist well with Finishing Touch or Crowning Glory, front and back sides, and allow to dry before refrigerating.