Flower Corsage Tutorial
Following links on this website and making a purchase could result in a commission to the owner of the website
I add another length of cut ribbon to have two tails (later clipped to a shorter length) on both sides. Tie them tightly in a square knot over the taped center where the two halves of the corsage are joined.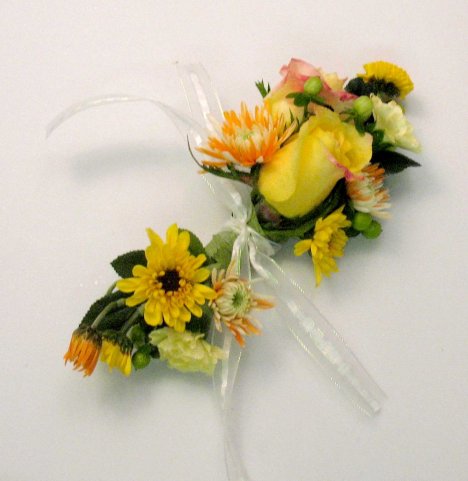 I now place my bow in the center of the corsage, using two of the ribbon tails to separate the loops and tie the bow firmly and securely to the center.  I deliberately made a very full bow to be sure to cluster the loops into the center and fill the open space between the two halves.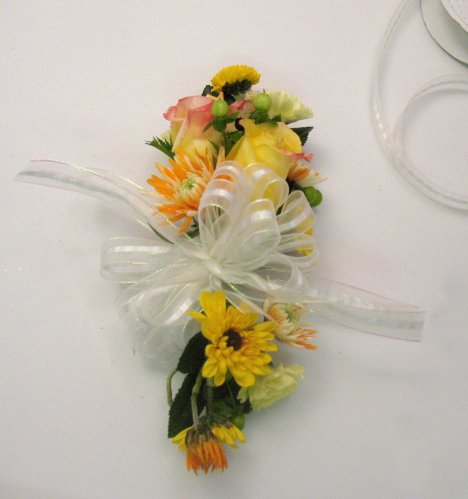 Don't make the bow loops too long, but keep in proportion to the rest of the corsage.  Again - don't overpower your design so that it looks "all bow" - but that the bow is tucked under the flower heads, complementing the size of the largest flower heads.
Use your fingers to twist and fluff out the bow, pulling the loops down so the sides look well covered.
Mist all the flowers throughly with a flower sealant such as Finishing Touch.  This slows evaporation of moisture from the petals and slows transparency.  Regular household refrigerators pull moisture out of the air, whereas professional floral coolers put in 80 - 90 percent moisture INTO the air.
Flower sealants are a great way to extend the life of your flowers!  Keep the cut flowers refrigerated, turning it a little warmer than you usually keep it for food.  Do not store close to fruits, as they give off a gas that is detrimental to flowers.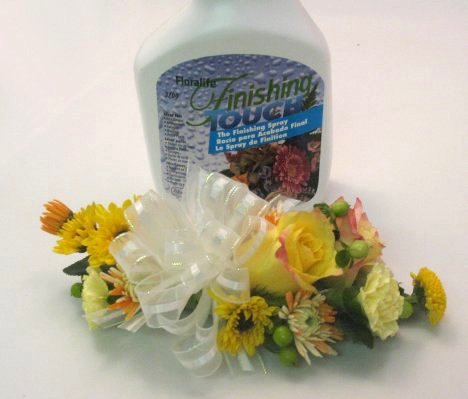 You can substitute magnets for pins, taping them into the design as you tape the flowers together.  A corsage this large needs a set of magnets at the top and at the bottom to securely hold in place.  Do NOT put magnets into a corsage if the wearer has a cardiac pacemaker.  The magnets are very strong and can interfere with a pacemaker's function.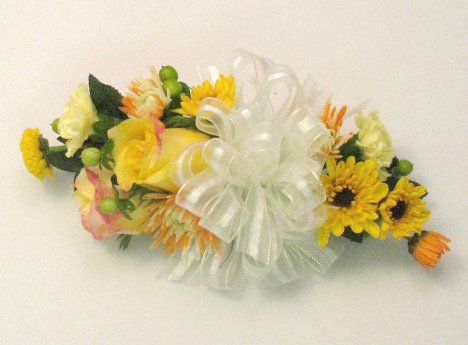 The corsage turned out beautiful, with a slight curve that will fit naturally into the hollow of her left shoulder.  Add in two or three corsage pins or fasten it to a wrist corsage bracelet.  A pinned corsage is attached to the wearer's left, with the largest focal flowers pointing up and the smaller tail section pointing down.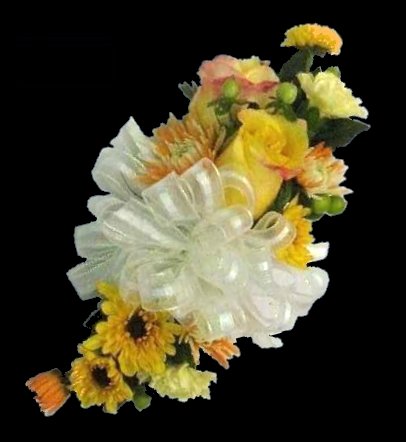 Using the same clustering method, I quickly made a matching boutonniere for this grandmother's escort for the event.  Coordinating flowers compliments the wearers of both designs when photographed together.
Be sure to scroll below for more step by step flower tutorials for bouquets, corsages, boutonnieres, church florals and reception centerpieces.