composite rose scepter
Following links on this website and making a purchase could result in a commission to the owner of the website
A composite rose is made by layering the petals from many roses in order to make one large single rose.  This technique takes a little patience and is recommended for weddings only if you have the time to make it the day of the event.  These petals no longer pull water from a stem and must be kept refrigerated until needed.
To create a similar design, you'll need the following floral supplies and flowers: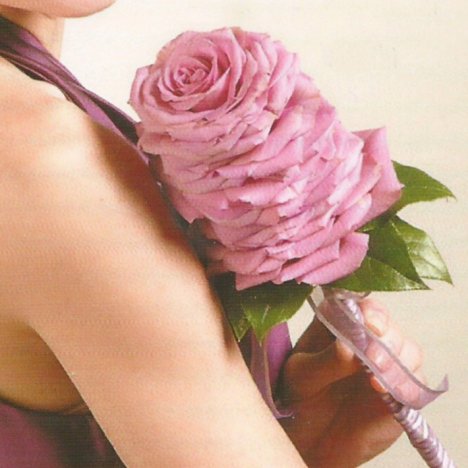 You begin by removing the calyx (the middle seedy part of the rose) of all the flowers.  Cut the wire into short pieces and bend into hairpin shapes.  Dab adhesive onto the center of several petals layered together and pin straight up into the top rose.
Continue laying the roses as shown in the photo.  If you haven't seen this design before, check out the tutorials for composite preparation.  The only different is this one doesn't spread the petals outward on a cardboard collar, but just simply keeps layering until the flower grows in length.
Mist the completed design well with the flower sealant, allow to dry and then refrigerate until needed.  The life on this type of bouquet is shorter than one that the flower stems still pull up water to the flower heads.