Calculating wedding flowers
Starting with the bridal bouquet, I begin filling in the sheet.  Notice I've listed everything in her bouquet, starting with "pink roses" and continuing on with "Billy Balls", "Black Callas" and so forth.
One the bride's line, I then list the number of stems that I will use for her bouquet.  This is extremely important, because you will use this list later as you begin to design.  If while designing I suddenly decided that 10 roses looked much better than 6, I would have to check my sheet to see if I have 4 more roses to spare.
Changing your design recipes after ordering your flowers could run you short on flowers before all your designs are finished.  However, every good florist orders in a few additional flowers.  Keep in mind that this is a living, growing product.  You may unroll a bundle of roses to discover a flower head snapped off, or one rose stem doesn't reach far enough down into the water and is found limp the next day.
Always allow for some overage.  This only makes sense.  Not every flower is going to be perfect, but you need to pay attention to details, like not over crowding buckets or placing broken stems immediately into a short juice glass so you can use it for a boutonniere.  Get all the mileage you can out of every flower you pay for!
If you are following a specific flower recipe listed on my site, you can then create a smaller (but similar) recipe for your attendant bouquets.  If the bride has 6 roses in her bouquet, you may list only 4 or 5 for each bridesmaid.  You may omit some of the more expensive flowers (such as callas or freesia),  or substitute something similar but smaller.  For example, if the bride has 6 standard roses in her bouquet, you may purchase spray roses (smaller heads) in the same color for the bridesmaid bouquets.  
This is where you get creative and compliment the bride's bouquet by designing smaller or less flashy for the bridesmaids.
If the bride has all pink roses and carnations for her bouquet, smaller round clutches of just pink carnations for the bridesmaids would compliment her larger bouquet very well and keep the flower costs well within the budget.
This doesn't have to be boring however, let's take a look at the boutonnieres.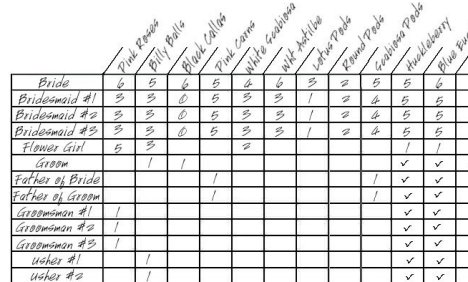 For variety, you'll see that the groom has a 1 (meaning one stem) of yellow Billy Balls, 1 black calla (matching an expensive flower in the bride's bouquet) and a piece of huckleberry and blue eucalyptus as the greenery.
Why do I only have a checkmark in the greenery box?  That just means a piece cut off a single stem . . . not using the entire stem. As shown below, using one stem of leather leaf fern can supply enough pieces for 5 corsages and 5 boutonnieres.  So keep in mind for every check mark to add an additional stem of that flower variety or greenery for every three or four check marks on your grid.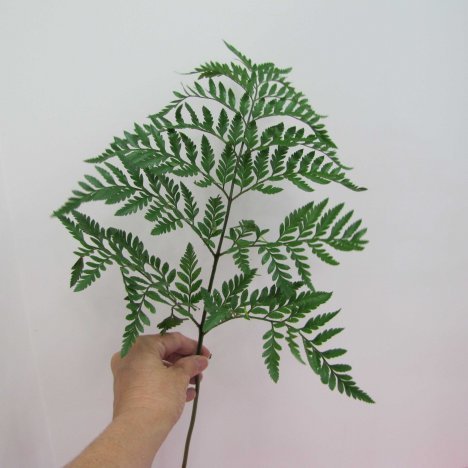 This is why I get frustrated when some other "wholesale" flower sites require you to buy a minimum number of bunches.  What if you don't need to make 25 centerpieces?  I sell in single grower bunches, allowing my customers to be more creative and at the same time allowing them to keep a tight rein on their wedding budget, as they can buy everything they need in one place and only buy WHAT THEY NEED.
I also don't split grower's bunches.  In other words, you are buying in the same amounts as a flower shop does.  Some sites list "bunches" ..... but aren't including the same number of stems.  Always price shop comparing stem cost rather than bunch cost.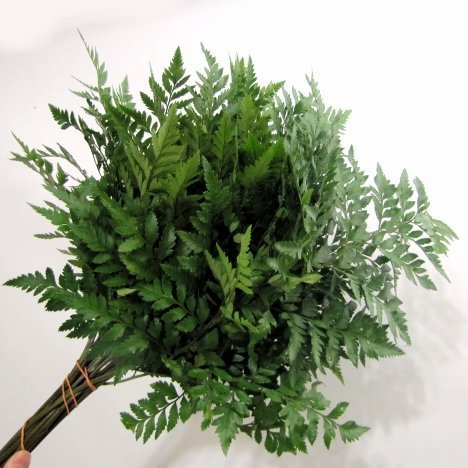 When planning your flower recipes, mix it up a bit.  As you see on the worksheet, the groom will have a black calla and a single yellow Billy Ball in his boutonniere, while the groomsmen have a single pink rose, plus a bit of greenery.  Look at the fathers and their boutonnieres will be made of miniature spray carnations (that will match the grandmother's corsages).  This is where you get creative and work out how to use up any extra flowers.  The ushers, however, have a single yellow Billy Ball.  All of these flowers are in the bridal bouquet, so her groomsmen look unique, yet all compliment the overall design and flowers found in the bridal bouquet.
Once you get to the bottom, you simply total up the column.  Remember - each column is number of stems needed.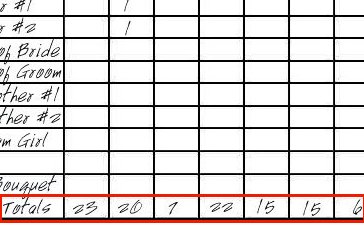 Although some larger flowers (such as hydrangeas) are sold in single flower stem units, most flowers are sold in grower's bunches.
Warning:  if you use my calculator and then go to a different site to order - be careful.  Some sites sell "bunches" that are not always true grower's bunches.  To make you feel like you're getting more or a better price, they list the quantity as a "bunch" - yet may only be giving you 10 stems whereas I sell in full grower's bunches that may be 20 stems.
ALWAYS price compare per cost of each stem.  It takes a little more calculating - but is important so you don't run yourself shy of the amount of flowers needed.
Many sites claim to be wholesale (they aren't . . . because true wholesale sites don't charge tax (because their buyers are retailers who will charge the tax to the customer) or they claim to have "free shipping".
Trust me, nothing on the internet is free.  That extra money is figured in somewhere.  I don't require large minimums and I don't claim to be wholesale.  I sell in full grower's bunches, yet I don't make you buy more than you need.
There is no point in doing the labor yourself if you have to order 10 bunches too much.  You'll never save money that way.
Now the totals on the bottom have to be turned into "bunches" so you know how much to order.  You'll see that there is a total of 23 pink roses.  You cannot order just 23 roses.  Roses come in bunches of 25, so you round up to total to the next nearest bunch.  In this case, one bunch (25 stems) of pink roses will be enough plus two extra roses.
If you had needed 28 roses - you would have to round up to 50 stems (25 + 25) to have enough roses.  Thus you would have the 28, plus 22 extra.  You should have a plan in your mind what to do with your extra flowers once your needed designs have been finished.  This may mean that you have enough left over flowers to do a throw bouquet, a few extra corsages or a centerpiece for the bridal table.
When you order fresh flowers from my online store, I always list the cost of each bunch AND the total shipping.  I try to keep my shipping very close to actual cost.  You may order only one small thing - but it'll cost you more in shipping because it's still going from our warehouse door to your front door.  FedEx charges us for that service and we have to pass it on to the customer.
Where my customer saves the most is when she or he buys everything at one place, paying only one shipping charge.  If you need a florist product and don't see it on the store, give me a call.  I ship out of a real, working warehouse that supplies retail florists all over the United States.  If it's in season - I can usually get you a quote.
Please note that there are some products we don't ship at all.  We love Lily of the Valley as much as you do, but it simply doesn't survive a long trip in a non-refrigerated truck.  Arriving limp or unusable does not make a happy bride . . . and we really want our brides to be happy!  Check out our competitors - I bet you'll read in the fine print somewhere that those types of flowers aren't guaranteed to arrive in good shape.  That would be a sad surprise for the bride right before her wedding day and she wouldn't be in the mood to simply accept a refund.
After ordering, the next step will be processing the flowers correctly.  Read those pages BEFORE ordering . . . spending a few extra dollars is well worth the cost of those products.  If these are wedding flowers, you'll want to treat them like a professional florist would.  That means using the right products rather than a bottle of soda pop flower additive advised on some "save money" website.  Measure your flower products and follow the recommendations on the bottle.  It makes a difference.
Finally . .  give us a call if you have any questions.  I don't want anyone overwhelmed by trying to do more than they can handle on a wedding day.  You can save money and I'll show you how . . . but it's more important to enjoy the day as well!
Now let's talk about setting up your work space before the flowers actually arrive on your doorstep.