cake wedding decorations
Following links on this website and making a purchase could result in a commission to the owner of the website
Fresh cake wedding decorations can quickly be added to a pristine white cake, giving it all the color and decorations it needs!
This cake features the following:
For a detailed tutorial on how to keep your fresh flowers from contaminating your cake, be sure to check out a complete tutorial on preparing your flowers ahead of time.  Be sure to check with your cake decorator as to what time the cake will be delivered to your wedding venue.
I like preparing my flowers ahead of time, but if you're decorating on site, be sure to take a clean new box of toothpicks to insert into the flower heads so it is the toothpick, not the stem of the flower, inserted into the cake.
Before decorating the cake, insert a clean toothpick into each area you want a flower accent.  This keeps you focused and keeps the flowers equally distributed around the cake.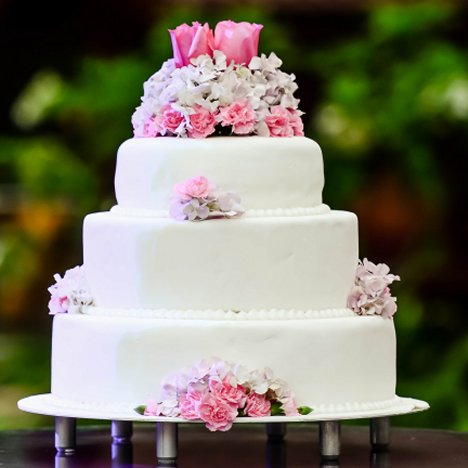 Lightly mist your flowers with Finishing Touch before laying them on the cake.  Allow time for the flower sealant to dry.  This helps lock the moisture into the flower petals and slows the wilting process.  This is particularly important for hydrangeas, as they tend to wilt quickly without a flower source.
Use a small dessert plate to cut a circle out of parchment paper.  The diameter should smaller than the diameter of the to cake layer.  Fold into half, then fold in half again.  Cut out a circle in the center.  Open up the paper and lay gently on the top of the highest cake layer.
Cut off the stems of your roses to about 1".  The center circle is where the three roses will be inserted.  Push a clean toothpick straight up into the cut stem of the rose.  Insert these three roses (using the toothpick) and stop inserting before reaching the cut end of the stems.
Cluster a layer of hydrangea blooms around the base of the roses, taking care to let them rest on the parchment paper.
Tuck a circle of carnation heads around the diameter of the top layer, tucking them in a row under the hydrangea.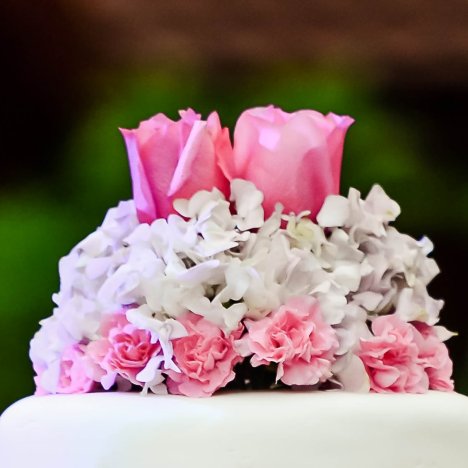 Cut out a shallow oval of parchment paper, again folding and cutting a hole in the center where the flower picks will be inserted.  Fold the oval paper and crease.  Place it against the cake.  Lay your hydrangea florets first, then insert toothpicks into the bulbs of the miniature carnations and insert into place in the cake.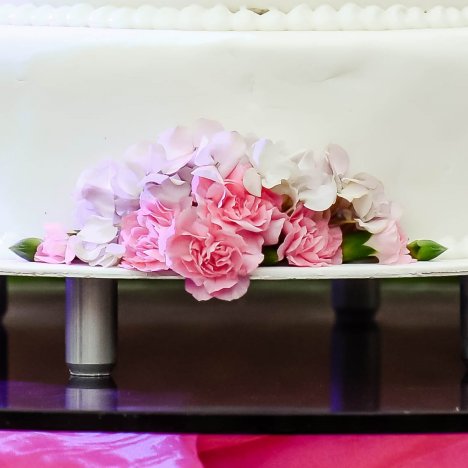 Follow the same steps for the blooms attached to the sides of the cake.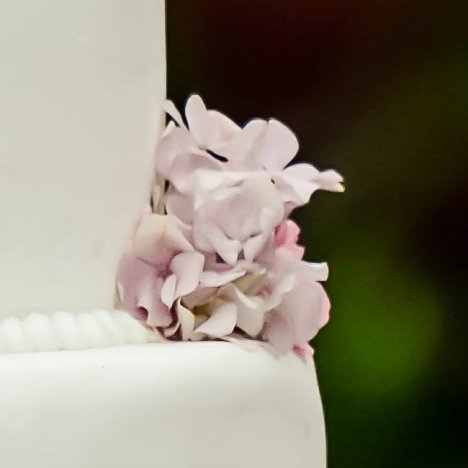 Your cake wedding decorations can be evenly placed or scattered at random.  Place small flower accents here and there, where you've marked the cake with the original toothpicks.