boutonniere wire
Following links on this website and making a purchase could result in a commission to the owner of the website
A layer of ribbon over the boutonniere taped stem will peek out white under the wire wrap.  I'm using a sheer white ribbon to give a polished finish to this daisy boutonniere.  Start at the top and wrap the ribbon around, securing the end by wrapping the ribbon tightly around it.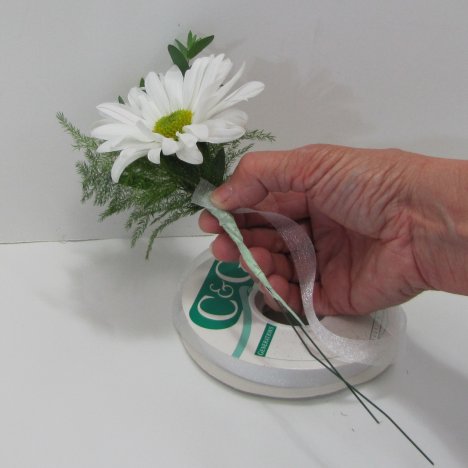 Wrap the ribbon down the boutonniere stem, pulling it firmly and overlapping itself.
When you near the bottom, snip off the excess wires with wire cutters.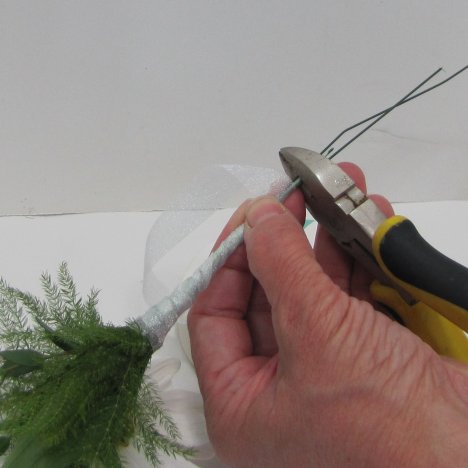 After reaching the bottom, turn the boutonniere upside down and wrap the ribbon again, going upwards till you reach the spot where you first began.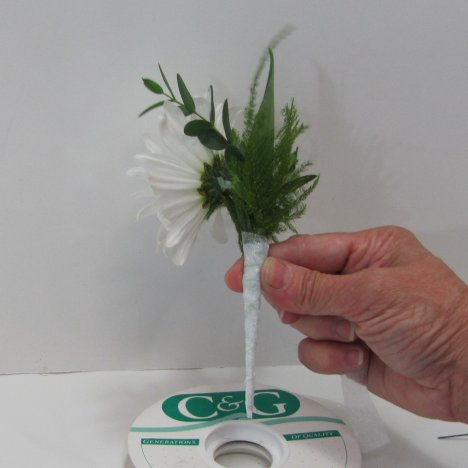 You can either loop the ribbon underneath itself and tie it off, or secure with a short corsage pin as shown in the next step of this tutorial.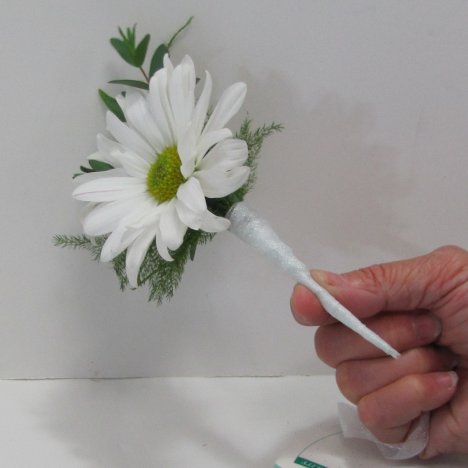 Florists often shorten corsage pins to use as decorative accessories on corsages and boutonnieres.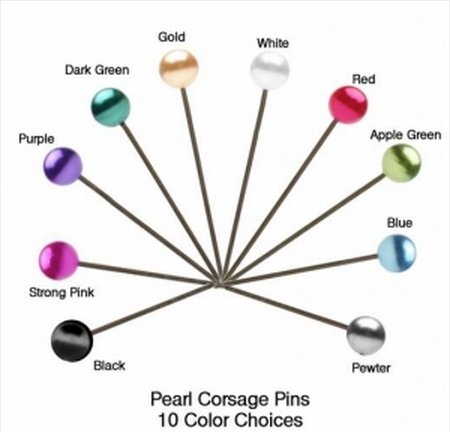 Please take extreme care, as some of the pin shanks are very hard and may be difficult to cut.  Sharp ends can go flying off and cause a hazard to faces or eyes.
Use safety goggles to protect your eyes.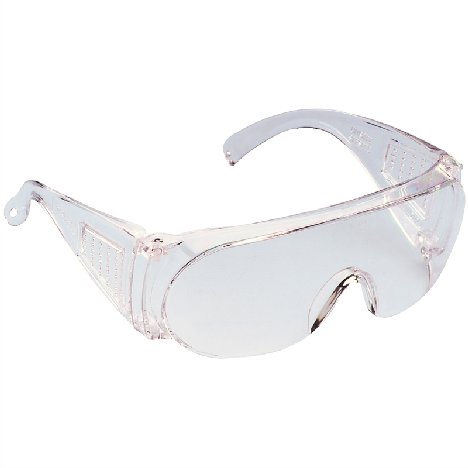 Insert the sharp end of the pin deeply into the stiff styrofoam.  Use heavy pliers to cut the pin to the length you desire.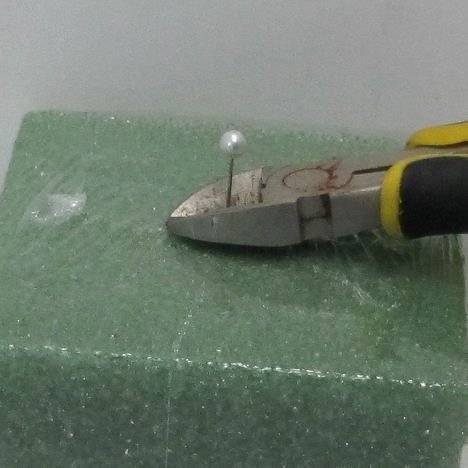 The shortened pin can now be used to accessorize your boutonniere.  The pins need to be cut very short, you can dip the ends into floral adhesive before inserting into flower heads or flower stems.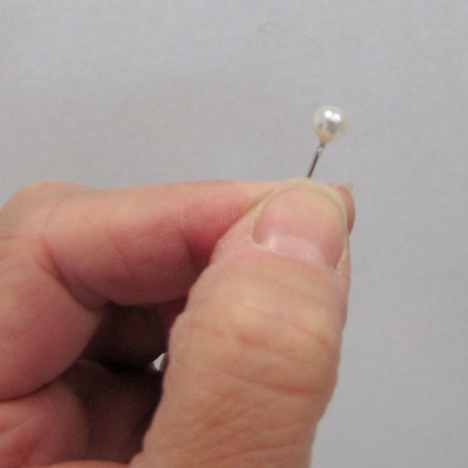 I secure the ribbon wrap at the top by inserting a short pearl pin at an upward angle into the flower head, making sure no sharp point is sticking out where it can harm someone or damage clothing.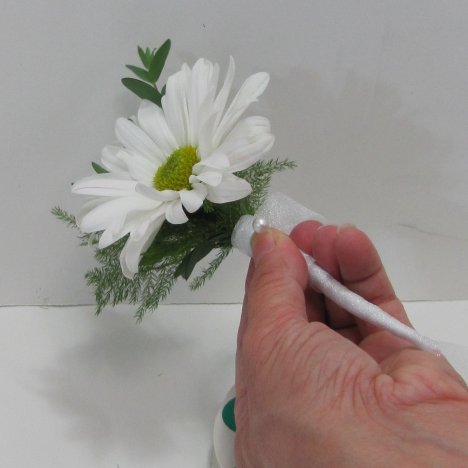 You can consider this boutonniere complete by stopping at this point if you wish.  Many boutonnieres are simply ribbon wrapped and then pinned to the tux lapel.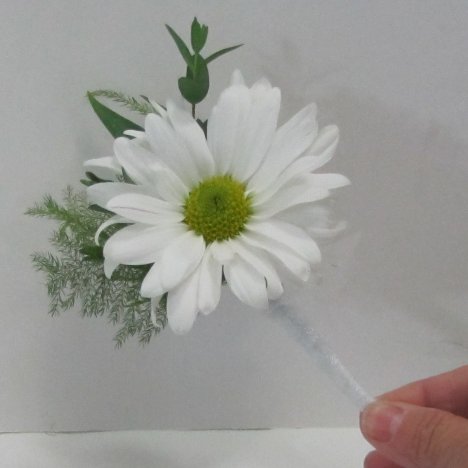 But I like to pump up the style by adding a colored wire wrap.  I offer several different size gauges (the diameter of the wire), all available in a wide range of colors to suit even the pickiest bride.
For this boutonniere tutorial, I'm using Oasis Decorative Wire in a 12 gauge size. It is very malleable (easy to bend) and comes in 17 popular colors.  The generous 39 foot roll lets you add the accent to all your corsages and boutonnieres.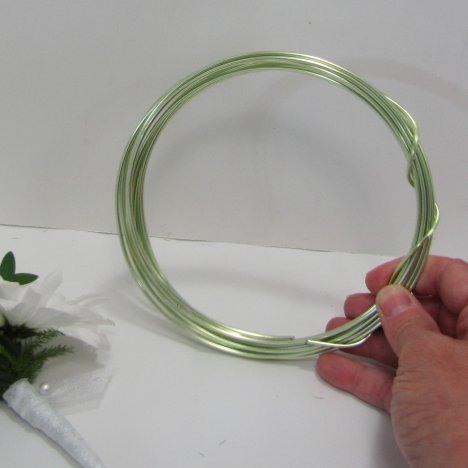 Insert the cut end of the wire into the back of the boutonniere, deeply burying the point where it can do no harm.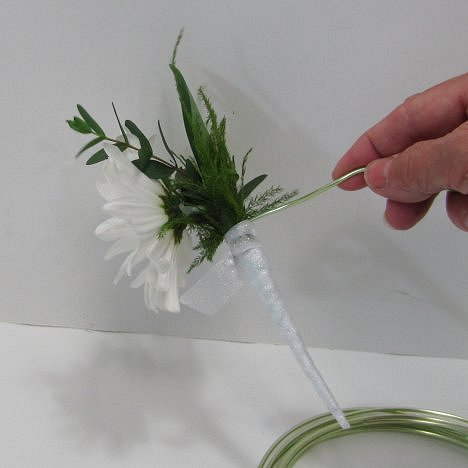 Wrap this flexible wire down the stem.  You can see I've allowed the white sheer ribbon to show thru behind the wire.